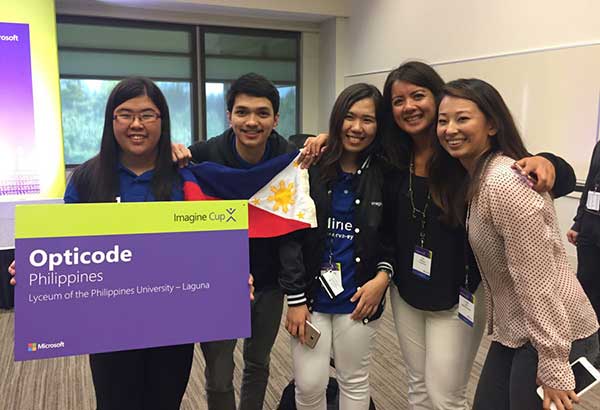 To see is to believe: Team Philippines (composed to Rochel Reyes, Christian Cepe, and Jasmine Raymundo) celebrate reaching the semifinals of Microsoft's Imagine Cup with two of the judges of their last panel presentation.
When we access an app on our phones, our main concern is how much it's going to make our lives easier. Facebook lets us connect to our loved ones (and keep tabs on our frenemies). Yelp keeps us away from shady food joints that host typhoid fevers. And of course, there's Tinder to identify the creeps in our neighborhood. And find true love, I guess.
What we don't think of is what it takes to make these apps what they are today: user-friendly, innovative bits of technology constantly used by millions. To even conceive the idea behind them is hard enough, let alone program it all out to work seamlessly. Knowing this is probably what made my jaw drop as the Philippine team demonstrated their app at Microsoft's Imagine Cup World Finals, the tech company's premier student technology and innovation competition.
Held in Redmond, Washington at Microsoft's HQ, the Imagine Cup invites student technologists from all over the world to compete with each other's tech. Competing in teams of up to three people, students must develop a technology application, create a business plan for their product, and gain an understanding of the best way to bring the concept to market. Now in its 15th year, the 2017 Imagine Cup now features a cash prize of $100,000 for the winning team and a mentoring session with Microsoft CEO Satya Nadella. Also, all solutions presented must include a component of Microsoft Azure, the company's cloud computing service.
What our own team managed to do this year is a feat and a wonder all its own. Composed of three students from the Lyceum of the Philippines University-Laguna (Christian Lou Cepe, Jasmine Pearl Raymundo and Rochel Reyes), Team Opticode developed an app called Minerva to assist the visually impaired. Like a true tech dummy, I panicked when they showed me what the app can do. It can describe the color of your clothes, predict the name and age of the person standing in front of you, and even the denomination of the money you're holding. According to Microsoft Philippines director of Developer Experience and Evangelism Joel Garcia, Team Opticode created Minerva in mere months. It was a cycle of learning how Microsoft Azure services work, applying it to the app and — no big deal — working on their college thesis simultaneously, too. To bring something like that to life, while commuting between Manila and Laguna, is perhaps the biggest accomplishment of Team Opticode. It's only a bonus that they managed to create an app that works. Very well, too, I might add.
My first thought was, "How the…??? You're no older than 21, you guys!" When I was their age, my biggest problem was getting the cute guy in my History class to notice me. (Hey… How about creating an app for that?)
The excellent work by Christian, Jasmine and Rochel was just one of the many tech solutions I got to witness during Imagine Cup. The competition, I must say, was extremely tough. The way these student competitors conceptualized and developed ideas is so telling of what young people are thinking of today. Forget the lazy, self-entitled stereotype; these are kids who are making use of technology to identify specific illnesses, mitigate natural disasters, and improve the livelihood of the agricultural industry. It was clear from the beginning that the atmosphere of the competition was warm and friendly. Everyone wanted each other to succeed; it was merely a matter of whose work was most developed and most feasible to turn into a marketable product.
Yet each time Team Opticode presented their app to a panel of judges (from the quarterfinals to the semifinals), I sat in the audience like the Tita who takes lots of pictures and cheers the loudest. They went up against some pretty strong contenders, but their quiet confidence led them to the Top 10. Their journey may have ended there, but after the announcement of the final four contestants, Team Opticode was approached by two venture capitalists to talk about their project. (Cue: Silicon Valley opening credits.)
Disrupt Nation
The team that eventually bagged the Imagine Cup championship is X.GLU from Czech and Slovakia. Three students from the Czech Technical University in Prague designed a hardware and software solution to help diabetics cope with their condition. What's clear from all the tech apps presented is the exchange of ideas during Imagine Cup can only lead to even greater things. Microsoft, for its part, is securing our future by investing in it. Encouraging young people to keep on creating is a way of encouraging talent to flourish. After all, in the field of tech, it's talent and passion that will create groundbreaking work.
And when it comes to work that can change the world — quite literally — Microsoft has not slowed down its flow of better ideas, even beyond their already good ones. During our visit to the Microsoft Research facility, we learned from chief scientist and distinguished engineer Rico Malvar that the knowledge acquisition doesn't stop. Malvar says that their success rate probably doesn't hit 10 percent, so most ideas that they come up with won't even make it off the drawing board. But research is the business of failure, he says, and when they manage to hit the sweet spot and find something that works… well, the return is monumental.
Through Microsoft Research, we were treated to tech solutions like Farm Beats, which aims to address our food security issues. According to principal researcher Ranveer Chandra, Farm Beats makes agriculture more precise by providing farmers with data on temperature, soil moisture and nutrients. Of course, for a simple farmer, acquiring such technology (and making it work in isolated areas) is difficult. Even internet connectivity is a challenge, so Chandra addressed this by using TV white spaces — empty TV channels — to send WiFi to far-flung areas. NUI Graph, on the other hand, is changing the way we do spreadsheets. Principal researcher Dave Brown, who's leading the project called Surface Hub, wants to change the way we visualize data by turning it into something interactive and more visually arresting. Imagine turning your Microsoft Excel into Iron Man, minus Robert Downey Jr. There's also Project Natick, which is innovating our approach to developing data centers. With more and more people using cloud services, where do we find the capacity to store all this data? Putting it in water makes it easier to cool down data centers and lessen the turnaround time of building new ones.
What was perhaps my favorite part of the Microsoft Campus Tour was getting to know the Hacking STEM Team. "Hacking" tends to have a negative connotation, but Hacking STEM develops lessons for students to use science, technology, engineering and math by hacking into existing Microsoft applications. For example, they hacked into Microsoft Excel to record data on a robotic hand made of milk tea straws, fishing line and cheap sensors. The process of building the hand is simple enough for a six-year-old to learn, and the materials can be sourced from anywhere. Hacking STEM doesn't just aim to make all learning limited to STEM subjects; rather, they want to use science and math as a means to learn even subjects like literature, art and history. It's simply a matter of empowering students to build on the programs and technology they offer, so they can develop a deeper appreciation of their lessons.
It takes a lot to consistently disrupt a community, but Microsoft has been shaping the curve ever since it set up shop in Washington state. We don't always think of all the innovations they have built, because successful disruption involves a good deal of assimilation, too. In the way that Microsoft makes up such a huge part of Seattle, Redmond, and other neighboring cities (when you visit the Space Needle, the guide usually points out the Bill and Melinda Gates Foundation building because it is enormous), we almost never notice the way a tech company like Microsoft changes our everyday lives in small but significant ways. It is simply a part of our lives now. And just as the kids of Imagine Cup have (and will continue to) come up with solutions to everyday problems, Microsoft was also started by people with the same inquiring minds. So if the next set of game changers are to come from Imagine Cup alums, then trust me: we're in good hands.