Undernourishment and malnutrition have been a long prevailing problem in the Philippines affecting millions of its population. Several technologies were developed to help address these problems. Malunggay (Moringa oleifera)—one of the featured commodities in a Technology and Investment Profiles monograph series published by Southeast Asian Center for Graduate Study and Research in Agriculture (SEARCA)—showcased high potential in combating malnutrition and hunger. Its use and consumption has been promoted by the World Health Organization (WHO) as a low-cost health enhancer in poor countries around the globe.
To address the inadequacy of quality food intake among children, especially in areas suffering from malnutrition and hunger, and to maximize the nutritional and health benefits of malunggay and dilis or Philippine anchovy, researchers from the Southern Luzon State University-Judge Guillermo Eleazar (SLSU-JGE) in Tagkawayan, Quezon, developed malunggay powder and dilis flour (MPDF) technology. This was a product of the project titled "Dilis-Fortified Malunggay Powder Project," a Philippine Department of Agriculture-Bureau of Agricultural Research (DA-BAR)-funded project, that aimed to expand the use of malunggay by processing this in powder form and mixing it with dilis flour.
The project team was composed of Ms. Dorris N. Gatus, project leader; Ms. Veronica Aurea A. Rufo, project coordinator; and Ms. Nemia C. Pelayo, technical adviser, who also co-authored in the SEARCA-DA-BAR study titled "Technology and Investment Potential of Malunggay Products."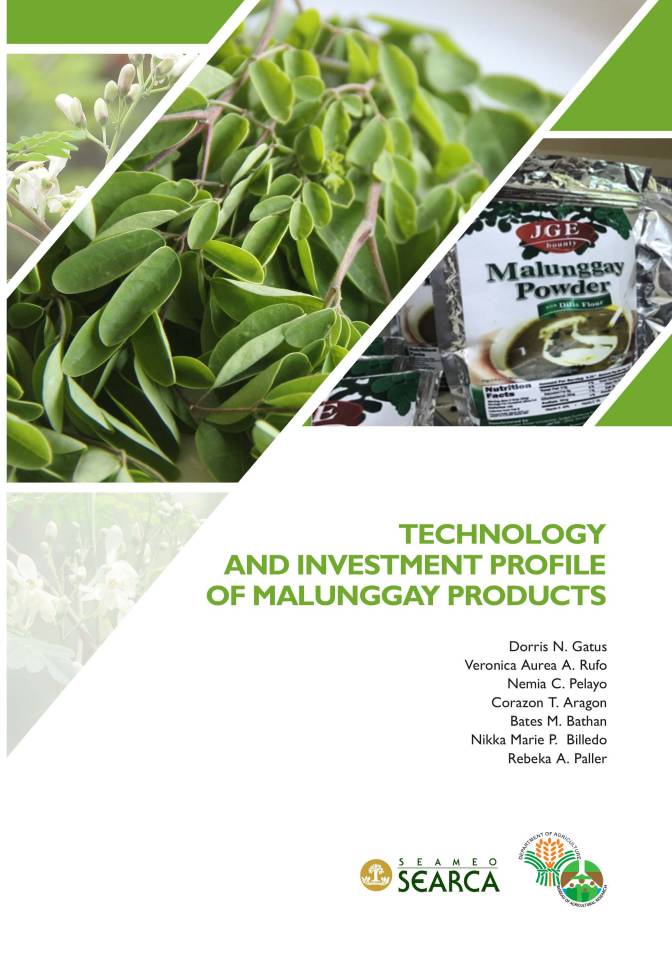 Malunggay has been declared as the national vegetable of the Philippines as it is a source of 49 vitamins and minerals and essential amino acids. In addition, it is also known for its abundant medicinal benefits. Gaining increasing attention over the years due to its nutritive value, DA urged farmers to increase its production to utilize the vegetable as a key to addressing malnutrition and hunger. As production increases, different technological development of the product were conducted to further its utilization and versatility such as the MPDF.
Like malunggay, dilis—a small, common saltwater forage fish—has been identified as rich in protein and other minerals and vitamins with high levels of polyunsaturated fatty acids. Specifically, anchovies are a good source of minerals, including calcium, potassium, iron, phosphorus, magnesium, zinc, and sodium. Moreover, anchovies are rich in vitamins such as B vitamins (B1, B2, B3, B6, B9, and B12), vitamins A, C, E, and K.
In the study, the authors emphasized that the MPDF technology can be used as food ingredients in many dishes and as flavoring to various food delicacies including ham, longganisa, tapa, sausage, pork-fish siomai, kroepek, macaroni soup, porridge, polvoron, squash cake, ensaymada, pizza pie, toge tart, and hotcake, among others. With this, it aims to increase home consumption of inexpensive yet highly nutritious food. It also targets to create livelihood opportunities for residents and non-residents of Tagkawayan, Quezon, Philippines.
The authors expounded that the technology's market and use extends from feeding programs of school children, bakers from five municipalities in Quezon Province with high incidence of malnutrition (i.e., Tiaong, Catanuan, Dolores, Quezon, and Mulanay), and local restaurants.
Its target consumers include other institutional buyers (e.g., bakeshops, eateries, restaurants, hotel establishments, and hospitals); entrepreneurs who are engaged in food processing business enterprises; households, particularly those with lactating mothers and malnourished children; vegetarians, especially those suffering from anemia; and government agencies implementing feeding programs.
The technology' s apparent health benefits and market potential led to the study "Technology and Investment Profile of Malunggay Products," which assessed its investment feasibility for interested technology investors. The study discussed in more detail the technology and its market potential. Through the SEARCA-DA-BAR project, the technology proponents were supported to determine the financial feasibility of the products, the authors used cash flow analysis with the following tools; net present value, benefit-cost ratio, and financial internal rate return. Results showed that the malunggay products have met the parameters for each tool to be identified as a financially viable investment project. The analysis showed that pure malunggay powder and MPDF have promising investment potential, thereby indicating that it is a feasible investment for interested investors to look into.
Through its core program on Emerging for Innovation for Growth, SEARCA is now actively working to support and promote technology-based innovations among local enterprises in the Philippines as outlined in its 11th Five-Year Plan focused on Accelerating Transformation Through Agricultural Innovation (ATTAIN).
The SEARCA-published monograph on technology of malunggay products DA-BAR-funded project "Financial Viability and Profitability Analysis of Agricultural Technologies and Enterprises" may be downloaded for free from the SEARCA website: https://www.searca.org/pubs/monographs?pid=480