The Southeast Asian Regional Center for Graduate Study and Research in Agriculture (SEARCA) and the Brussels-based Impact Licensing Initiative (ILI) formalized a joint commitment to help small farming communities through the local integration of sub-licensed technology—such as cold chain—for better post-harvest processes and market access.
SEARCA Director Dr. Glenn B. Gregorio and ILI General Manager Johan Moyersoen, represented by ILI Executive Board Member Bruno Vandermeulen, signed the Memorandum of Understanding on institutional partnership through a virtual ceremony on 7 October 2020.
Dr. Gregorio said "Accelerating transformation through agricultural innovation or ATTAIN is the essence of SEARCA's 11th Five-year Plan. By linking with like-minded organizations in industry, such as ILI, we enable innovation that transforms the lives of farmers and farming families in Southeast Asia and beyond."
Mr. Vandermeulen said "I'm impressed. With SEARCA's reach, we will be able to introduce more beneficial technologies for more smallholder farmers." He expanded with examples on how cold chain technology helps the agriculture and food sector as well as how impact licensing can offer solutions for a COVID-19 response around the world.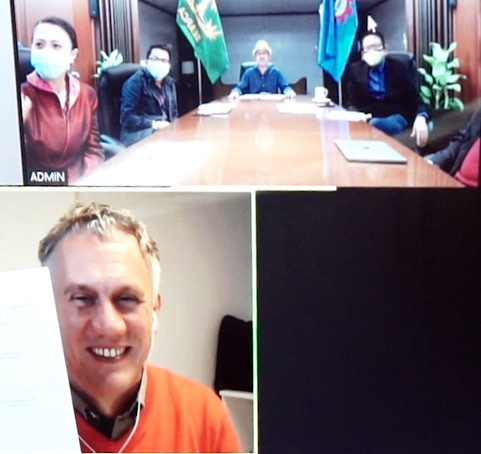 Upper screen, from right: SEARCA Deputy Director Joselito G. Florendo, Director Glenn B. Gregorio, EIG lead Rico C. Ancog, and EIG Program Specialist Lichelle Dara E. Carlos at the MOU signing ceremony on 7 October 2020. Lower screen: ILI Board Member Bruno Vandermeulen show the MOU signed in Brussels.
According to Mr. Moeyersoen, the Belgium-based organization is "a technology broker for societal impact, a catalyst for technology holders like universities, R&D centers, companies, to create impact at scale on the sustainable development goals." The principle of ILI is centered on social impact licensing to enable companies and technology transfer organizations to dramatically expand their societal value-creation potential, he added.
Dr. Rico C. Ancog, SEARCA Operations Consultant for Emerging Innovation for Growth (EIG) welcomed the adaptation of cold chain technology as a direct fit to the goal of the "SEARCA innovEIGhts Model of open collaboration to co-create transformational innovations for better farming livelihood by engaging and harnessing the power of brilliant minds." He raised the big need of farmers in the vegetable and fishery sectors for cold chain technology to address challenges in the value chain, including post-harvest storage, processing, transport, and market linkages.
Witnessing the signing ceremony, Dr. Diana Marie R. De Silva, innovEIGhts consultant, said she looks forward to steering agro-industrial technologies, like cold chain, for farming applications. She said "Our work at hand is to make cold chain technologies more accessible and affordable for smallholder farmers. The SEARCA innovEIGhts team will be conducting feasibility studies to define the needs of specific farming communities and subsequently adapt the technology to local conditions."
Other SEARCA witnesses to the ceremony were Mr. Joselito G. Florendo, Deputy Director for Administration; Ms. Lichelle Dara E. Carlos, Program Specialist on Open Collaboration and Agri-Incubation; Engr. Christopher T. Cabardo, Program Specialist on Knowledge and Technology Transfer; and Ms. Bethel Ann Dannah A. Tamano, Project Assistant for EIG.
Established in 1966, SEARCA is one of the 26 specialist institutions of the Southeast Asian Ministers of Education Organization (SEAMEO). SEARCA is mandated to strengthen institutional capacities in agricultural and rural development through education and collective learning, research and thought leadership, and emerging innovation for growth.
ILI is a catalyst for technology owners to create impact at scale on the sustainable development goals through the integration of technologies into existing social venture models to expand the scale and scope of social value-creation. The deliverable of ILI's social value creation program is an impact licensing agreement. Through the impact licensing, the ILI initiative ensures that the intellectual property rights as well as the economic and reputational risks of technology owners are preserved and rewarded, while at the same time achieving their optimized use for social value-creation to meet societal needs.