The Valentine's Season usually celebrates romantic love, friendship and admiration. But for the Southeast Asian Regional Center for Graduate Study and Research in Agriculture (SEARCA), it is a month to showcase staff's growing appreciation for edible landscaping and greening initiatives.
Love is in the air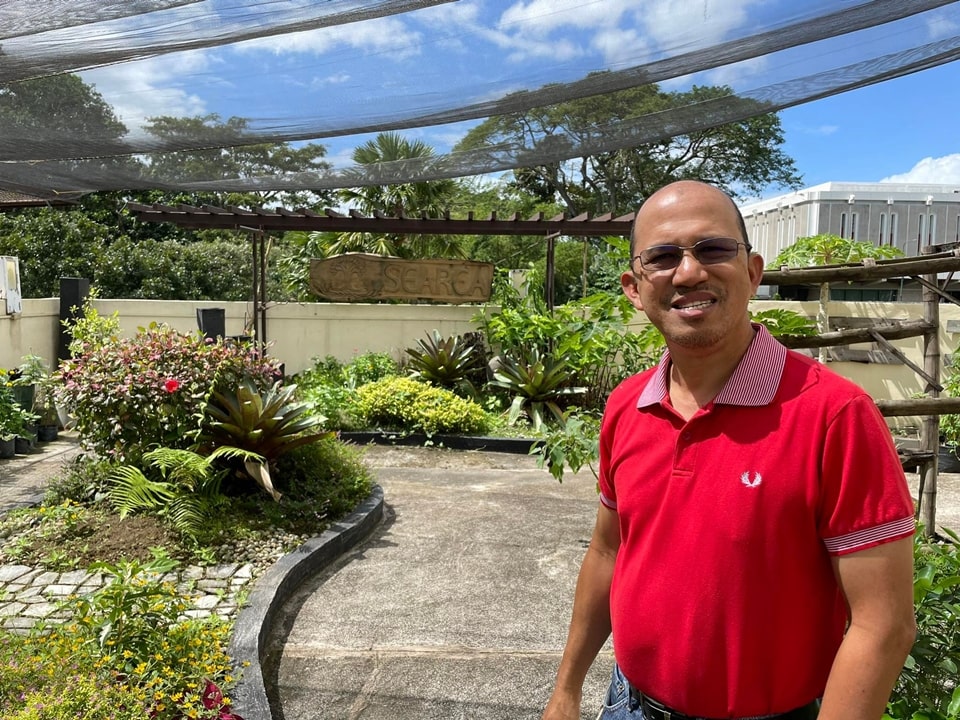 The SEARCA Greening Project is an initiative that promotes "local food for the local good" among its internal and external stakeholders.
"It is a brainchild of the Office of the Director that aims to inspire the staff, scholars and the community to grow our own food while consciously choosing healthful produce over processed food," said Ms. Beatrisa L. Martinez, Executive Coordinator, Office of the Director.
The germination of the greening initiative started in 2019 when Dr. Glenn B. Gregorio, SEARCA Director, thought of converting the Center's non-functional rooftop into a Sky Garden.

"When I was appointed as Director, the first thing that came in my mind is to walk the talk of agriculture," said Dr. Gregorio.
Part of the Directorate's initiative was to transform strategic areas inside the headquarters like the Sky Garden and the vertical balconies on the second floor into urban gardening locations and foodscapes.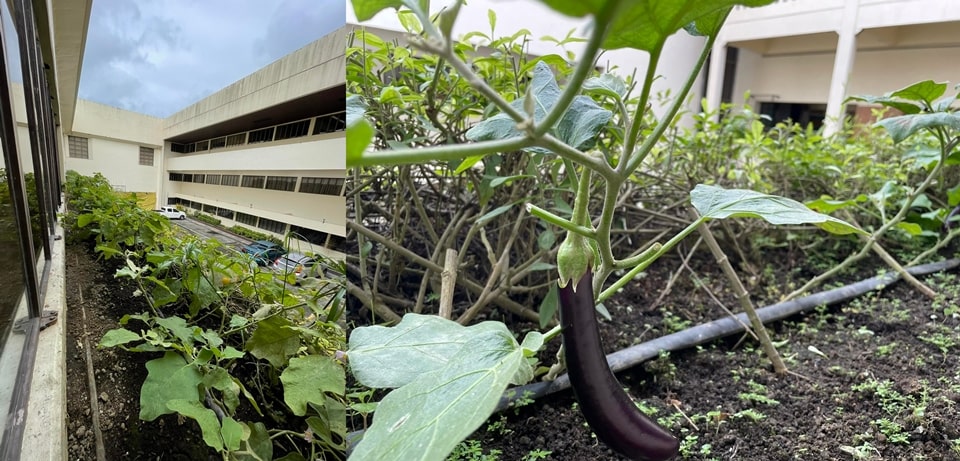 Planting seeds of knowledge and compassion
For Dr. Gregorio, it is important to bring agriculture closer to the heart of staff especially during an ongoing pandemic.
Originating at a hands-on training workshop on crop production and seedling preparation among SEARCA agency personnel, he saw the potential of Vanessa H. Javier, or "VJ", now a skilled worker under the General Services Unit (GSU).

He added, "from the SEARCA Residence Hotel where she works as a housekeeping maid, we decided to transfer her to the headquarters because of her passion for agriculture."
Since then, VJ was assigned to assist the Center in maintaining its vibrant and lively landscape.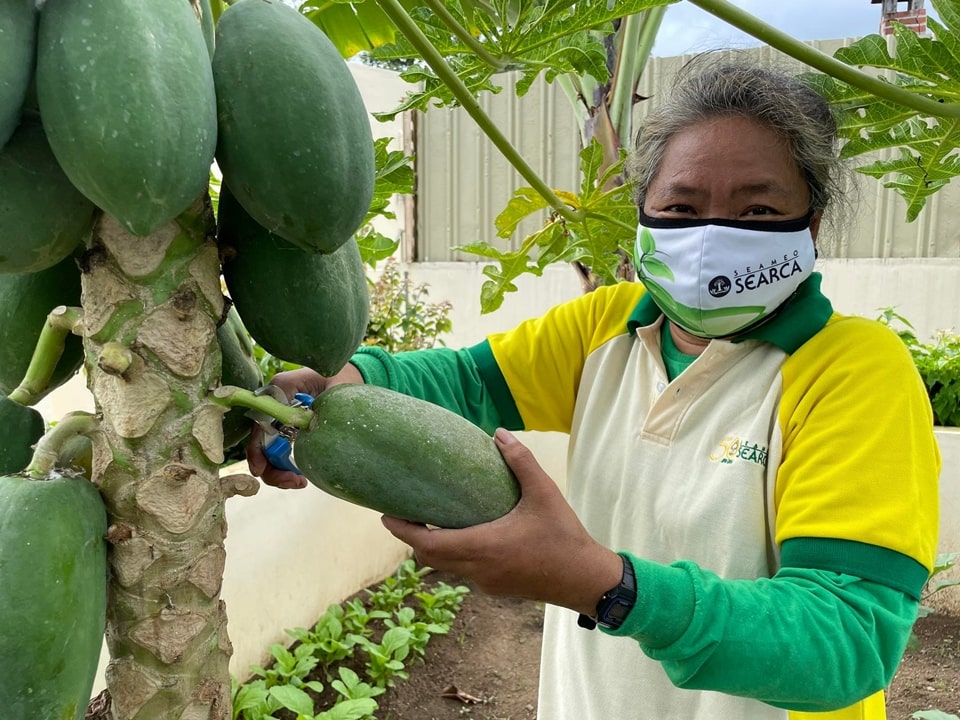 "She was instrumental in the establishment of SEARCA's own seedling nursery that houses different flowering and vegetable seedlings," said Dr. Gregorio. It has successfully produced lettuce, basil, parsley, water spinach, eggplants, and papaya to name a few.

Harvesting fruits of labor
From the flowering terrace to the nursery, the greening initiative was spread even to the perimeter of SEARCA. Staff and visitors are enjoined by VJ whenever there is a fruit or vegetable up for harvest.
The produce from the Center's edible landscaping were used for distribution to external projects within its neighboring communities. Fresh harvests were also distributed at the monthly community pantry to provide in-kind support to SEARCA agency personnel.

"Our greening initiative is a good showcase to show the community, and perhaps in Southeast Asia, that food and nutrition security can be achieved in one's own backyard," said Dr. Nova A. Ramos, Training for Development Unit Head.
"In this endeavor, the Center serves as the root of a tree and the staff as branches that reach out to people as they share fruits of their meaningful labor," said Mr. Rheden V. Rebong, Budget Specialist.

"The harvests from SEARCA's edible landscaping provides us with fresh fruits and vegetables that supplements our food stock or pantry in my dorm. I also learned a lot about gardening and tried to apply them in our home garden," said Ms. Ma. Victoria D. Bravo, Executive Assistant, Office of the Deputy Director for Programs.
It is truly a kind of love that keeps on giving, a love that grows and multiplies.