The VKFF farmers' primary processed products: calamansi concentrate and RTD juice
VICTORIA, Oriental Mindoro, Philippines. The large contribution of Oriental Mindoro province in calamansi production has earned it the title "Calamansi King" of the Southwestern Tagalog Region in the Philippines. Among the province's fourteen towns, Victoria has the highest volume of production and average yield, as well as the biggest area planted to calamansi, a citrus widely produced in the country.
In the past decades however, oversupply of fresh calamansi produce in the market during peak production periods caused prices to plummet and fruits to rot in many farms. Farmers have been discouraged to maintain their calamansi trees and shifted to producing other fruits. Area devoted to Calamansi production gradually declined and the likely threat of continuous decline was foreseen in succeeding years. This scenario posed the need to revitalize the calamansi industry of Victoria.
From the benchmarking performed as part of the initial activities of the project Revitalizing Calamansi Industry in Victoria, Oriental Mindoro through Strengthening Linkages Among Farmers, LGU, NGAs, SUC, CSOs and the Private Sector, primary problems, constraints, and needs of the calamansi industry were identified. The project was a collaboration among Mindoro State College of Agriculture and Technology (MinSCAT), SEARCA, and the Local Government Unit (LGU) of Victoria. Applying SEARCA's Inclusive and Sustainable Agricultural and Rural Development (ISARD) model, potential solutions were identified, focusing on the rehabilitation of pilot calamansi farms in 19 barangays (communities) of the municipality.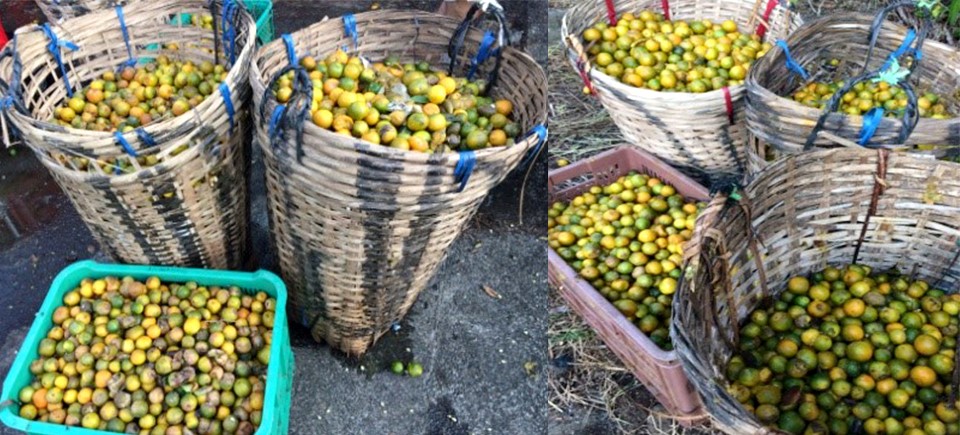 Overly ripe and heaps of rotting calamansi fruits were a usual sight near calamansi farms in many barangays of Victoria, Mindoro Oriental during peak fruiting season in the past few decades.
The most pressing problem raised by the farmers was the seasonal supply of the calamansi fruits that caused market glut during peak season, resulting in low price. During this period, price ranged from PHP 5.00 to 8.00 per kilogram. Thus, farmers opted not to harvest their fruits because labor cost and transportation would unlikely be recovered. Given this situation, there was a need to explore different marketing possibilities for calamansi, both in fresh and processed forms. Another constraint identified was the unstable demand of big traders within the province, prompting for enhanced market linkage for calamansi outside of the province.
Hence, among the major activities of the ISARD Piloting Project is the setting up of a calamansi processing enterprise. The objective was to increase the potential of processing Calamansi into products that could offer additional and alternative income sources, particularly when there is marketable fruit surplus.
The processing enterprise that was set up has been operated by the Victoria Kalamansi Farmers Federation (VKFF). Initially, the farmers that constituted VKFF identified calamansi concentrate and ready to drink (RTD) calamansi juice as the product forms. The farmers were then trained on the processing of these products as part of the project's capacity building component, which was facilitated by MinSCAT's Technology and Product Development Center (TPDC).

Presently, crates and crates of calamansi fruits harvested during the peak season months from July to November are maximally utilized through processing into value-added products, bringing income to VKFF farmer producers and processors.
VKFF uses the Victoria LGU's shared service facility to process calamansi. The processed calamansi concentrate is sold within and outside of the province in 350 ml and 500 ml bottles, and bulk volumes are sold in large containers for repacking by distributors. During its initial months of processing in September to October 2017, VKFF was able to produce and market an average of 3,380 liters of calamansi concentrate per month.
VKFF is a federation of 19 upland farmers' associations representing 19 upland barangays of Victoria. Calamansi is one of the major crops raised by members of the federation. VKFF has been registered with the Department of Labor and Employment since July 2016, through the facilitation of LGU Victoria and MinSCAT under SEARCA's ISARD Piloting Project.
The calamansi concentrate is sold not only to contract buyers from neighboring provinces of Batangas and Laguna and even Metro Manila, but to local retailers and consumers within Oriental Mindoro. The products are available in popular outlets such as the Grand Pasalubong Center at Xentro Mall in Calapan City and in farmers' stalls at the Producers' Weekend Market or Merkado sa Kapitolyo at the Provincial Capitol grounds.

VKFF products regularly sold in various local market
The newly found hope among famers to earn more from calamansi has enticed more farmers to venture into the crop and expand production. Others who previously raised calamansi but shifted to other fruit crops are now encouraged to plant calamansi again. Previous problems such as surplus of fresh produce during peak production periods that resulted in heavy economic losses are now successfully addressed through value adding. Practically, all fruits produced by the VKFF farmers during the peak production months are now being sold at higher prices and utilized as raw materials for their processing enterprises. Processed calamansi products have indeed opened new markets and extended the marketing season of the fruits. The farmers involved are no longer just primary commodity producers experiencing constraints brought about by unstable markets, but are now reaping the benefits of engaging in calamansi value-addition enterprises.