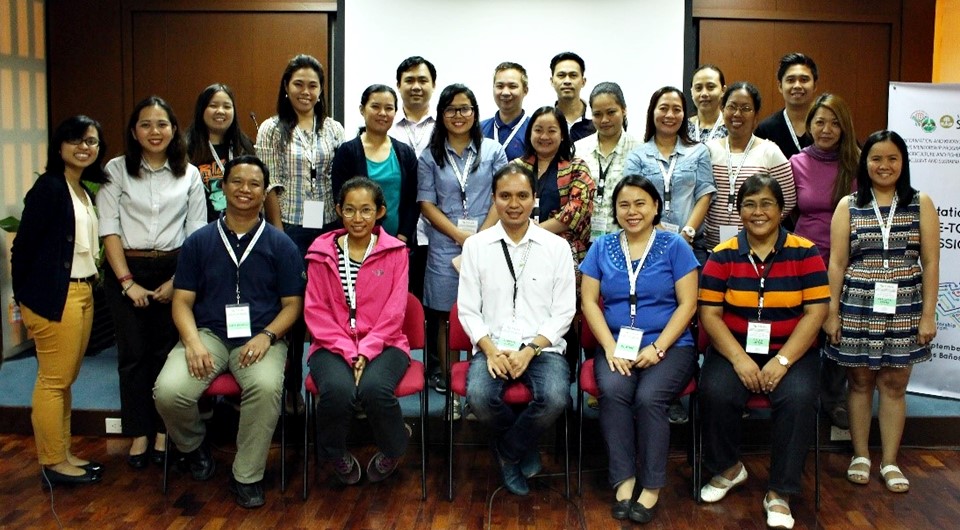 The participants of the 1st F2F Session with DA resource speakers; the SEARCA project team led by Assistant Professor Elaine DC. Llarena (seated, second from right); and Ms. Julia A. Lapitan, Head of the DA-BAR Applied Communication Division (seated, first from right).
CALAMBA CITY, Philippines – The Southeast Asian Regional Center for Graduate Study and Research in Agriculture (SEARCA) will conduct the 2nd Face-to-Face (F2F) Session under the project titled "Information and Knowledge Management (IKM) Mentorship Program: Communicating Agriculture and Fisheries Research for Inclusive and Sustainable Development (CAFRISD)" on 9-12 January 2018 at Sol Y Viento Hotel and Resort, this city. The project is funded by the Department of Agriculture-Bureau of Agricultural Research (DA-BAR).
The same batch of participants, 16 Regional Officers from DA Regional Field Units, from the previous session will participate in the learning event. Aside from the regional officers, representatives from DA-BAR are also expected to attend.
The participants will learn more about publication writing and production, photography, and videography. Aside from topics related to improving agricultural and fisheries research reporting and KM, the session will also include activities to enable the participants to catch up on their online lessons (Catch-up Session); the facilitators to summarize the previous module (Module 1 Synthesis); and the participants to enhance their final output (Capstone Project Planning).
The learning event also includes an educational tour to the following organizations with established KM approaches and practices: Asian Development Bank (ADB), DA-Agricultural Training Institute (DA-ATI), and Philippine Rice Research Institute (PhilRice). The tour will give the participants an opportunity to engage with KM practitioners.
Professors from the University of the Philippines Los Baños-College of Development Communication (UPLB-CDC) will serve as mentors and facilitators. The project team is composed of Prof. Elaine DC. Llarena, Project Leader and Overall Facilitator; Prof. Pamela Joyce M. Eleazar, as Mentor on Online and Publications Writing and Production; and Prof. Edmund G. Centeno, as Mentor on Photography and Audio-visual Writing. University Extension Specialist Rikki Lee B. Mendiola will serve as the Online Learning Expert.
Ms. Marie Antoinette F. Bangabang and Ms. Amy A. Antonio, both Project Assistants under the SEARCA Project Development and Technical Services (PDTS), will provide technical and administrative support during the training.