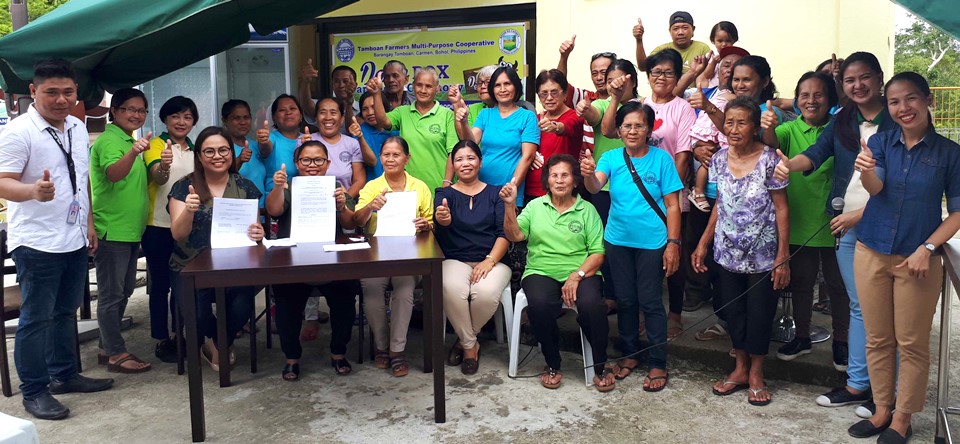 Members of Bohol Dairy Cooperative pose for a souvenir photo as they receive the equipment, tools, and supplies for The Dairy Box – Bohol on 15 February 2018 at Tamboan, Carmen, Bohol
The Southeast Asian Regional Center for Graduate Study and Research in Agriculture (SEARCA), as commissioned by the Philippine Carabao Center (PCC), is implementing the Enterprise Development component of the project titled Building Capacity and Strengthening Partnership through Carabao Development Program. The component aims to provide relevant interventions identified in the recommendations of Value Chain Analysis Study conducted by SEARCA for PCC covering carabao-based enterprises across the country. The intervention ranges from knowledge sharing to provision of support services and resources to the cooperative beneficiaries identified by the PCC National Headquarters.
University of the Philippines Los Baños (UPLB)
On 13 February 2018, the Board Members of Rosario Dairy Raisers' Association (RODRA) in Batangas and General Trias Dairy Raisers' Multi-Purpose Cooperative (GENTRI) in Cavite signed the Memorandum of Agreement (MOA) at SEARCA Residence Hotel in Los Baños, Laguna.
The MOA details the responsibilities among SEARCA, PCC, and cooperative beneficiaries. It also specified clauses about the equipment, supplies, tools, and vehicles that the cooperatives will receive as assistance to the enterprise development project titled Forage Conservation and Milk Handling Support for Resilient Carabao-Based Dairy Enterprise in Region IV-A, which aims to have available quality feeds throughout the year to improve the reproductive condition of the animals for consistent production and supply of raw milk and to ensure quality level of milk production, collection and distribution to install a quality-based pricing scheme.
To address the need, RODRA and GENTRI, with a total of farmer-members, shall be provided with motorcycles with sidecars, milk analyzers, milk cans, forage cutter, and ice candy maker amounting to PHP 980, 907.13.
The partial distribution of items, including motorcycles with sidecars and milk analyzers, is on 23 February 2018.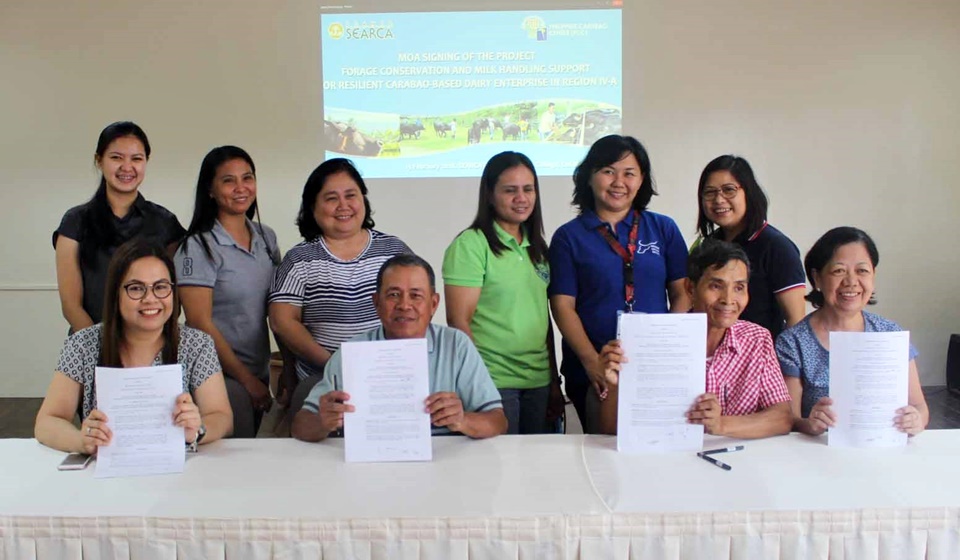 Board Members of RODRA and GENTRI, together with PCC and SEARCA Officials and Staff, posed for a photo with the signed MOA for the project, Forage Conservation and Milk-Handling Support for Resilient Carabao-Based Dairy Enterprise in Region IV-A, on 13 February 2018 at SEARCA Residence Hotel.
Ubay Stock Farm (USF)
Bohol Dairy Cooperative (BODACO) earlier signed the MOA with SEARCA and PCC on 9 November 2017 for the project titled Provision of Equipment and Materials to Bohol Dairy Outlet (The Dairy Box – Bohol), which aims to provide the growing market demand for milk in the Chocolate Hills Tourism Highway.
On 15 February 2018, BODACO at The Dairy Box-Bohol already received the initial items, which include one stainless table, four tables, two side tables and chairs, two upright chillers, two chest type freezers, one unit of 18-plate capacity oven, 48 stainless plates and one air conditioning unit. The remaining items, such as gelato ice cream maker, soft ice cream machine, heavy duty mixer and teller machine, will be turned over in April 2018.
Ms. Nancy M. Landicho, Program Specialist and Officer-in-Charge of the SEARCA Project Development and Technical Services (PDTS), introduced the organization and how the Center provides technical assistance through projects funded by international organizations as well as Philippine government agencies. In addition, Ms. Landicho stressed that it is through the technical assistance projects, such as the PCC-funded project support to carabao-based cooperatives, that SEARCA achieves its goals in making sure that growth and development in the agriculture sector is inclusive and sustainable.
Ms. Gullerma Abay-abay, PCC USF Carabao-based Enterprise Development (CBED) Coordinator, encouraged the farmer beneficiaries to take this opportunity to earn more. She hopes that, through hard work and unity of the cooperative members, their quality of lives will continue to improve.

Ms. Jesusa Danila (left) and Ms. Lita Aranas (right), Vice-Chair and Chair of BODACO, respectively, gave their messages of appreciation for being one of the two recipients for Visayas region.
SEARCA and PCC's efforts were recognized by BODACO during the turnover ceremony and were both given Certificates of Appreciation. Ms. Lita Aranas, BODACO Chair, said they are very grateful to SEARCA and PCC, "never in my wildest dream that we will receive such blessings and now it is realized." She added that they will give their best to take care of the equipment they received so that the next generation can still use it. Meanwhile, Ms. Jesusa Danila, BODACO Vice-Chair, mentioned that they will work hard to increase their income through the equipment provided.
Other representatives from SEARCA during the awarding ceremony include Ms. Sarah Grace Quiñones, Project Coordinator, and Ms. Elma M. Banzuela, Purchasing Assistant.
On 1 March 2018, partial distribution of items for Lamac Multi-Purpose Cooperative (The Dairy Box – Cebu) will be held at Pinamungajan, Lamac, Cebu. SEARCA will be represented by Ms. Landicho, Ms. Quinones, and Ms. Marie Cris P. Mendoza, Property and Supply Assistant. PCC USF will be represented by its Center Director, Dr. Caro Salces. Ms. Guillerma Abay-abay will facilitate the Awarding Ceremony.