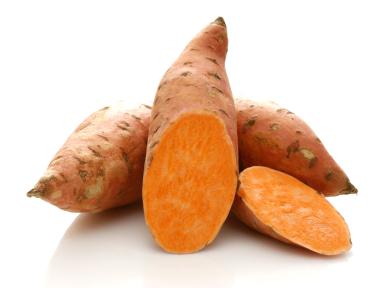 Sweet potato is a truly versatile food (Picture designed
The sweet potato was a cultivated crop as far back as 2500 BC.
Food historians estimate that humans have been consuming sweet potato as food for as long as 10,000 years.
It is a well-established crop in Central and South America, as well as the Caribbean Islands.
History documents that it was brought over to Europe by famed explorer Christopher Columbus in 1492.
In Europe, it was considered a delicacy enjoyed by royals and noblemen.
Around the 16th century, the sweet potato made its way to other parts of the world through explorers.
The Spanish brought it to the Philippines while the Portuguese would go on to introduce sweet potatoes to Africa, India, Indonesia, and South Asia.
Today, millions of tons of sweet potato are consumed by households the world over, including mine.
Sweet potato is considered a member of the Morning Glory family of plants. It grows best in a hot, humid climate.
Its scientific name is Ipomoea batatas. Contrary to popular belief, sweet potato is in a different category from yams and white potatoes.
The flesh of the sweet potato varies in hue, from creamy white, yellow and deep orange-pink to a deep bluish purple.
Of all these colors, the most common hue that is widely available is creamy white and orangey yellow.
Packed with goodness
Sweet potatoes are packed with good nutrition. According to the United States Department of Agriculture food database list, a 200 gram baked sweet potato (approximately one cup) provides a significant amount of our daily requirements for these key nutrients for an adult — 214 per cent of vitamin A, 52 per cent of vitamin C, 50 per cent of manganese, 36 per cent of copper, 35 per cent of pantothenic acid, 34 per cent of vitamin B6, 29 per cent of biotin, 27 per cent of potassium and 26 per cent of fiber.
You get all these nutrients for a mere 180 calories, which is roughly the calories in three slices of bread.
Sweet potato also contains natural antioxidants compounds in the form of carotenoids and anthocyanins.
These antioxidants are beneficial for their anti-inflammatory properties for human health. Purple-colored sweet potatoes are particularly high in anthocyanin.
As a crop, sweet potatoes are widely available all year round, which makes it a secure and accessible nutritious food source of communities the world over.
Researchers are particularly interested in how these antioxidants, particularly anthocyanin, can help prevent human illness.
A large concentration of anthocyanin antioxidants is typically found in the skin of plant foods that are not edible.
In the case of sweet potato, the concentration of anthocyanins is more so in the edible fleshy part. This makes it more unique compared to other plant foods with this antioxidant.
One promising role of the antioxidant extracts in purple sweet potatoes is that they have been shown to increase the antioxidant enzyme activity of copper/zinc superoxidase dismutase and catalase.
These two antioxidant enzymes are able to reduce the health risk of heavy metals and oxygen radicals that can bring about negative health in humans.
More substantial research needs to be done but it is an area of interest in human nutrition, especially with greater awareness on the presence of heavy metal residues in our diet and environment.
Nutrition scientists are also looking at the nutrients in sweet potato increasing the blood serum levels of adiponectin in people with Type 2 diabetes.
Metabolism of insulin
Adiponectin is a type of protein hormone that is produced by fat cells in our body. It plays a role in the metabolism of insulin.
Researchers observe that people who are diabetic or are insulin-insensitive tend to have a lowered level of adiponectin compared to a person who is healthy.
More large-scale research needs to be done in this area of nutrition but it does seem promising for now.
Like all carbohydrate foods, diabetics can enjoy sweet potato as part of a healthy, balanced diet in sensible portions.
A medium-sized sweet potato has 6.6g of fiber. The high fiber content helps the carbohydrate in the sweet potato be digested more slowly and not cause blood sugar levels to rapidly rise as more refined carbohydrates would.
Sweet potato is a truly versatile food that can be enjoyed by the whole family. There are plenty of recipes you can search for on the Internet, so do get creative with how you serve it up.
Sweet potatoes can be cooked using different cooking methods, such as steaming, boiling, baking or frying.
Steaming is one of the healthiest ways to cook sweet potatoes as it helps retain much of the nutrients in it.
When you boil the sweet potato, you tend to lose some of its nutrients into the water. A small steamed sweet potato is a healthy alternative when you need a light snack in between meals. This is one of my favorite and easiest way to eat my sweet potatoes!
Sweet potato is an excellent weaning food for babies when they start on solids. Just steam it, peel off the skin and finely blend the flesh to make a creamy puree.
Similarly, mashed sweet potato is a nutritious side dish to grilled meats or fish.
Another variation to try is baked sweet potato wedges — peel and cut sweet potatoes into wedges, place them on a baking tray and bake at 220 degrees Celsius in the oven for 35 minutes or until done.
It'll be crispy on the outside, but sweet and succulent on the inside!
Sweet potato can be made into desserts such as a steamed kuih bingka, bubur manis, or a sweet potato pie. Make them healthier by reducing a third or half the amount of sugar called for in the recipe.