Following a number of productive meetings with Brunei Government officials, a high-level Russian company, led by Viktor Tarusin, the President of the Odintsovo Chamber of Commerce and Industry of Russia, is looking forward to establishing practical cooperation and partnership with local companies to help boost Brunei's food security and exploration of oil and gas.
Also among the visiting Russian delegation are Ruslan Tokaev, the CEO of LLC NIPT; Rustam Kazakov, the Strategic Development Manager of LLC NIPT; Alexander Zaets, the CEO of the Petrochem Energy Group; and Rustem Aminev, the Contracts Engineer at the Marketing and Sales Department of SCF GEO.
In a press conference yesterday afternoon, Viktor Tarusin, who is also the CEO of LLC MG3, spoke about the levels of cooperation that could be achieved between the two countries.
He said, "We came to Brunei as a team under the Russian Chamber of Commerce and Industry. Our delegates managed to discuss a number of projects with our Brunei counterparts that targeted areas of agriculture, as well as in oil and gas."
The agriculture sector, he said, "is very interesting for Russia, because of the sanctions by the West and the United States. Russia was forced to improve its food security and within three years.
"We became self-sufficient in vegetable, poultry and grain production. Our expertise can also help boost self-sufficiency and food security for Brunei Darussalam. We can also provide an eco-friendly approach to agriculture, and genetically modified organism (GMO) free technology."
He added, "We have been invited by the Department of Agriculture and Agrifood under the Ministry of Primary Resources and Tourism to participate in tenders. Based on this, our science institutions in Russia that are engaged in grain and vegetable production created a number of proposals, which were well accepted by the Ministry of Primary Resources and Tourism."
He also revealed that the delegation had a meeting yesterday with Dato Seri Setia Awang Haji Ali bin Haji Apong, the Minister Primary Resources and Tourism, together with a number of local businessmen who were recommended by the ministry for the execution of the projects.
"Russia could provide training for Brunei's agricultural professionals, or send its company experts to Russia, for short-term advanced training courses that will give technology transfer, as well as an exchange of experiences," said Tarusin.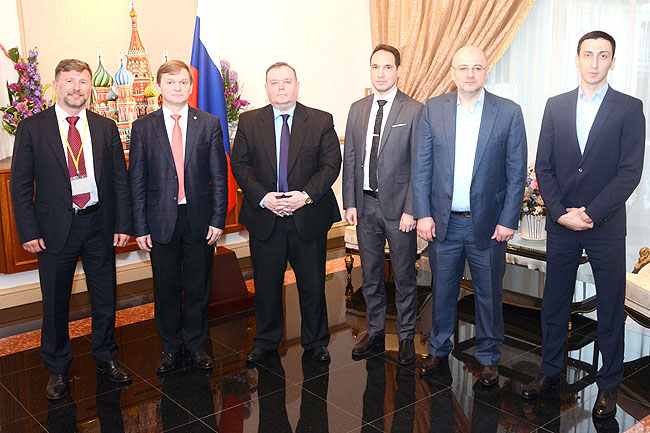 Group photo of the Russian Business delegation led by Viktor Tarusin, President of Odintsovo Chamber of Commerce and Industry of Russia, with Russian Ambassador to Brunei Darussalam Vladlen Semivolos. – JAMES KON
On projects in the oil and gas sector, he said, "Russia's chief shipping company is SCF GEO, which ranks fifth in the world. It not only provides shipping, but also geoscience in 2D and 3D marine seismic surveys. It is ready to provide its services to Brunei Shell Petroleum Co Sdn Bhd (BSP) and other major companies dealing in oil and gas exploration."
Meanwhile, Tarusin's company, LLC MG3, is able to provide specialised vessels that engage in on-site survey for platform installations and further drilling
He said, "We are also looking for cooperation with major companies in the region. We have a long-term contract with Petronas."
On the functions of NIPT, he said, "The company is engaged in oil slug recovery. Oil slug is a big problem for any oil-producing countries. They are engaged in business with British Petroleum and Shell, and they feel that there is a good opportunity in Brunei.
"Recently, the company received accreditation from BSP's procurement system, and I believe they have a high chance to get projects here."
The Russian delegates also met with the Brunei Economic Development Board, and are examining the potential to build a data centre in Brunei at the Digital Junction.
Tarusin said, "This presents a real potential for joint collaboration in a high-tech eco-friendly project, as Russia is also building a similar data centre in Moscow. Therefore, it would be practical to have a replica of the Russia Data Centre in Brunei."
With their current visit being their fourth to Brunei, he said, "We are now ready for practical cooperation with local companies. With the support of local companies, we will be able to get good results, as well as common benefits."
Tarusin concluded the press conference by thanking Vladlen Semivolos, the Russian Ambassador to Brunei Darussalam, for his proactive stance in promoting bilateral ties between the two countries.
The Russian delegation will meet with representatives from Brunei National Petroleum Company and BSP today.