First commercial harvest of 15 tonnes of Japanese Arus muskmelon planted in Tungku have been exported regionally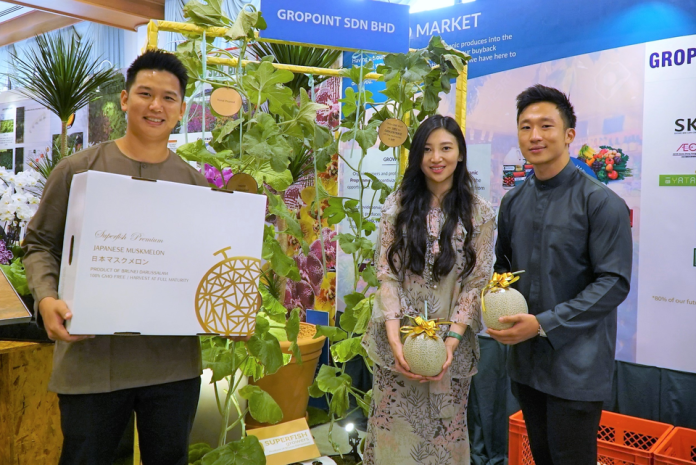 Superfish Growers' Managing Director Eileen Lee Hui Shi (C) and Chief Technical Officer Lee Wei Sheng (R) holding their muskmelons at their booth during YSHHB's Hari Raya celebration last week.
Superfish Growers have begun farming the world's most expensive melon originating from Japan in greenhouses at the Agrotechnology Park in Kg Tungku.
Siblings and founders of Superfish Eileen Lee Hui Shi and Lee Wei Sheng shared last week that they've exported their first commercial harvest of 15 tonnes at a wholesale price $20 per kilogram (kg) to Japan, China, Malaysia, and Singapore.
Once ripe, the Japanese Arus muskmelon weighs in at 1.5 kg on average and can easily fetch over $100 in retail stores. They are typically bought by customers as luxury gifts or served in high-end restaurants in Japan.
Lee, who is also Superfish's Chief Technology Officer, said they would be investing over $3 million to set up nine greenhouses in Tungku by the year's end to achieve their short-term target of producing 380 tonnes of muskmelons worth $3.8 million annually by 2020.
"We have acquired the highest quality Arus (muskmelon) seeds from Japan which are suitable for planting in Brunei's warm climate year-round," he said. "Of the nine greenhouses, six are being run by four local (contract) farming businesses who we have jointly invested in."
By 2023, Superfish is forecasting production to increase to 1,140 tonnes worth $11.4 million annually, as the global muskmelon market is expected to grow to $413 million with China being the biggest importer.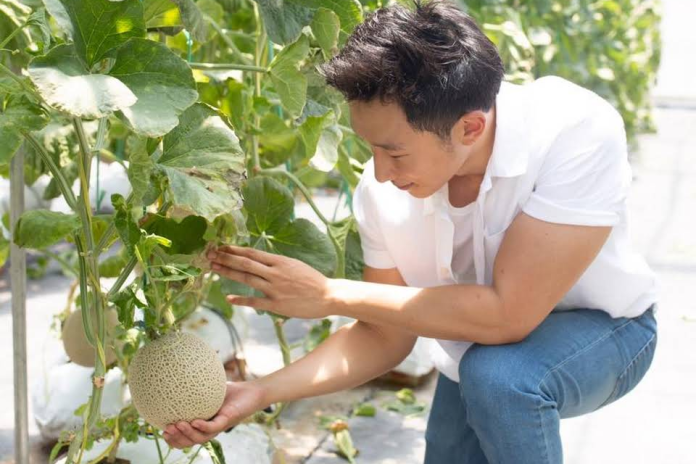 Each greenhouse takes up an acre and is typically manned by four employees. Photo: Superfish
To achieve this, Superfish will need to scale substantially beyond nine greenhouses, which they plan to do by rolling out a more extensive contract farming program with Bruneians.
"We will supply the technology and SOPs (standard operating procedures) to these farmers and then buy back their harvest, then package and process the melons in a central facility," said Lee.
The Lee siblings – Malaysians who grew up in Brunei – decided to set up the farm last year after discovering the fruit in Japan and its capability to be farmed in tropical climates.
The muskmelon farm is the latest extension of the Lee's family businesses. Their parents have been in the agrifood industry for more than 20 years, based out of Labuan, with a focus in seafood from catch to manufacturing byproducts.
"We choose Brunei (over neighboring areas) as farming land is very affordable and the agriculture authorities have been supportive; they have expedited the documentation necessary for us to export quickly," added Lee.
Eileen Lee said the Arus muskmelon's high prices owe largely to the specialty conditions it's farmed under as well as the high demand for it in East Asian markets.
Although the Arus muskmelon reaches maturity in 90 days and can be farmed year-round, they require meticulous attention to achieve their ideal form with dense, web-like patterns on its exterior and tender flesh with high sweetness levels.
"The muskmelons (left to grow) on their own achieve won't achieve the form that can fetch premium prices," said Eileen Lee, who is also Superfish's Managing Director.
"We farm the melons vertically on a raised bed (separate from the ground) where we can control the moisture and fertilizer content through fertigation. Each vine or plant only bears one melon to ensure that it receives the optimal nutrition, and we are checking on the plants every 30 minutes from 6am to 6pm."
Lee said that their competitive advantage would be against the slowdown of crop production during colder seasons in Japan and China. They will also be using Superfish's own brand of fertilizer which is marketed as the first fish hydrolysate fertilizer made in Malaysia.
"During this (colder) period the value of the melons are at their highest," said Lee. "We have built a processing facility that can control oxygen and CO2 levels which will delay the ripening of the fruit, enabling us to export the most during (opportune) times."