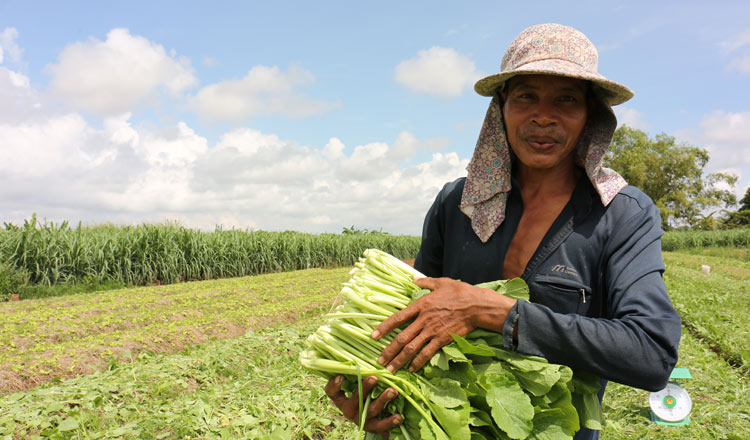 A farmer in Monulkiri, where the PM wants to diverse agriculture, including adding potatoes. KT/Chor Sokunthea
The prime minister has urged all stakeholders involved in the agricultural sector in the country to boost and promote the vital agriculture sector because it will provide food for locals and can be exported.
Speaking at a news conference at the Peace Palace this week, Mr Hun Sen instructed the Ministry of Agriculture, Forestry and Fisheries and other stakeholders to pay greater attention to farming, livestock, fisheries, and other products to boost their development and help contribute towards the national economy while other traditional pillars of the economy are in the doldrums because of the current Coronavirus pandemic.
It comes as the Royal University of Agriculture (RUA) announced it had shortlisted five potato varieties for plantation in Mondulkiri that generate a high yield and are resilient to climate change.
As a result of research conducted by the university, the varieties of potato suitable for Mondulkiri are the Tornado variety from Ireland, Madeira, and Coronada varieties from Germany and PO3 and PO7 varieties from Vietnam.
In addition that RUA is monitoring another eight varieties. The RUA said the five already chosen can generate a yield from 13 tonnes to 25 tonnes. The growing season starts from October to December or early January but the best yield is from those planted in mid-October.
Mr Hun Sen said that the virus has affected other sectors including services, tourism, industry, and construction but this is an opportunity for the agriculture sector to look into various measures to boost output and food production and make Cambodia self-sufficient instead of relying on food imports.
According to an Asian Development Bank (ADB) report, Cambodia's GDP growth is expected to slow dramatically to 2.3 percent in 2020 as a direct result of the COVID-19 outbreak, low growth in China, a minor contraction in major advanced economies and reduced access to export markets before rebounding to 5.7 percent in 2021.
COVID-19 will hit services hard by reducing foreign visitor arrivals and is expected to affect construction and manufacturing through supply chain disruption and reduced demand. The service sector is projected to contract by 1.7 percent in 2020 as tourism falls and growth in real estate slows.
Industry growth is forecast to slow by 6.5 percent in year-on-year in 2020 with a deceleration in garment production for exports and in construction in line with arrested growth in major advanced economies and a sharp slowdown in China. The loss of an estimated $1.1 billion from a 20 percent cut in the Everything but Arms free-trade treaty with the European Union from Aug 12 will also have an impact.
"Agriculture growth is expected to fall by 0.5 percent or so in 2020 compared with last year, reflecting a forecast for extended hot weather this year and the authorities' instruction to cultivate only one rice crop during the dry season," the ADB said.
Economists say that to improve the agriculture sector in Cambodia, it needs to be nurtured, with a clear vision and direction still to be fully determined.
Mey Kalyan, the senior adviser to the Supreme National Economic Council said ministries need to take coordinated action and also consult the private sector over contract farming.
According to the Prime Minister, services, tourism, and industrial sectors used to achieve high growth for many years while the agriculture sector has seen only slight growth, but this year all stakeholders have to do their best to promote farming.
Var Sophal, a lecturer and researcher in farm management at RUA said: "This year, we delivered the potato seedlings to around 10 families in Mondulkiri province. We want them to get used to different kinds of crops before scaling up,. Mondulkiri Provincial Agriculture Department will support growing techniques."
The cost for potato seedlings is around $2.5 to $2.7 per kilogram, but farmers can sell up to $750 per tonne. The cultivation period takes 90 to 110 days.
Var said Cambodia imported around 5 tonnes a day to supply the Kingdom's market.
However, he added that to make this crop sustainable, the RUA is conducting research to create its own seedlings to make sure that the crops can have a long shelf life and can be supplied throughout the year. It's also working on ways to store potatoes longer.
The provincial department of Agriculture Director Song Kheang confirmed the successful growing of potatoes in Mondulkiri and that the yield is up to around 20 tonnes. However, Song added that there is an issue with seedlings having to be imported.
Last year, the provincial agriculture department worked with 12 families and they received about 25 kilograms of seedlings to grow on a small piece of land.
Song added that Monduilkiri is suitable for many crops such as carrots, avocados, strawberries, potatoes, as well as crops that prefer cold weather.
"We are working with a Korean expert to create our own potato seedling varieties. We have been successful in growing imported potato varieties but we have to create our own seedlings to make it a sustainable crop," Song said.