Agropreneurs is the next big thing in Cambodia that will take the nation's economy to great heights. An estimated 30-40 percent of agropreneurs are already taking the agricultural sector by leaps and bounds, and if the trend is refashioned by the remaining then only the sky's the limit.
Tapping the opportunity, the Ministry of Agriculture, Forestry and Fisheries signed a memorandum of understanding (MoU) on January 21 with Agri-Sambath Khmer (ASK) to promote Agriculture 4.0 Master Plan 2030. The MoU aims to launch ASK Agriculture 4.0 Greenhouse Master Plan development in providing long term solutions with the strong support of the government and cooperation of people to build 10,000 greenhouses by 2030, which will produce a minimum of 400,000 tonnes of vegetables every year not only to provide food security to Cambodian market but also to become net exporters of vegetables to the entire region.
In agriculture, the 4.0 revolution represents a great opportunity to consider the variability and uncertainties that involve the agri-food production chain. Factories become smarter, more efficient, safer and more environmentally sustainable, due to the combination and integration of production technologies and devices, information and communication systems, data and services in network infrastructures. A farmer with his farm or agricultural companies must be able to adapt and make changes in order to remain competitive in the market. One of the primary needs to be met is constant communication between market and production and within the business itself.
There are several technologies, which can help a farmer or companies and which can be implemented together with Industry 4.0. The new technologies have a great impact on the reduction of uncertainty since they allow obtaining precise data in real-time, whose treatment, together with the capacities of autonomous and intelligent decision making will help to increase the efficiency, sustainability, flexibility, agility and resilience along the whole supply chain from the farmers to final customers.
For the agro-business sector, Cambodia is still importing large amounts of agriculture products despite having large land with quality water resources and good microclimate as mentioned by the Minister of Agriculture stating the shortage of safe vegetable supply remains a challenge for local markets and require the cooperation of all stakeholders, private and public sector to solve the problem.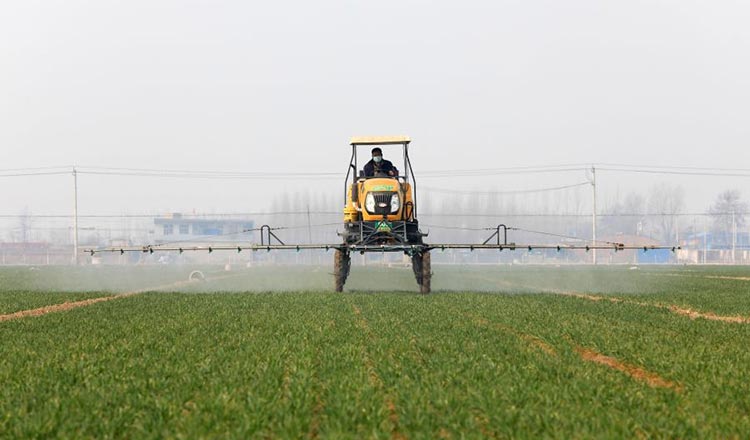 File photo. A farmer works in the field in Gaocheng District of Shijiazhuang City, north China's Hebei Province, March 9, 2021. (Photo by Liang Zidong/Xinhua)
Hean Vanhorn, secretary of state at Ministry of Agriculture, Forestry and Fisheries told Khmer Times, "Agriculture 4.0 refers to smart manufacture that is not fully dependent on climate change. In the new technology, we have greenhouse for cultivation. For agro-business, Cambodian farmers is depending on market. A farmer considers supplying product for the demand side. For the entrepreneurship group, we have many programmes from our ministry for encouraging farmers to export products."
KEA Sopheap, General Manager of Agri-SambathKhmer told Khmer Times, "It's my objective, we develop a group from Israel and incorporate them with our Cambodian farmer. With proper education and training from our group and greenhouse, ASK envisions to be a leader in Agriculture 4.0 development in Greenhouse and motivate the young generation to evolve into 'Agropreneurs' which will turn Cambodia into a great agriculture powerhouse in the world."
In the next 10 years, we have planned to reach 10,000 greenhouses. In the next two months this year, we established 320 greenhouses for 40 ha in Kompong Chhnang Province. Each greenhouse is sized only 2567 m2 for easier management and output
For the master plan, we develop 1,000 greenhouses for the first year with a total investment $150 million. In the next 10 years, we spent about $1500 million on 10,000 greenhouses.
The programme aims at transforming traditional agriculture into high tech agropreneurs. Through this master plan in the next 10 years, the efficiency of agriculture operation will grow fast and save time. Farmers can grow vegetables and fruits without any chemicals and this will be hassle-free when it comes to export. In view of the differences between Vietnam and China, it will be a golden opportunity for the Cambodian agriculture sector.
ASK has long term plans on developing ASK Food Tech Hub collaborating with technical know-how and knowledge transfer application from the leading agriculture countries to improve the quality of leafy and fruit vegetables with superior quality, competitive price and strong supply chain providing direct and indirect jobs to 60,000 workforces.
ASK and PLMP Venture Capital had also signed a partnership agreement on January 2022 with Phillip Bank to provide 20,000 students loan over the next 10 years for overseas agriculture training and job offer upon graduation.