All government authorities must work together to eliminate hunger by 2030 to ensure food security, food consumption and food stability, said Agriculture Minister Veng Sakhon.
He said this at a ceremony in Prey Veng province's Kanh Chriech district to commemorate World Food Day themed "Our actions are our future. Better production, better nutrition, a better environment and a better life" on Saturday.
Due to the Covid-19 crisis, he added the economy and society were seriously affected, especially the lives of poor and vulnerable families.
The government has set out important measures to help reduce the pandemic's impact and support the promotion of national economic growth in which the agricultural sector is also involved, he said.
"The main strategy of the government is to focus on increasing agriculture production, ensuring food security and maintaining economic growth and development in all sectors, especially agriculture. By achieving Sustainable Development Goals by 2030, Cambodia will have access to safe and healthy food with a focus on women and children," Sakhon said.
He added that the promotion of agricultural production and food systems in Cambodia is to increase innovation and modern technology in the food system as a whole, and the ministry has set a clear vision to modernise the agricultural sector to be more competitive, environmentally resilient to climate change and with sustainable growth.
He said modernisation will increase farmers' family income and provide long-term well-being, as well as reduce deforestation, allow for sustainable land management, and protect forest resources and fisheries.
Food Agriculture Organization (FAO) representative Antonio Schiavone said that the last two years have been challenging for all of us due to Covid-19. In Cambodia, the impact of Covid-19 on the economy, with many people losing their employment or income, has made access to food even more difficult for vulnerable families.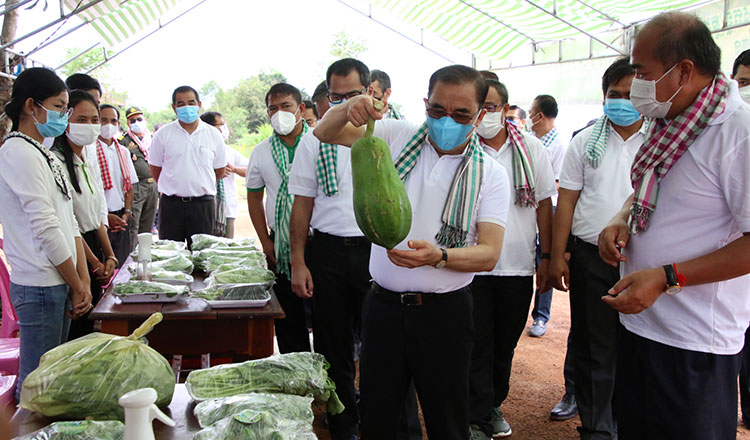 He said that in response to this crisis, the government acted swiftly and put in place additional social protection measures to help the poor during this critical period.
Even though Cambodia has made impressive economic progress and food security is ensured, the status of nutrition across the country and for different demographic and socio-economic groups remains uneven, Schiavone said.
He added food accessibility and dietary diversity among the rural poor, pregnant women and children under five remain a concern. Overweight and obesity are also a growing concern associated with insufficiently diversified healthy diets and consumption patterns.
Schiavone said that FAO and other partners stand ready to assist the efforts of the government to build long-term resilient strategic actions for the sustainability of food systems, as well as in the recovery plan from the Covid-19.
"In close coordination with the Ministry of Agriculture, Forestry and Fisheries and other government ministries, FAO has been working with farmers, public and private sector institutions to strengthen agriculture, including the modernisation and transformation of agricultural production, food value chains and conservation of natural resources," Antonio said.