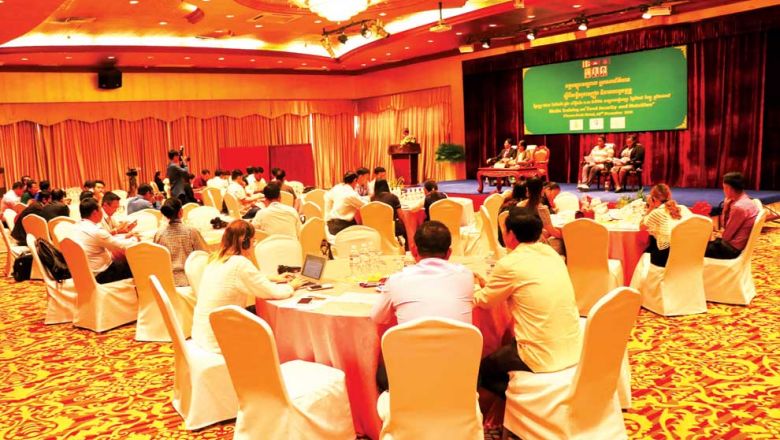 Thirty-two of 100 Cambodian children are stunted due to malnutrition, Scaling Up Nutrition Civil Society Alliance (SUN CSA) coordinator Hou Kroeun said on Friday. Photo supplied
In conjunction with the Ministry of Health, two civil society groups on Friday expressed their concern about malnutrition among children and pregnant women in Cambodia, quoting statistics showing that almost one in three children in the Kingdom suffers from it.
Scaling Up Nutrition Civil Society Alliance (SUN CSA) coordinator Hou Kroeun told reporters at the Media Training on Food Security and Nutrition workshop held on Friday: "Thirty-two of 100 Cambodian children are stunted due to malnutrition.
"This rate is too high and it is unacceptable for us – malnutrition does not only affect physical development, but also emotional development."
Kroeun said recent research showed malnutrition caused Cambodia to lose $250 million or some 1.7 percent of its GDP, annually.
"We prioritize nutrition and food security, but unfortunately people do not understand even the word nutrition itself," he said.
However, Council for Agricultural and Rural Development (CARD) deputy secretary-general and SUN CSA country director Sok Silo emphasized the remarkable progress made in the last two decades in health and nutrition among mothers and infants in Cambodia.
However, he said there was still a long way to go.
Silo cited the Ministry of Planning's 2014 demographic health survey which showed that the level of malnourished children had been reduced from 50 percent in 2000 to 32 percent in 2014.
The study also showed the rate of underweight children had reduced from 39 percent in 2000 to 24 percent in 2014, while that of malnourished women of reproductive age reduced from 21 percent in 2000 to 14 percent in 2014.
Additionally, the rate of mothers breastfeeding their babies increased remarkably between 2000 and 2010.
"Though malnutrition has been reduced to 32%, the rate remains high. This high malnutrition is a threat and a problem hindering the sustainability of social and economic development, human resource development and national development.
"Malnutrition adversely affects children's learning as well as their efficiency when they grow up, and it subsequently affects the family and national economy," Silo said.
Silo said that achieving a solution for malnutrition is necessary in order for Cambodia to achieve sustainable development by 2030.
Ministry of Health under-secretary of state Dr Prak Sophonneary stressed that malnutrition is a problem requiring a speedy solution.
"The high malnutrition rate is a problem hindering the sustainability of social, economic, human resource and national development. Therefore, the ministry promotes nutritional work with the full cooperation of SUN CSA," she said.
To alleviate the problem of malnutrition, Sorphonneary appealed to the media to participate in promoting the issue.
"Wide understanding at a community level about nutrition is key so that people will understand, implement and change their behavior towards nutritional issues for the better. I appeal to all media outlets to support and increase reporting on nutrition nationwide," she said.