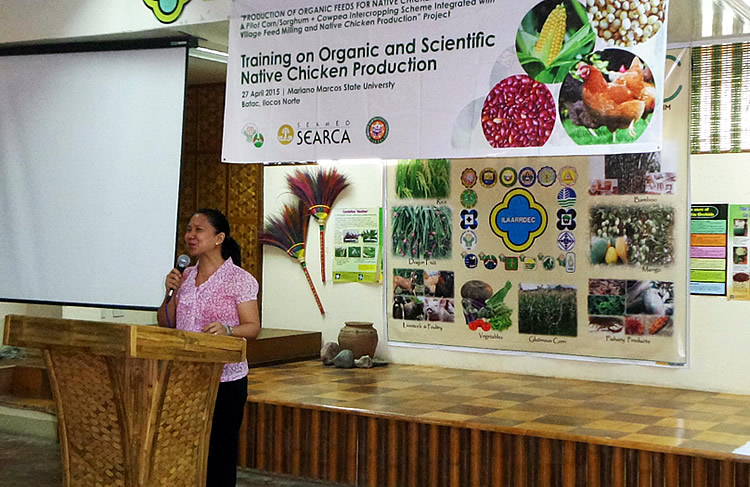 Dr. Marilou P. Lucas, MMSU Research Director for Research and Development Extension, gives the welcome remarks on behalf of Dr. Nathaniel R. Alibuyog, MMSU Vice President for Research and Extension.BATAC, Philippines – The Southeast Asian Regional Center for Graduate Study and Research in Agriculture (SEARCA), in partnership with the Mariano Marcos State University (MMSU), organized and facilitated the training course on Organic and Scientific Native Chicken Production held on 27 April 2015 at MMSU in Batac, Ilocos Norte. This activity is part of the Department of Agriculture – Bureau of Agricultural Research (DA-BAR)-funded project titled Production of Organic Feeds for Native Chicken: A Pilot Corn/Sorghum + Cowpea Intercropping Scheme Integrated with Village Feed Milling and Native Chicken Production.
Major topics covered include: (1) An Overview of Philippine Native Animals: Status and Potentials, (2) Science-enhanced Native Chicken Production, (3) Health Management of Native Chicken, (4) Feed Production, and (5) Organic Fertilizer Production. A total of 38 farmer cooperators from Batac attended the training.
Dr. Agapita J. Salces, Poultry Nutritionist cum Animal Breeder, and Dr. Jezie A. Acorda, Veterinarian, served as the lead lecturers. Ms. Corazon Diana A. Pastor, Poultry Breeder, and Mr. Mario I. Remolacio, Agronomist, both of MMSU, as well as Dr. Arsenio D. Calub, Project Leader, provided technical assistance during the training. Ms. Evelyn H. Juanillo, Executive Assistant from DA-BAR, was also present during the event.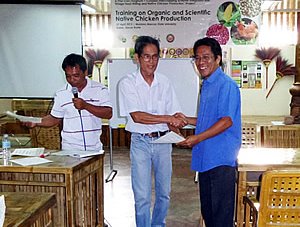 A participant receiving his certificate of completion from Dr. Arsenio D. Calub, Project Leader.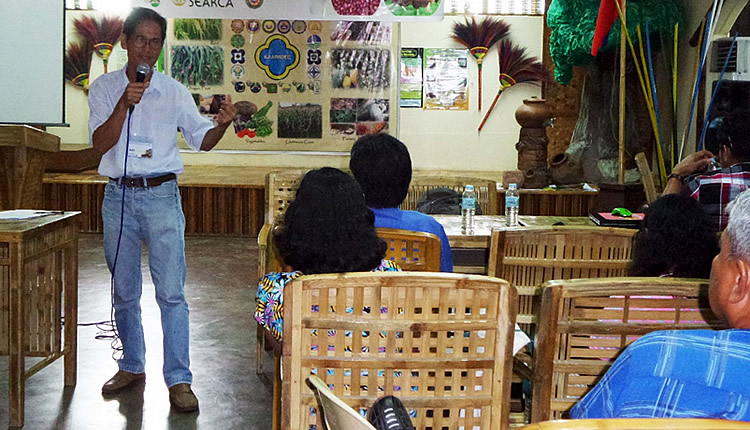 Dr. Arsenio D. Calub, Project Leader, gives the closing remarks.