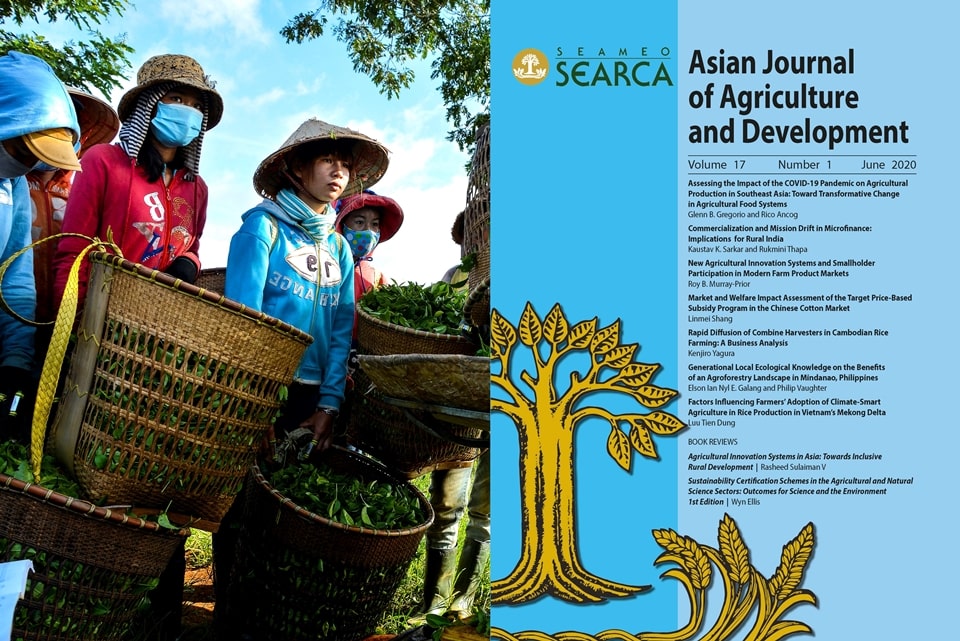 Mobility restrictions induced by the COVID-19 pandemic pushes 14.68 million more families to poverty in Southeast Asia, as drops in farm labor by 1.4 percent and agricultural production by 17 million tons impact a USD 3.76 billion decline in gross domestic product, a study says.
Published in the Asian Journal of Agriculture and Development (AJAD), "Assessing the Impact of the COVID-19 Pandemic on Agricultural Production in Southeast Asia: Toward Transformative Change in Agricultural Food Systems" recommends systematic transformation through agricultural systems approach to ensure resilient, sustainable, and productive foods systems to counter food security shocks in the region.
"Seeing food security as a coordination problem, both the government and private sectors could use this experience with COVID-19 to rethink how food production and consumption could be made more sustainable," say authors Glenn Gregorio and Rico Ancog, center director and operations consultant, respectively, of the Southeast Asian Regional Center for Graduate Study and Research in Agriculture (SEARCA).
Gregorio and Ancog add, "interconnections of each of the nodes of agricultural supply chains would be critical for holistic and integrated response to ensuring food security and nutrition at all times, especially during crisis."
SEARCA believes that academe-industry-government models are "critical to operationalize interconnectivity between and among the nodes in the supply chain." From this model, proposed in-country interventions are: supporting local capacity for self-sufficiency through local food production systems even in the urban areas; incentivizing studies and tactics that improve production and reduce losses; improving design of financial systems like loan, credit, and agricultural insurance systems; and promoting sustainable and responsible consumption patterns.
Gregorio and Ancog further posit that for Southeast Asia, "regional policies supporting trade must be designed to support productive and inclusive agricultural systems that ensure food security in the region that would benefit all ASEAN member states."
Related food security studies across Asia are available in the June 2020 issue of AJAD downloadable for free from https://ajad.searca.org/.
AJAD is an international refereed journal published by SEARCA, which provides evidence-based information and analysis on topics within the broad scope of agriculture and development. It publishes articles resulting from empirical, policy-oriented, or institutional development studies, as well as articles of perspectives on agriculture and development, political economy of rural development, and trade issues. AJAD's editorial board is headed by Cielito F. Habito, former Socioeconomic Planning Secretary and Director General of the National Economic and Development Authority of the Philippines and now Professor at Ateneo de Manila University.
Below is the full lineup of AJAD volume 17 no. 1 (June 2020):