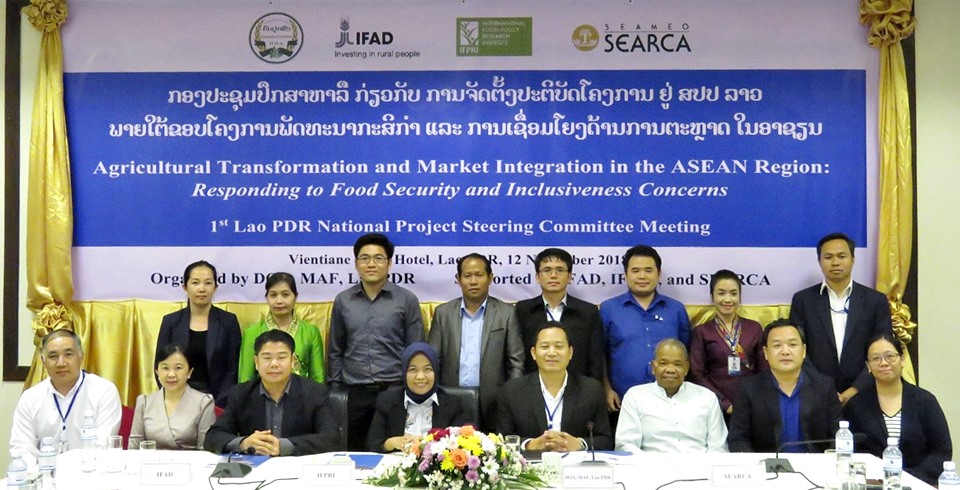 VIENTIANE, Lao PDR – The Ministry of Agriculture and Forestry-Department of Agriculture (MAF-DOA), the focal agency for the International Fund for Agricultural Development (IFAD)-funded project, Agricultural Transformation and Market Integration in the ASEAN Region: Responding to Food Security and Inclusiveness Concerns (ATMI-ASEAN) in Lao PDR, in partnership with the Southeast Asian Regional Center for Graduate Study and Research in Agriculture (SEARCA), held its first National Project Steering Committee (NPSC) Meeting on 12 November 2018 at the Vientiane Plaza Hotel here.
MAF-DOA Deputy Director General Mr. Bounchanh Kombounyasith warmly welcomed the guests and participants and expressed his deep appreciation to everyone for sharing their valuable time to attend the event. Mr. Kombounyasith recognized the importance of the ATMI-ASEAN project not only for agricultural development in Lao PDR and the region, but also its policy support initiatives.
Mr. Soulivanh Pattivong, IFAD Country Programme Officer of Lao PDR, highlighted their organization's current interventions in the country, which are focused mainly on rural development. IFAD aims to improve food and nutrition security, increase farm incomes, and strengthen resilience to climate change in Lao PDR. In partnership with the Lao government, IFAD will provide support related to irrigation, farmers group formation, governance, and capacity-building for smallholder farmers in rural areas. IFAD is also committed to strengthen value chain development and enhance market linkages for smallholder farmers. Mr. Pattivong believes that the results of the value chain study on maize, to be conducted in Lao PDR under the ATMI-ASEAN project, will provide relevant support to policy formulation in the country.
ATMI-ASEAN Policy Facilitator Ms. Aniq Fadhillah encouraged everyone to use the NPSC meeting as a venue to discuss and exchange views in relation to the implementation of the ATMI-ASEAN project in Lao PDR. She also shared the two of the major outcomes expected from the project, which include improved competitiveness in the production of key food and industrial crops, as well as reduced exposure of less-developed ASEAN countries to food security shocks.
Ms. Bernice Anne C. Darvin, ATMI-ASEAN Project Associate, delivered a message on behalf of Dr. Pedcris M. Orencio, Program Head for Research and Development of SEARCA. In his message, Dr. Orencio explained that the NPSC is a mechanism for multi-sectoral coordination among senior policymakers, representatives of national farmers and civil society organizations, researchers, and the private sector. He added that the meeting can serve as a "marketplace" of ideas, providing an opportunity to discuss recommendations on strategic issues related to strengthening policy-making initiatives in support of small-scale rural producers (SSRPs) in Lao PDR. Dr. Orencio also emphasized that the ATMI-ASEAN project is a significant attempt to manage structural transformation and market integration in the region.
To familiarize the NPSC about the ATMI-ASEAN project and their roles as members of the committee, ATMI-ASEAN Project Support Unit (PSU) Coordinator Prof. Jimmy B. Williams, and Ms. Bernice Anne C. Darvin presented an overview of the project, as well as the composition and terms of reference of the NPSC, respectively. Dr. Silinthone Sacklokham, Vice Dean and Associate Professor of the Faculty of Agriculture of the National University of Laos (NUOL) discussed their proposed policy study under the ATMI-ASEAN project entitled, "Analyzing Cross-Border Maize Value Chain in Lao PDR" to solicit comments and recommendations to further improve on their plan of study. During the open forum, the completed and planned activities for the project, as well as the proposed capacity-building initiatives were discussed.
More than 20 representatives from the government, academe, farmers and civil society organizations, and the private sector attended the meeting. This NPSC meeting is part of the monitoring and evaluation (M&E) activities under the ATMI-ASEAN project, which is being implemented by the International Food Policy Research Institute (IFPRI) as lead and SEARCA as implementing partner.