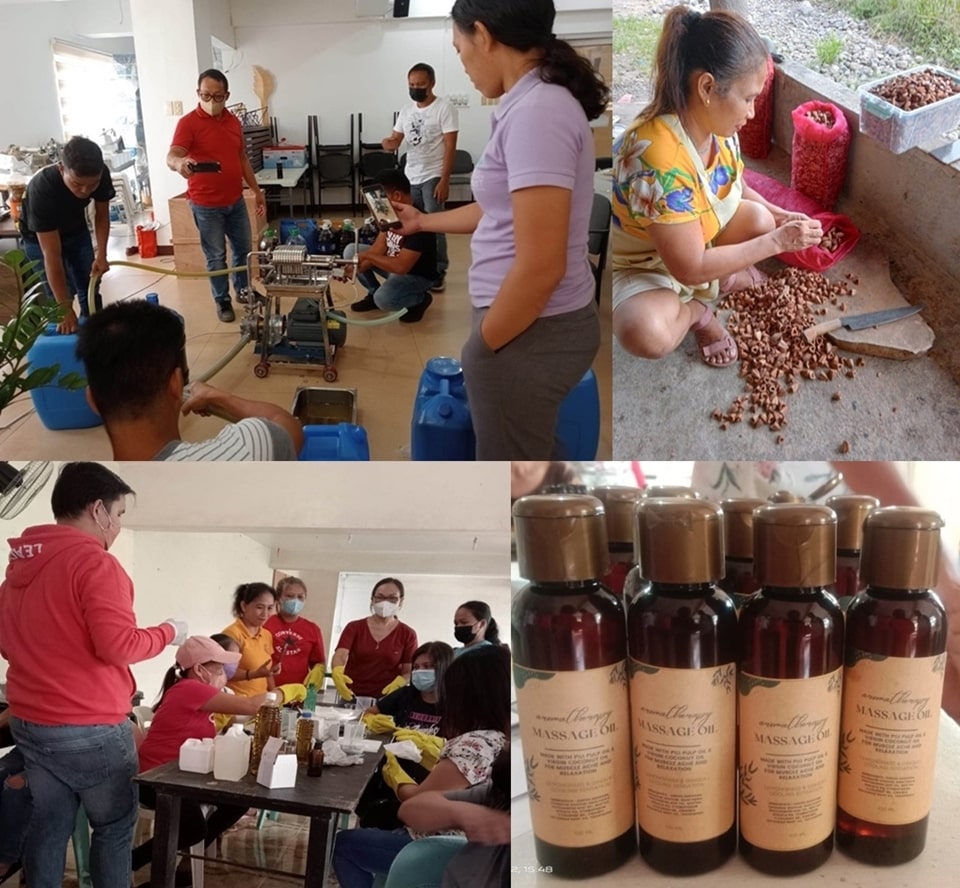 Filtering machine test run and training on pili massage oil production organized by SEDP-MPC
Pili farmers and entrepreneurs in the Bicol region were organized to revive their livelihood activities hindered by the pandemic and typhoons. With the funding support of SEARCA, the Socio-Economic Development Program Multi-Purpose Cooperative (SEDP MPC) engaged 17 barangays in five municipalities to prepare to launch a pili processing facility in Albay.
The SEARCA Grants for Research towards Agricultural Innovative Solutions (GRAINS) funded the project entitled "Technology Adoption for People-Centered Innovation and Livelihood Integration (PILI)." The project was groundwork for a facility that aims to help 500 farmers and 1300 women entrepreneurs generate 20 percent added income from pili processing. Construction of the facility has now progressed toward 75 percent completion.
SEDP MPC Chairman Rev. Fr. Jovic Lobrigo believed in pili as a viable product amidst poverty brought by disasters and vulnerability. "We have the so-called tree of hope—pili for resiliency, environmental, and financial sustainability."
The Bicol region makes 85 percent or over six thousand tons of pili in the country every year. The pili kernel is the most useful part, while the pili pulp is often discarded. To maximize the use of pili pulp, the SEDP MPC taught farmers and entrepreneurs to extract oil and create value-added products such as candy, chips, and sauce.
Machineries for pulp oil processing, including filtering and pressing, were tested through the PILI project. Production capacity was doubled by enhancing the machines. Pili drupes purchased from 73 farmers in Manito, Camalig, Daraga, Tabaco, Bacacay, and Malilipot areas produced 175 liters of oil, which is now marketed at the SEDP Community Store. The pili oil could be raw material for cosmetics, medicines, and food. Training on soap making and massage oil from pili was also conducted.
To ensure the quality of source, PILI participants were taught to grow their planting materials and manage pests and diseases. With the production of pili oil and related products, the project served as market for the pili farmers' harvest, and created employment for production workers, pickers, traders, and processors.
Program Head of SEARCA Emerging Innovation for Growth Department, Asst. Prof. Glenn Baticados said, "with GRAINS, we push for starter technologies and projects that benefit farming communities. By promoting pili-based livelihood, we give farmers and entrepreneurs the opportunity to recover and earn more."
The construction of the pili processing facility, dubbed as SDPC PILI Hub is sponsored by SANTEH Aquaculture Science and Technology Foundation, while the equipment are provided by Rotary International Foundation in partnership with Rotary Club Legazpi West. PILI project is also supported by Misereor based in Germany, SEDP microfinance, DOST, Bicol University, local government units and more.