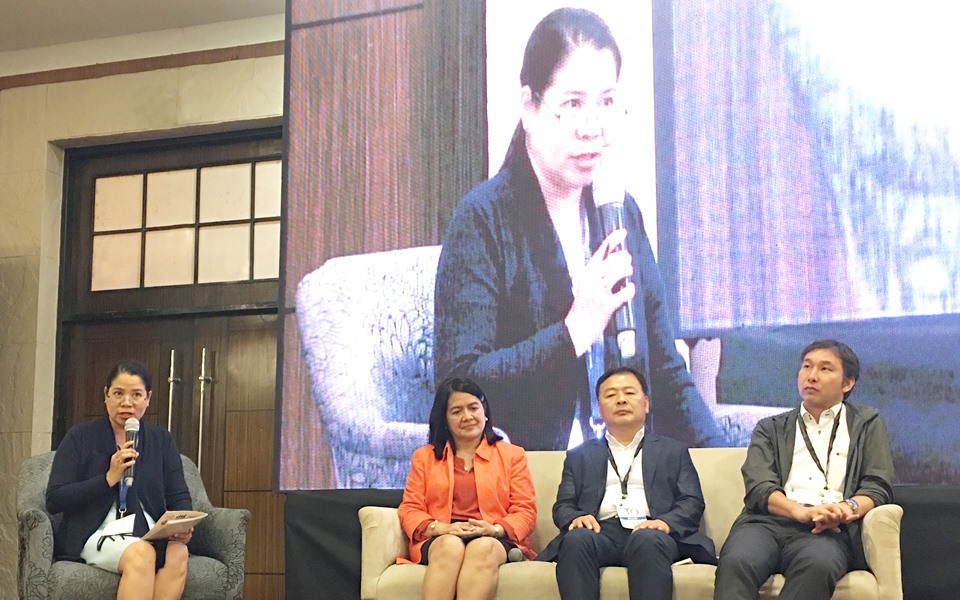 Dr. Nova A. Ramos (leftmost), Program Specialist at SEARCA's Knowledge Management Department, moderates the open forum following the presentations of farm tourism country models by (from right) Mr. Daisuke Fujii, Representative Director and President, Ohtawara Tourism Co., Ltd., Japan; Dr. Lock-hwan Jo, Senior Agricultural Researcher, National Institute of Agricultural Science, Korea; and Ms. Vernie Morales, Regional Director at the Philippine Department of Tourism-Region 4A.
TAGAYTAY CITY, Philippines – The International School of Sustainable Tourism (ISST), Southeast Asian Regional Center for Graduate Study and Research in Agriculture (SEARCA), and Philippine Department of Tourism (DOT) joined hands to lead the first Global Farm Tourism Summit to discuss the benefits of adding a tourism component to farms while promoting sustainability.
Held on 17-19 July 2018, the event gathered 350 participants. In attendance were private farm owners and entrepreneurs, as well as representatives from academe, international development agencies, local government units (LGUs), and national government agencies working in agriculture, tourism, and environment.
Leisure farm owners and local government executives shared best practices and success stories, while experts imparted the state-of-the-art in climate risk assessment, resilient crops, and organic farming standards. Country models of farm tourism were also discussed by speakers from Korea, Japan, and the Philippines. Mr. Jesus Domingo, Philippine Ambassador to New Zealand, talked about New Zealand farm tourism and "farm tourism diplomacy."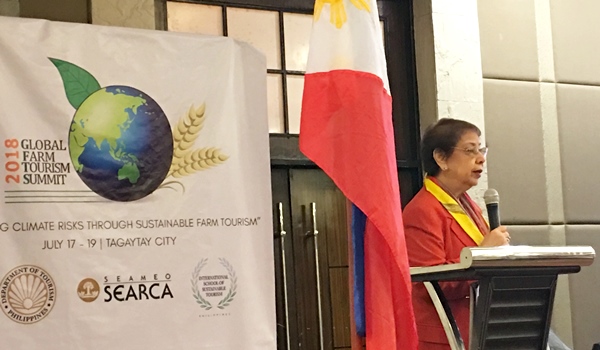 Dr. Mina Gabor, who heads ISST, noted that half of the conference participants were from the LGUs.
She told the LGU representatives: "At the end of the day, you will determine the success of farm tourism in the areas. If you don't know what farm tourism is all about, you won't be able to support the people who are going into this business. It is so important for you to know the problems, the opportunities, and the success stories of people who have been in farm tourism."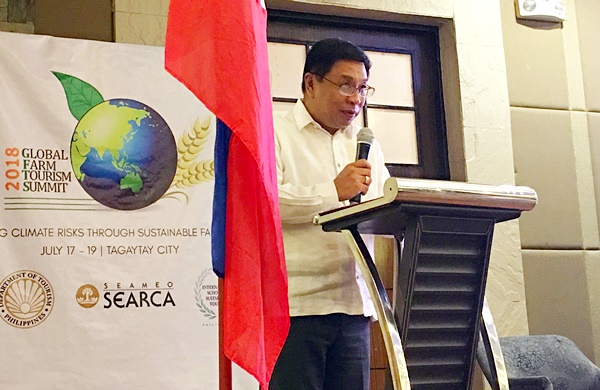 This was affirmed by Dr. Fernando C. Sanchez, Jr., Chancellor of the University of the Philippines Los Baños and Chair of SEARCA's Governing Board, who said: "this emerging industry of farm tourism has in fact opened up a whole new perspective for many governments that agriculture and tourism are not totally mutually exclusive."
Elaborating on SEARCA's focus on sustainability, Dr. Sanchez added that SEARCA supports farm tourism because it provides a way to showcase agriculture as a lucrative business enterprise for farmers while advocating for sustainable agricultural systems.
In her keynote message delivered by Tourism Assistant Secretary Roberto Alabado III, Philippine Tourism Secretary Bernadette Romulo-Puyat cited how the government supports sustainable farm tourism.
"The Philippines' National Tourism Development Plan 2016-2022 directs efforts towards climate change, risks, and climate management. Therefore, our strategy and action plans include green technologies and innovative conservation measures in the development of farm tourism sites and facilities," she said.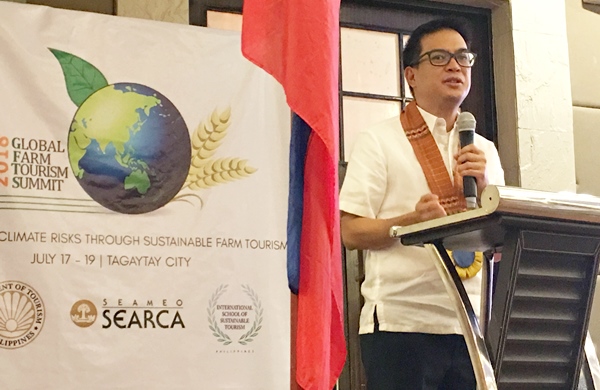 For his part, Asec. Alabado said the foremost reason for DOT's support to farm tourism is its inclusive nature—that is, anyone can be a player, from the smallest farmers to the big landowners. He added that since agriculture is still the backbone of the Philippine economy, boosting the tourism aspect of the sector would also spur development in the regions.
Themed "Managing Climate Risks through Sustainable Farm Tourism," the summit devoted two days to topics that included "farming is sexy," millennial farmers, women empowerment in farm tourism, new sustainable practices, climate resilient crops, climate-smart farming, do-it-yourself promotion of farm tourism, local organic standards and accreditation and, internationally accepted processes, and various country experiences.
The landmark conference was capped by a farm visit on the third day to the International Institute of Rural Reconstruction (IIRR) in Silang, Cavite where participants observed good practices in sustainable farming.
The summit was also supported by the Tourism Promotions Board, Provincial Government of Cavite, IIRR, Automobile Association of the Philippines, and the Department of Interior and Local Government (DILG), Agriculture (DA), and Trade and Industry (DTI).