Senior and mid-level executives in agriculture and rural development in the Philippines and seven ASEAN countries with SEARCA organizers and experts on food security at the Executive Forum on Food Security: Leaders in ASEAN Agriculture and Development held 1-5 June in Los Banos.
LOS BANOS, Philippines – The ASEAN region faces an opportunity to become a champion in food security by addressing the challenge of feeding its 5.1 billion population by 2050, noted policy experts.
As one of the world's food baskets, ASEAN is prone to the multifaceted challenges of food security, especially as the region needs to leapfrog its food production in 2050, noted Dr. Paul S. Teng, principal officer at Singapore-based National Institute of Education.
Dr. Paul S. Teng, SEARCA fellow and principal officer at Singapore-based National Institute of EducationDr. Teng is also a senior fellow at the Southeast Asian Regional Center for Graduate Study and Research in Agriculture (SEARCA).
"ASEAN must approach food security as a region with better coordination and with a common position to become a price setter in the market, rather than just a price taker," said Dr. Teng Technical Coordinator of the Executive Forum on Food Security: Leaders in ASEAN Agriculture and Development held at SEARCA in Los Baños on 1-5 June 2015.
Thirty-five senior officials and middle managers from government agencies, private sector, research institutions and academe from eight countries in the ASEAN region, together with 15 international resource persons from the academe, public, and private sector took part in the executive forum.
Dr. Gil C. Saguiguit, Jr., SEARCA Director, said in his welcome remarks "...pathways toward food security have never been easy as we are constantly faced by challenges of an ever increasing population, dwindling natural resource base, and worsening climatic conditions that all negatively affect the region's agriculture sector. These varied and persistent problems in the region, coupled with the changing ASEAN agricultural landscape, demands leaders and executives ... to rise above the occasion and make appropriate multilateral decisions and actions." The executive forum is one of SEARCA's activities along its research and capacity building mandate aimed to contribute to food and nutrition security in Southeast Asia.
As a big importer of food mostly from the US and Brazil in the West, the member states of ASEAN are reduced to taking prices from exporters. Together, the regional members can negotiate better price deals, with the goal of sharing equitable profit to farmers and producers, and in all parts of the supply chain up to distribution, explained Dr. Teng.
Countries in the region must go beyond economic integration and harmonize efforts on three major fronts: ensuring food availability, shying away from subsistence farming, and implementing a nurturing policy environment for food supply, the SEARCA fellow added.
In the region, Malaysia outscored its ASEAN neighbors after ranking 34th place out of 109 countries in the 2015 Global Food Security Index issued in May.
Food access
Ensuring food availability is the first step for ASEAN in achieving the goal of food security in the ASEAN region and worldwide.
"We need to ask what needs to be improved in food production, processing, trade, distribution, and quality standards," noted Dr. Teng.
Making rice truly available in the region remains an issue, for example. The region is home to both major rice producers and exporters such as China, India, Indonesia, Thailand and Vietnam and major rice importers such as the Philippines, according to FAO statistics.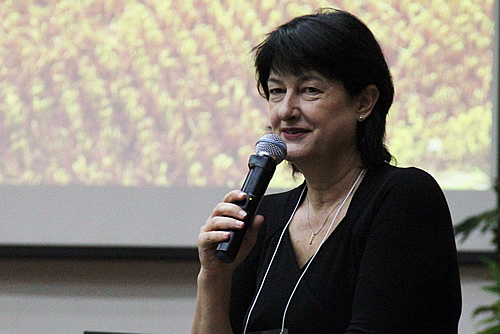 Dr. Regina Moench-Pfanner, director at the Global Alliance for Improved Nutrition (GAIN)The ASEAN region can ensure staple food commodities are available to its member states while continuing exports to other regions, at the same time deciding as a bloc to find the best competitive advantage in terms of growing profitable crops, he added.
"Food availability has always been an issue in food security so this is the first challenge that ASEAN must address."
Ending hunger should also be tied to providing the population with access to quality nutrition and not just caloric intake, added Dr. Regina Moench-Pfanner, director at the Global Alliance for Improved Nutrition (GAIN).
"ASEAN is a food basket but there are a lot of hungry, undernourished people," she added.
One way to address "hidden hunger" in Asia is to promote nutrition security and dietary diversity. Mothers can nudge kids to eat more greens and have the right ratio of carbohydrates and protein in the diet to address stunting and deficiency in Vitamin A, iron, and other micronutrients, Dr. Moench-Pfanner added.
Profitable farming
"The second step to get food security in ASEAN is the need to move from subsistence farming to entrepreneurial farming," Dr. Teng noted.
Across the globe, farming communities have a declining and ageing population. In 1998, the average age of farmers pegged between 50 to 60 years old in the United States, Canada, Korea, and Japan, which is significantly older from the average age of 36 to 51 years old three decades earlier.
"Technology on its own is not enough. Farmers need both tools and a proper business model using this tools to earn a decent livelihood and profit," Dr. Teng explained.
"This can help attract young people to make a career in agriculture like what is happening in North America where the young see farm work as a business. And this is where entrepreneurs can come in," he added.
Farmers are inherently good technology testers and adopters. Extending this to involve farmers in developing and testing market-responsive agri-business models can help prove if something works, Dr. Teng said.
Enabling policy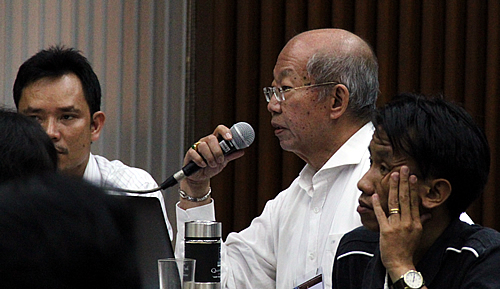 Dr. Larry Chee-Yong Wong, visiting fellow at the Institute of Strategic and International Studies in MalaysiaThe third step crucial for ASEAN's path towards food security is creating a policy environment that nurtures all the important phases of food supply chain. A nurturing policy environment, additionally, is needed to promote climate adaptation mechanisms in building resilient farms, Dr. Teng added.
From a business exports policy perspective, the future for ASEAN in the agri-business sector looks bright when it learns to be able to move beyond becoming a common base for production and market to one that helps add value to its products and helps promote integration within the region and other regions through multimodal logistics, noted Dr. Larry Chee-Yong Wong, visiting fellow at the Institute of Strategic and International Studies in Malaysia.
"The challenge for ASEAN is to create a situation when the whole is more than the sum of its parts and focusing on these three: establishing food availability, infusing entrepreneurship among farmers, and fostering a nurturing policy environment can make it a leader in ensuring food security for its population," Dr. Teng concluded.