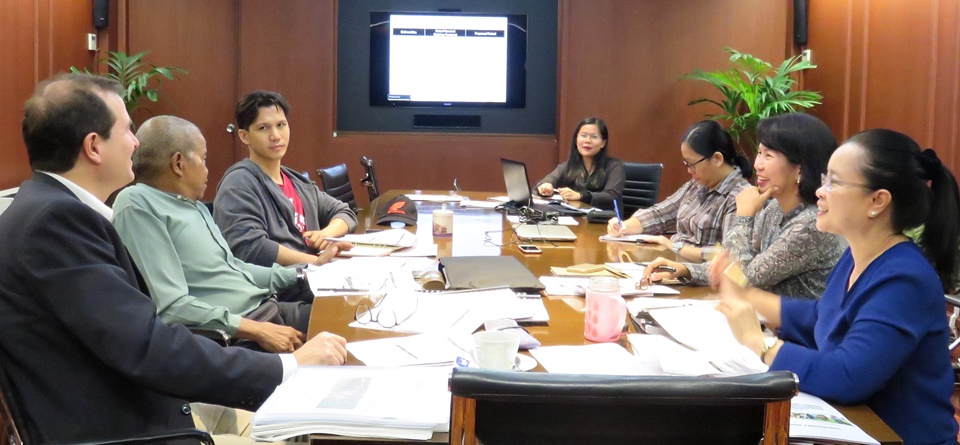 SEARCA's RDD Staff, led by Dr. Bessie M. Burgos (rightmost), presenting to Dr. Bresciani (leftmost) the ATMI-ASEAN Project accomplishments, plans, and challenges.
The first supervision mission of the project funded by the International Fund for Agricultural Development (IFAD), titled Agricultural Transformation and Market Integration in the ASEAN Region: Responding to Food Security and Inclusiveness Concerns (ATMI-ASEAN) was carried out by Dr. Fabrizio Bresciani, Regional Economist at the Asia and the Pacific Division of IFAD, through separate meetings with the project implementers led by the International Food Policy Research Institute (IFPRI) and the Southeast Asian Regional Center for Graduate Study and Research in Agriculture (SEARCA) as implementing partner.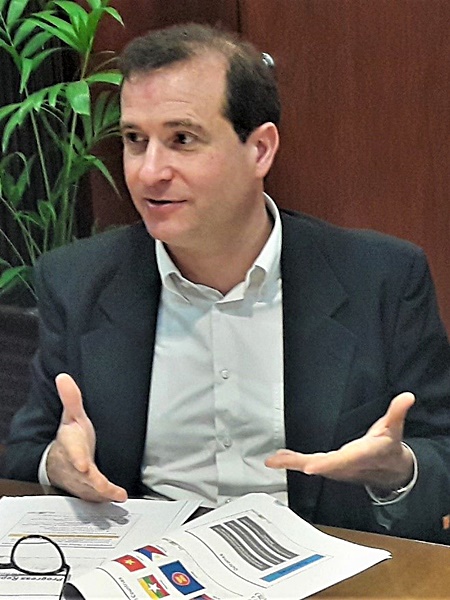 Dr. Fabrizio Bresciani, IFAD Regional Economist, discussing the goal of the mission and giving feedback on SEARCA's report regarding the ATMI-ASEAN Project.
The supervision mission aimed to review the project's progress, its plans for the year, and overall program management. The first leg of the mission was held in New Delhi on 17 January 2018 with IFPRI Project Director, Dr. Pramod Kumar Joshi, together with the members of the Project Coordination Team.
The second part was conducted on 24 January 2018 at SEARCA's Headquarters in Los Baños, Philippines. Dr. Bessie M. Burgos, Program Head for SEARCA's Research and Development Department (RDD) and the Project Support Unit, received Dr. Bresciani and presented the accomplishments and the 2018 Work Plan of the ATMI-ASEAN Project.
The supervision mission of Dr. Bresciani will conclude after the Annual Country Programme Review of the Philippine Office of IFAD on 30 January to 1 February 2018 in Bukidnon, Philippines.