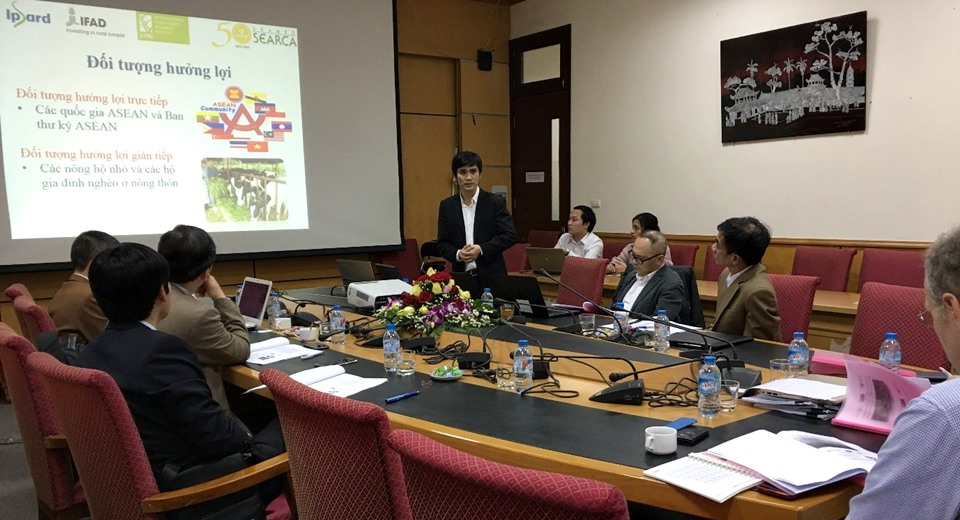 IPSARD leads conduct of 1st National Project Steering Committee Meeting in Vietnam for the ATMI-ASEAN Project
HANOI, VIETNAM. The Institute of Policy and Strategy for Agriculture and Rural Development (IPSARD), the focal agency of the International Fund for Agricultural Development (IFAD)-funded project Agricultural Transformation and Market Integration in the ASEAN Region: Responding to Food Security and Inclusiveness Concerns or ATMI-ASEAN in Vietnam, led the conduct of the first National Project Steering Committee (NPSC) Meeting at the IPSARD Office in Hanoi last 26 January 2018.
Dr. Tran Cong Thang, Vice Director General of IPSARD, expressed his appreciation to the members of the NPSC for taking the time to participate in the meeting, which he facilitated. Dr. Tran gave a short overview of the project highlighting its objectives, components, expected outcomes, and beneficiaries. He also provided the committee members with specific updates on what has been done so far, and what other activities are lined up for the project in Vietnam.
Dr. Tran presented Vietnam's proposal and plan of study for its national-level policy research under ATMI-ASEAN titled, Pig value chain analysis in Hanoi City and Thai Binh Province: Recommendations for improvement and inclusiveness. Dr. Tran began by discussing the current state of the pig sector in Vietnam, especially in the context of agricultural transformation and market integration. He also provided a brief analysis of the strengths, weaknesses, opportunities, and threats (SWOT) of the smallholder pig industry in relation to its potential integration into the national and regional agri-food value chains.
Representatives from Vietnam's agriculture-related agencies and farmers' organization attended the meeting and provided inputs in the policy study to be conducted in Vietnam. The NPSC agreed unanimously that the commodity that should be subjected to the value chain study in Vietnam is pig given the increasing demand for pork in the country. In fact, at present, pork accounts for 60% of the average daily meat consumption in Hanoi, which is at approximately 500 tons/day.
IFAD and the Southeast Asian Regional Center for Graduate Study and Research in Agriculture (SEARCA), likewise, participated in the meeting as observers. IFAD was represented by Mr. Thomas Rath, Country Director, and Mr. Nguyen Thanh Tung, Country Presence Officer for Vietnam, while SEARCA was represented by Ms. Bernice Anne Darvin, Project Associate of the ATMI-ASEAN project.