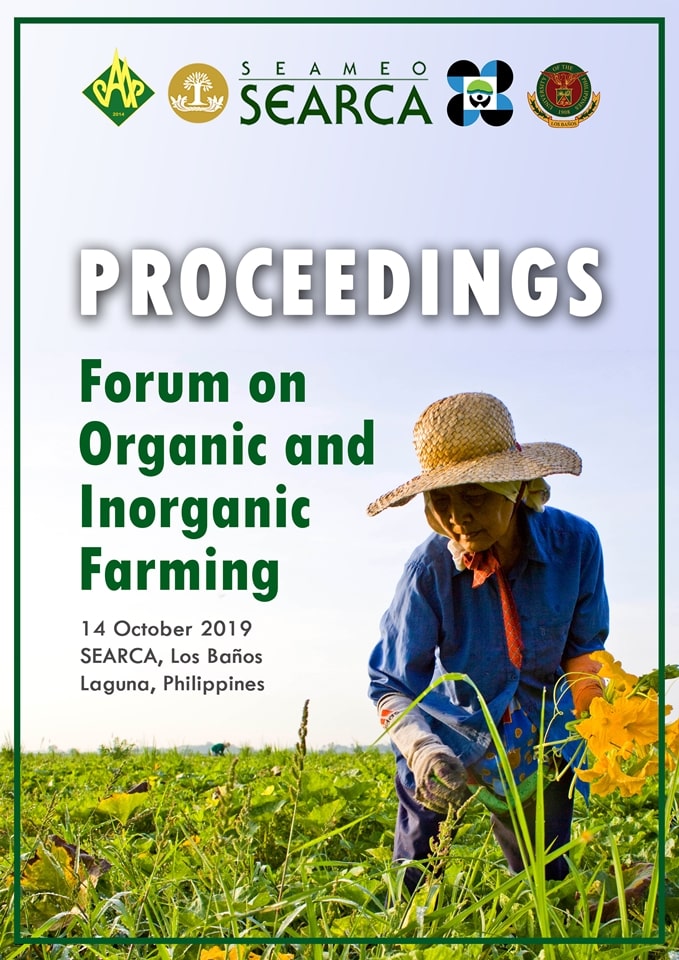 The report of the Forum on Organic and Inorganic Farming, which contains the forum's full proceedings, is now available for free download at the SEARCA website (https://www.searca.org/pubs/proceeding-workshop-reports?pid=460).
The forum was organized by the Coalition for Agriculture Modernization in the Philippines, Inc. (CAMP), in partnership with the Southeast Asian Regional Center for Graduate Study and Research in Agriculture (SEARCA), Philippine Council for Agriculture, Aquatic, and Natural Resources Research and Development (PCAARRD), and the Institute of Plant Breeding (IPB) of the University of the Philippines Los Baños (UPLB). The forum was held on 14 October 2019 at SEARCA.
The report highlights the balanced discussion on the science and practice of both organic and inorganic agriculture, and the ways and means of integrating the two opposite and often conflicting perspectives to farming to achieve food security. It contains the full presentations and discussions on the following topics tackled during the forum: 1) Science and Practice of Organic Farming by Dr. Rodel G. Maghirang, Director, UPLB Institute of Plant Breeding; 2) Experiences and Advocacies of Organic Farming by Mr. Pablito M. Villegas, Owner and Entrepreneur, Villegas OrganiKs and Hobby Farm; 3) Science and Practices of Inorganic Farming by Dr. Pearl B. Sanchez, Director, Agricultural Systems Institute, UPLB College of Agriculture and Food Science; 4) Scientific Bases of Integrated Organic and Inorganic Farming in the Philippines by Dr. Eufemio T. Rasco, Jr., CAMP Member; and 5) Enjoying the Best of Both Worlds: Mainstreaming Organic Practices in Conventional Agriculture by National Scientist Emil Q. Javier, CAMP Chair.