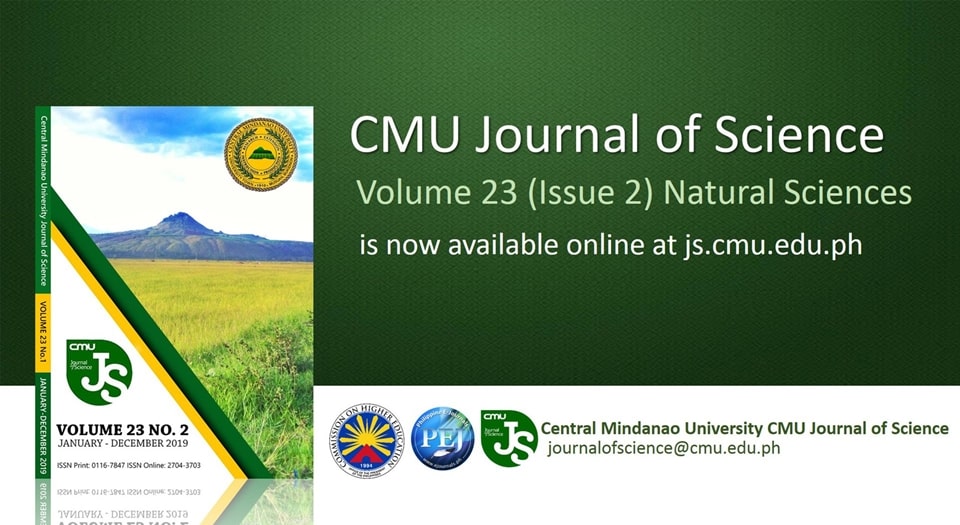 The critical role of universities and colleges to undertake research and development initiatives that contribute to food security during the COVID-19 pandemic were discussed in a publication by Dr. Glenn B. Gregorio, Director, and Dr. Rico C. Ancog, Operations Consultant for Emerging Innovation and Growth, both of the Southeast Asian Regional Center for Graduate Study and Research in Agriculture (SEARCA).
Their paper titled "Food security amid the COVID-19 pandemic: research and development priorities for Higher Education Institutions in the Philippines and Southeast Asia" has been published in the Central Mindanao University (CMU) Journal of Science Volume 23, Issue 2 on 2 July 2020.
The CMU Journal of Science is a peer-reviewed multidisciplinary journal accredited by the Philippine Commission on Higher Education. It publishes research outputs in the fields of natural sciences, mathematics, engineering, and social sciences from local, national, and international contributors.
"The needed transformative change in the agricultural food systems would stem right at the hallowed halls of the universities and colleges," the authors explain.
They note the strategic position of higher education institutions (HEIs) to pursue projects and initiatives related to food security and their agility in designing their curricular and extension programs to produce professionals who can actively engage in achieving food security goals.
As agriculture remains a major engine of economic development in most Southeast Asian countries, the authors say that HEIs are expected to up the ante in knowledge generation and scientific productivity.
They also see the need to reorient the agricultural research themes and modalities already in place from a business perspective to afford systemic change of the agriculture sector.
"A country like the Philippines needs an adequate cadre of researchers who appreciate the need to shorten the gap between research productivity and its translation to economic development," the authors explain.
They added that "challenges in terms of research funding due to CoViD-19 is already imminent but innovations in fiscal and research implementation abound."
"At the current scenario, various modalities of Academe-Industry-Government interconnectivity models need to be explored so it can be customized to their specific needs," Dr. Gregorio said.
He and Dr. Ancog stressed that "HEIs can do aspire to contribute beyond---toward an economic development that is sustainable, inclusive, environment-friendly, and most importantly resilient to current and future pandemics."
"Publishing our work in the CMU Journal of Science is SEARCA's way to show support to the journals of state universities and colleges" Dr. Gregorio said.