Dr. Gil C. Saguiguit, Jr., Director of the Southeast Asian Regional Center for Graduate Study and Research in Agriculture (SEARCA), is among the recipients of this year's SEAMEO Service Award, having meritoriously served the Center for four decades.
The Southeast Asian Ministers of Education Organization (SEAMEO) bestows the accolade on outstanding staff of the SEAMEO regional centers, network, and secretariat who exemplify excellence and commitment for the success of their respective organizations.
To be presented at the 49th SEAMEO Council Conference (SEAMEC) on 24-26 July 2017 in Jakarta, Indonesia, the award comes on the eve of the completion of Dr. Saguiguit's unprecedented third term as SEARCA Director. This biennial meeting gathers the Ministers of Education of the 11 SEAMEO member countries in Southeast Asia.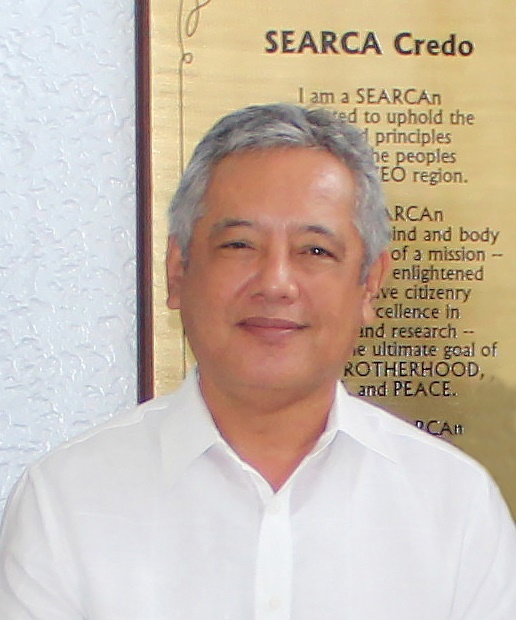 The SEAMEO Service Award adds to Dr. Saguiguit's numerous distinctions received from national and international/foreign institutions for his exemplary development work in the agricultural sector. These include the Chevalier de l'Ordre du Mérite Agricole (Knight of the Order of Agricultural Merit) given by the French government for his efforts to strengthen cooperation between France and the Philippines and Southeast Asia in the areas of agricultural research, education, and culture. He was also conferred the Honorary Doctorate Degree in Applied Economics from Thailand's Maejo University (MJU) for his noteworthy contributions to agricultural education and human resource development in Thailand and in Southeast Asia.
In 2013, Dr. Saguiguit was named Outstanding Alumnus in Regional Institutional Development and Distinguished Alumnus for Agriculture and Rural Development by the University of the Philippines Los Baños Alumni Association (UPLBAA) for his significant contributions to the development of institutions working toward agricultural and rural development in Southeast Asia. He also received Vietnam's Medal for the Cause of Education in recognition of his efforts to improve the country's education system. Dr. Saguiguit also received on behalf of SEARCA an award for significant contributions to Myanmar's human resource development in agriculture.
Under Dr. Saguiguit's leadership, SEARCA increased its collaborations on research and capacity building projects—including graduate scholarships and short-term training courses—with national and international development agencies and donor organizations that flourished during his term.