More than 100 experts and partners working in the agri-food sector gathered in a Roundtable Discussion Series on Sustainable Food and Agriculture Systems in Southeast Asia, jointly organized by the Southeast Asian Regional Center for Graduate Study and Research in Agriculture (SEARCA) and the Bangko Sentral ng Pilipinas (BSP).
The event brought together industry leaders, experts, and stakeholders from across Southeast Asia, Europe, and the United States (US) who shared experiences and insights in promoting digital technologies, carbon farming in agriculture, and climate-smart innovations in the food and agriculture sectors.
SEARCA Director Dr. Glenn Gregorio and BSP Monetary Board Member Dr. V. Bruce Tolentino formally opened the hybrid two-day roundtable discussions (RTDs) held at the Philippine International Convention Center (PICC) from 18 to 19 April 2023 and streamed via Zoom and the official Facebook pages of the SEARCA and the BSP.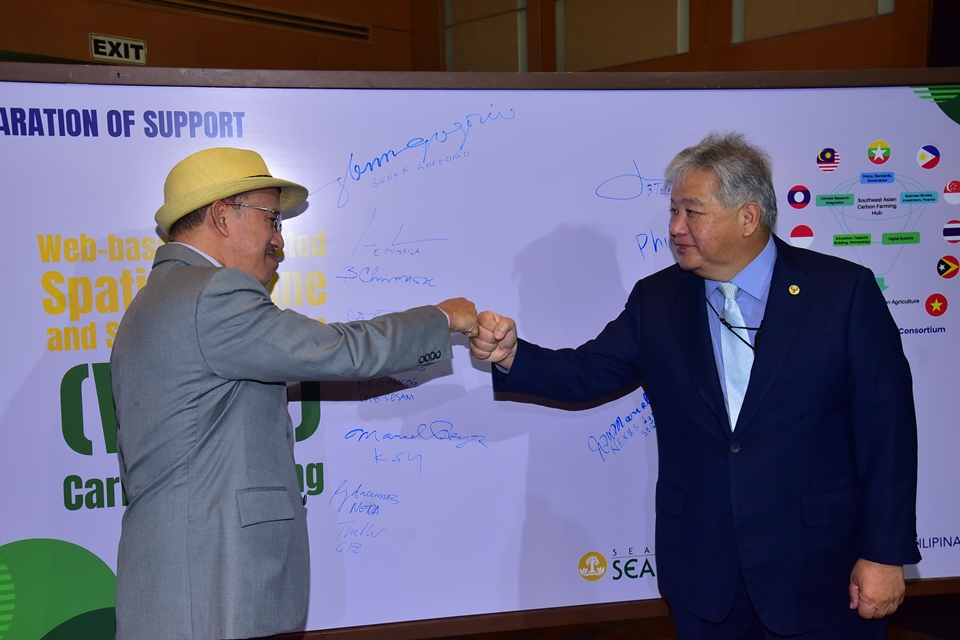 Dr. Glenn Gregorio, SEARCA Director, and Dr. V. Bruce Tolentino, Monetary Board Member of the Bangko Sentral ng Pilipinas (BSP) and SEARCA Senior Fellow, declare their commitment to support the Southeast Asian Carbon Farming Consortium (SEA CAF).
Dr. Gregorio said that enabling farmers to participate in digital economies and in organizing and accrediting carbon farming initiatives requires interdisciplinary and collaborative actions. "SEARCA and the BSP partnered in holding these roundtable discussions to bring together diverse perspectives and stakeholders to engage in open and constructive dialogue on advancing agricultural productivity and sustainability while encouraging regional cooperation in new initiatives that will connect farmers to digital economies and carbon markets," the Director added.
Meanwhile, Dr. Tolentino shared that the BSP has launched its Sustainable Finance Roadmap and is pleased to partner with SEARCA in a shared endeavor toward sustainable development.
Dr. Tolentino also emphasized the role of telecommunications in financial inclusion. "The opening up of the telecommunications sector will enable a new era of financial inclusion. This will also benefit many communities that are often excluded, including small farmers and fisherfolk in the isolated areas of the archipelagic Philippines," Dr. Tolentino said.
Representatives from the embassies of Canada, France, Israel, the United Kingdom, and the United States also participated and showed their support for this initiative.
Mr. Nir Balzam, Deputy Chief of Mission of the Embassy of Israel in the Philippines, shared that some of Israel's agricultural technologies are now being explored and used in Southeast Asia, including the Philippines. He also mentioned capacity-building programs and small grants on agriculture offered by his country.
"Through collaboration, we can create sustainable solutions for the challenges facing the food and agriculture sector today. On behalf of our mission, I'm renewing our commitment to support efforts that accelerate the digital transformation of the food and agriculture system in the Philippines and Southeast Asia. We will continue to collaborate and support SEARCA's initiatives like today's event," Mr. Balzam said.
The RTD culminated with the unveiling of the Carbon Farming Consortium envisaged to foster regional cooperation and commitment to promote carbon farming in agriculture in Southeast Asia. Dr. Gregorio and Dr. Tolentino led the signing as a declaration of their commitment to support the consortium.
BSP Deputy Governor Chuchi G. Fonacier concluded the event by issuing a call for strengthened regional cooperation and affirming the BSP's shared desire to break the barriers to sustainable food and agriculture systems and accelerate efforts to promote inclusive, sustainable growth in the region.
View Roundtable Discussion Series' Highlights: