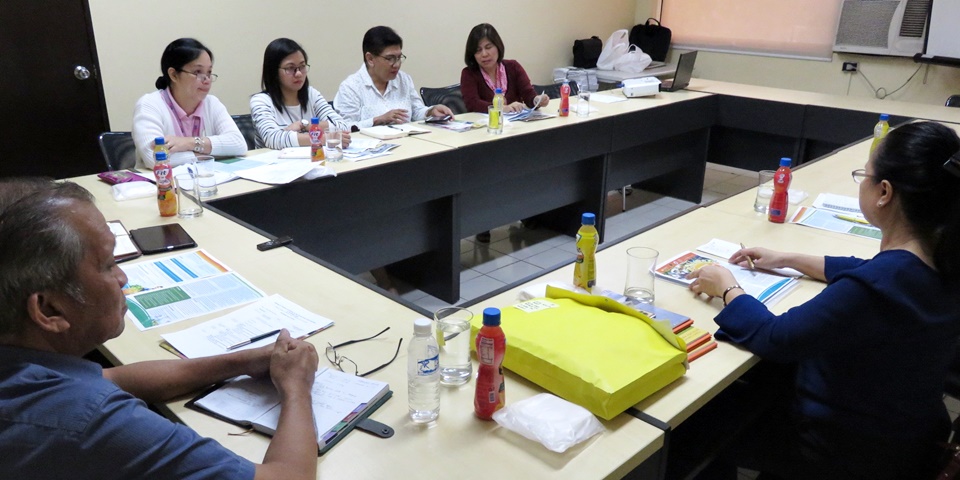 PASIG CITY, Philippines. Representatives of the Southeast Asian Regional Center for Graduate Study and Research in Agriculture (SEARCA), the University of the Philippines Los Baños (UPLB), and the Department of Education – Division of Laguna (DepEd-Laguna) provided updates on the recently concluded Participatory Action Research on School- and Community-based Food and Nutrition Program for Literacy, Poverty Reduction and Sustainable Development (SHGP) to the DepEd Central Office executives and senior staff on 2 February 2018.
Specifically, the SEARCA-UPLB-DepEd Laguna Team discussed the scaling-up approach of the SHGP and upcoming knowledge events on school gardens, namely, the International Conference on School Gardens and Training of Trainers on Scaling up the School-plus-home Gardens in Southeast Asia. These back-to-back events will be held on 16-21 April 2018 at the SEARCA Headquarters, Los Baños, Laguna and will involve resource persons and participants from DepEd Central and Regional offices.
The two events are an offshoot of the SHGP, which was approved by the SEAMEO High Officials for dissemination in Southeast Asia. Themed "Leveraging the Multifunctionality of School Gardens" the International Conference will draw lessons from the different models of school-plus-home gardens. The Training of Trainers will serve as a platform for exchanging knowledge, experiences, and success stories that shall strengthen implementation of similar School-plus-Home Garden Projects already being undertaken or to be initiated in the SEAMEO member states.
The SEARCA-UPLB-DepEd Laguna team was received by officers and senior staff of the DepEd Office of the Undersecretary for Legal Affairs, the School Health Division Office, and the Office of External Partnerships.
SEARCA was represented by Dr. Bessie M. Burgos and Mr. Henry M. Custodio, Program Head and Program Specialist of the Research and Development Department, respectively. UPLB group consisted of Dr. Blesilda M. Calub and Dr. Ma. Theresa M. Talavera, of the Agricultural Systems Institute and the Institute of Human Nutrition and Food, respectively. Representing the DepEd-Laguna was the Education Program Specialist for Agriculture at the Department of Education, Mr. Lamberto C. Perolina.