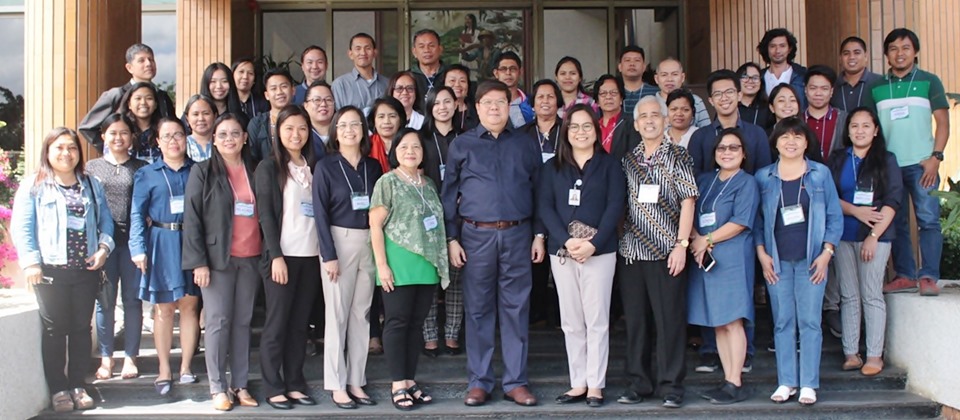 LOS BAÑOS, Philippines – The Southeast Asian Regional Center for Graduate Study and Research in Agriculture (SEARCA), in partnership with the Department of Agriculture-Bureau of Agricultural Research (DA-BAR), conducted the training of the first batch of participants on Financial Viability and Profitability Analysis of Agricultural Technologies and Enterprises on 12-17 November 2018 at the SEARCA headquarters.
A total of 23 selected personnel from state universities and colleges (SUCs), nongovernment organizations (NGOs), DA Regional Offices, and DA-BAR participated in the training.
The training aimed to provide knowledge and improve the skills of the research personnel from various academic and research institutions in conducting financial viability and profitability analysis. The major topics covered were cost and returns analysis, break-even analysis, partial budgeting, break-even budgeting, and financial and sensitivity analyses.
The training-workshop was a combination of discussions and laboratory exercises with hands-on experience in computer applications of various analytical tools used in the evaluation of the profitability of processing technologies and enterprises.
In his opening remarks, Dr. Nicomedes P. Eleazar, DA-BAR Director, stressed the importance of the training in the conduct of viability and profitability analysis of agricultural enterprises and encouraged the SUCs, NGOs, and DA Regional Offices to make use of this knowledge in collaborating with potential investors. He also mentioned that the full commercialization of technologies should be shared with and transferred to private entities, including women, farmers, and fisherfolk associations, cooperatives, and nearby communities. Dr. Eleazar also reiterated that DA-BAR is more than willing to accept more project proposals and provide assistance with the developer of the technology.
The welcome message of Dr. Fernando C. Sanchez, Jr., Chair of the SEARCA Governing Board and UPLB Chancellor, was delivered by Ms. Nancy M. Landicho, Program Specialist and Officer-in-Charge of SEARCA's Project Development and Technical Services (PDTS). In his speech, Dr. Sanchez mentioned the importance of agricultural technologies in increasing productivity, especially of small and medium-scale agricultural enterprises, which are considered major drivers of Philippine Agriculture-based industry. Dr. Sanchez noted that SEARCA's continuing support to the project comes from its understanding of the important role of agricultural technologies in increasing farm productivity especially of small and medium-scale agro-enterprises, which are considered major drivers of Philippine agriculture-based industry. He further stressed that it is important to ensure that these technologies and emerging enterprises are first and foremost applicable to the existing conditions of the market and the environment, and is proven to equitably benefit the many stakeholders of the agriculture sector, especially our farmers. Finally, Dr. Sanchez thanked DA-BAR for once again giving SEARCA the opportunity to continue working with the Bureau through this training project.
Dr. Corazon T. Aragon, Project Leader, presented the training mechanics and introduced the participants during the opening program. Dr. Aragon also provided lectures and discussions on the following topics: Cost and Returns Analysis, Partial Budget Analysis, Financial Cash Flow Analysis (Types of Benefits and Costs in Financial Cash Flow Analysis and Undiscounted Measures of Project Worth: Payback Period and Return on Investments), Discounted Measures of Project Worth, and Sensitivity Analysis.
Aside from Dr. Aragon, the other members of the project team are Dr. Cesar B. Quicoy, Financial Viability Expert; Dr. Antonio Jesus A. Quilloy, Financial Viability Manual Designer; and Prof. Bates M. Bathan, Training Facilitator.
The activity was led by the SEARCA Project Development and Technical Services (PDTS) headed by Ms. Landicho together with Ms. Imelda L. Batangantang, Program Specialist; Ms. Amy A. Antonio and Mr. Jerrel Edric B. Mallari, both Project Assistants. PDTS provided logistical support during the training.