LOS BAÑOS, Philippines – The Southeast Asian Regional Center for Graduate Study and Research in Agriculture (SEARCA) will conduct the 3rd Face-to-Face (F2F) Session under the Department of Agriculture-Bureau of Agricultural Research (DA-BAR) funded project titled Information and Knowledge Management (IKM) Mentorship Program: Communicating Agriculture and Fisheries Research for Inclusive and Sustainable Development (CAFRISD) on 15-18 May 2018 at the SEARCA Guesthouse. The same batch of participants composed of 16 Regional Officers from DA Regional Field Units, who attended the previous sessions, will attend the session. Representatives from DA-BAR are also expected to attend the activity.
This will be the last F2F session that focuses on developing the knowledge and skills of the learner-participants in reporting agricultural and fisheries researches to different stakeholders. For the past sessions, the learners were taught science communication and knowledge management concepts, publication writing and production, and photography. In this F2F session, the learner-participants will gain further knowledge on video production process as well as fundamentals of new media writing and production.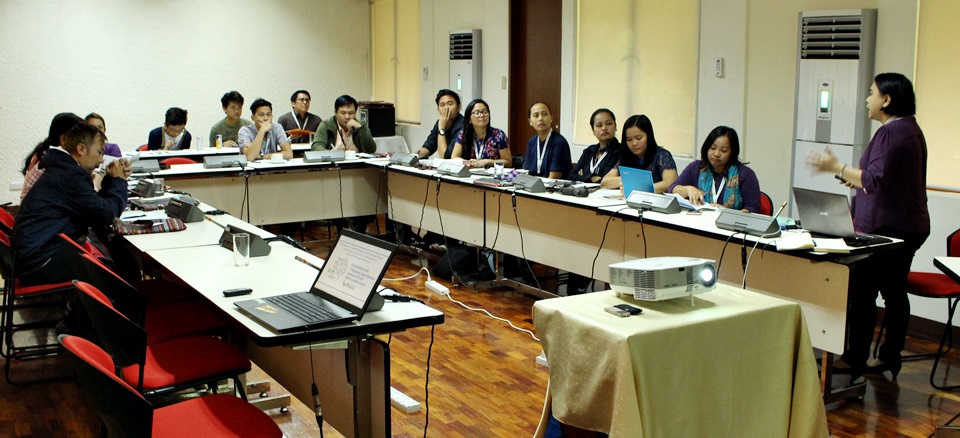 Assistant Prof. Elaine DC. Llarena, Project Leader, provided the course introduction of the IKM Mentorship Program during the 1st F2F Session on 14 September 2017 at SEARCA Headquarters in Los Baños, Laguna.
Video production specialists are invited to demonstrate the basics of video editing. Aside from hands-on session for post-video production, there will also be enough time for the learner-participants to do their online lessons (Catch-up Session); showcase the initial drafts of their news feature article and one-minute audio-visual presentation—their modular outputs for Modules 2 and 3; and enhance their final output (Capstone Project Planning). Facilitators will also summarize the previous module (Module 2 Synthesis).
SEARCA has commissioned professors from the University of the Philippines Los Baños-College of Development Communication (UPLB-CDC) to serve as mentors and facilitators. Assistant Prof. Elaine DC. Llarena, Project Leader, will serve as the overall facilitator; Assistant Prof. Pamela Joyce M. Eleazar, Mentor on Online and Publications Writing and Production, and Assistant Prof. Edmund G. Centeno, Mentor on Photography and Audio-visual Writing and Production, will serve as mentors, while University Extension Specialist Rikki Lee B. Mendiola will serve as the online learning expert. Ms. Marie Antoinette F. Bangabang and Ms. Amy A. Antonio, both Project Assistants under the SEARCA Project Development and Technical Services, will provide technical and administrative support during the training.
The next event for the IKM Mentorship Program is the Testimonial Ceremonies to be held on 5-6 July 2018.
Learner-participants planning their capstone project during the 2nd F2F Session on 10 January 2018 in Sol Y Viento, Calamba City, Laguna.

Study visit at the Knowledge Hub and Library in ADB (left photo) and the Learning and Discovery Center in ATI (right photo) on 11 January 2018.