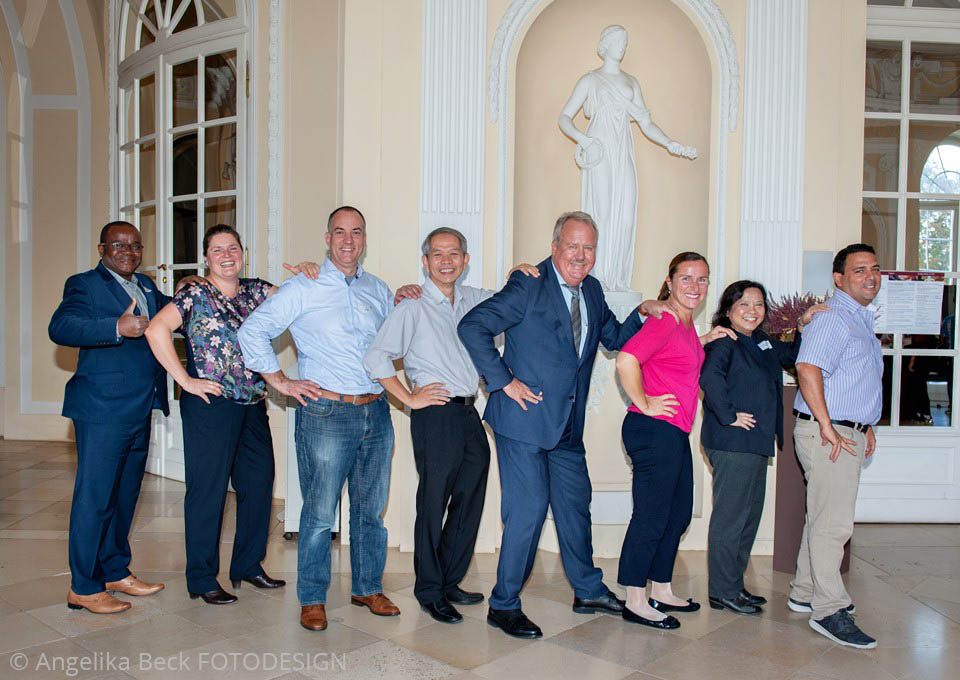 From left to right: Dr. Waliou Amoussa Hounkpatin of University of Abomey-Calavi (UAC), Benin; Dr. Nicole Schönleber of FSC (CEO); Dr. Jan Frank of FSC (Vice Director); Dr. Wiboon Chongrattanameteekul of Kasetsart University (KU), Thailand; Dr. Reiner Doluschitz of FSC (Director); Dr. Jenny Kopsch-Xhema of FSC (CEO); Dr. Maria Cristeta Cuaresma of SEARCA; and Dr. Victor M. Jiménez of University of Costa Rica (UCR).
STUTTGART, Germany – Are cooperatives essential to food security? This was the question addressed in the 2018 World Food Day Colloquium organized by the Food Security Center (FSC) of the University of Hohenheim, Germany on 16 October 2018. Dr. Maria Cristeta N. Cuaresma, SEARCA Program Head for Graduate Education and Institutional Development, participated in the Colloquium and the FSC planning meeting held on the previous day.
The Colloquium also commemorated the 200th birthday of Friedrich Wilhelm Raiffeisen, the founder of credit/financial cooperatives. Various speakers shared the development, status, and challenges of cooperatives in their respective countries and how these contribute to food security.
The Food Security Center is one of five (5) centers of excellence of the German Academic Exchange Service (DAAD) program called "EXCEED – Higher Education Excellence in Development Cooperation" funded by the Federal Ministry of Economic Cooperation and Development (BMZ) of Germany. It provides effective and innovative scientific contributions in research, teaching, and policy advice towards the realization of the Sustainable Development Goals of eradicating poverty and hunger. Every year, the FSC provides funding to SEARCA and its other strategic partners in Asia, Africa, and Latin America to conduct short courses and regional workshops toward this end.
For 2018, FSC supported a short course and 8 regional events organized by SEARCA, while another upcoming regional event next month will also get FSC funding. SEARCA will also be host to the FSC Planning Meeting scheduled in March 2019 and the 2019 FSC Summer School.