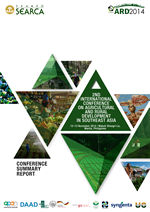 Click to downloadThe Southeast Asian Regional Center for Graduate Study and Research in Agriculture (SEARCA) is proud to release the conference summary report from the Second International Conference on Agricultural and Rural Development (ARD2014) in Southeast Asia that it organized on 12-13 November 2014 at the Makati Shangri-la, Philippines. Drawing significant insights from 400 participants from 20 countries, the conference became an avenue to discuss challenges and opportunities, and address pressing issues concerning agricultural and rural development (ARD).
Highlighting resilience, equity and integration as main drivers of ARD in the ASEAN region, the report contains speeches, presentations, and syntheses by distinguished leaders and experts during the plenary and parallel sessions. Details of the forum discussions with NGOs and partners from the private sector are also included in the report.
With the successful conference yielding new relevant knowledge and perspectives, SEARCA envisions to provide a valuable resource for leaders and policy makers in the region through its plan to publish an ARD book. The book, with notable experts from the field who will serve as chapter authors, will tackle the four elements of SEARCA's vision of Inclusive and Sustainable Agricultural and Rural Development (ISARD), namely Social Inclusion, Environment Sustainability, Institutions and Governance, and Regional/Sub-regional Integration. The publication will be launched in November 2016 to mark SEARCA's 50th anniversary. Further details will soon be available in this website.