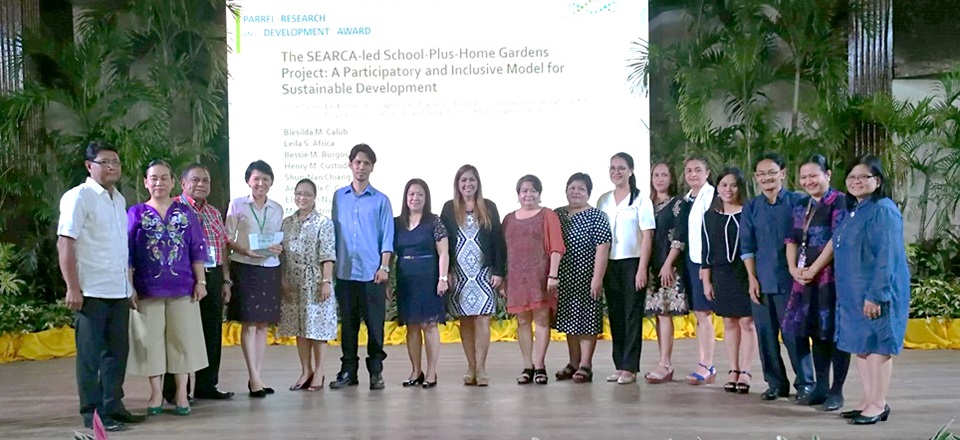 The S+HGP Team received the PARRFI R&D Award – Development Category from the LBSCFI Officers
LOS BAñOS, LAGUNA, Philippines – The Los Baños Science Community Foundation, Inc. (LBSCFI) awarded the Southeast Asian Regional Center for Graduate Study and Research in Agriculture (SEARCA), the University of the Philippines Los Baños (UPLB), and the Department of Education Division of Laguna (DepEd Laguna) the Philippine Agriculture and Resources Research Foundation, Inc. (PARRFI) R&D Award: Development Category 2018, for their paper titled The SEARCA-led School-Plus-Home Gardens Project (S+HGP) in the Philippines: A Participatory and Inclusive Model for Sustainable Development, with Dr. Blesilda M. Calub as lead author, on 9 November 2018 at Baker Hall, UPLB.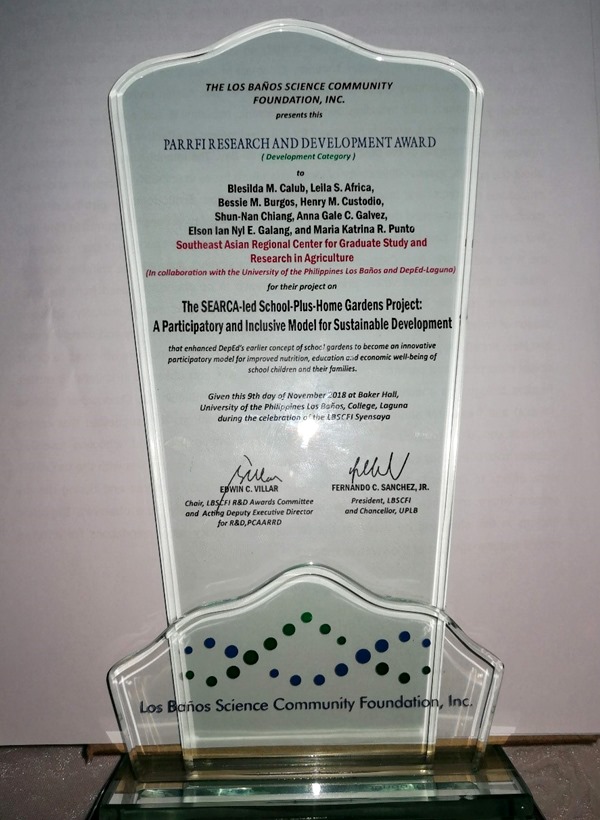 The Plaque of Recognition received for the S+HGPThe paper highlighted the collaboration among SEARCA, UPLB, and DepEd Laguna in conducting action research that revived and redesigned DepEd's earlier school garden programs to an innovative approach focused on nutrition, education, and economic well-being of school children, their families, and their communities. The S+HGP was piloted in six schools in the province of Laguna, Philippines with a model where harvests from the school gardens provided fresh vegetables for the school-based feeding program. The model also extended the gardening-feeding linkage to the establishment of food gardens in the school children's homes. More than just establishing home gardens, the parents developed a greater sense of responsibility to ensure good nutrition for their children while also saving on food expenses. The paper underscored the multi-functionality of school gardens as learning laboratories for educating pupils, teachers, and parents about sustainability concepts and interconnections of food and nutrition, organic agriculture, edible landscaping, climate change, and solid waste management. Key project outcomes were discussed according to five categories, namely, socio-cultural, technical, economic/ financial, environmental, and policy-institutional aspects. Mechanisms for sustaining and scaling up the initial success of the S+HGP were designed in a stepwise process where the pilot schools took the lead to pay forward and share their knowledge to other schools particularly small schools in remote areas through intra-school and inter-district networking. From the six original pilot schools in 2016, there are two (2) additional adopted schools, 23 sister schools, and three (3) brother schools as of August 2018.
During the LBSCFI Awarding Ceremony, the project team was represented by Dr. Blesilda M. Calub, Dr. Leila S. Africa, Dr. Bessie M. Burgos, Mr. Henry M. Custodio, District Supervisor, and by the Principals and Teachers of the S+HGP partner-schools in Laguna, namely: Labuin Elementary School, Labuin, Pila; Bagumbayan Elementary School, Sta Cruz; Pedro Guevarra Memorial National High School, Sta Cruz; San Andres Elementary School, Alaminos; Majayjay Elementary School, Majayjay; Crisanto Guysayko Memorial Elementary School, Nagcarlan; San Antonio Elementary School, Pila; and Cabuyao Central School, Cabuyao.