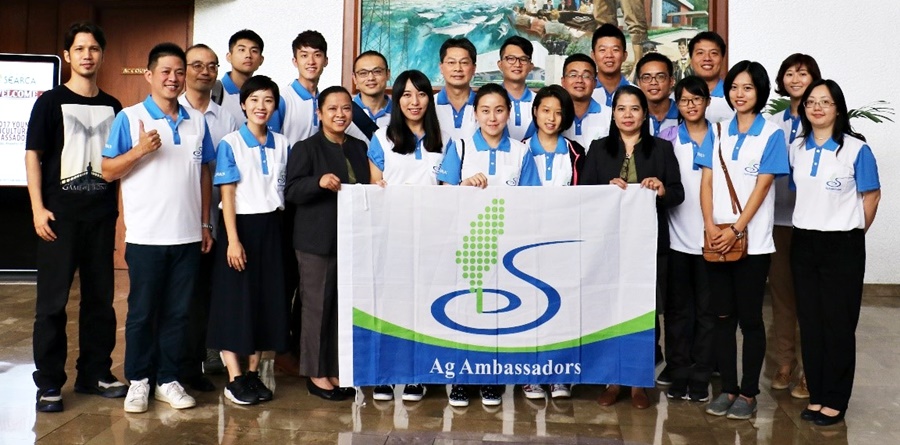 Officials of Taiwan's Ministry of Foreign Affairs (MOFA) led by Mr. Andrew Hsein Chang Lee, Director-General of the Ministry's Public Diplomacy Coordination Council (tenth from left), visited the Southeast Asian Regional Center for Graduate Study and Research in Agriculture (SEARCA) at its headquarters in Los Baños, Laguna as part of its efforts to promote bilateral exchanges and cooperation in agriculture between Taiwan and the Philippines.
MOFA Director-General Lee was accompanied by Ms. Hsiao-Chun Hung (second from right), Section Chief, International Cooperation, Department of International Affairs, Council of Agriculture; Ms. Hsuan-Wen Chu (third from right), Officer, Public Diplomacy Coordination Council, MOFA; and Mr. Winsdon J.H. Hsiao (third from left), Deputy Director of Taipei Economic and Cultural Office (TECO), Manila.
Also with them were 15 graduate students and young agricultural professionals who are among the 2017 Young Agricultural Ambassadors Program of MOFA and Taiwan's Council for Agriculture.
The ambassador's program aims to renew interest of younger generations of Taiwanese in agriculture as a field of study and source of livelihood. It is part of Taiwan's five-plus-two innovative industries initiative that promotes the continuous development of seven sectors of Taiwan's economy, including high-value agriculture. The program also supports the New Southbound Policy of Taiwan that aims to boost trade with ASEAN through enhanced cooperation and exchanges between Taiwan and 18 countries in Southeast Asia, South Asia, and Australasia.
The Taiwanese delegation was received by SEARCA officials and key staff led by Dr. Maria Cristeta N. Cuaresma (seventh from left), SEARCA Program Head for Graduate Education and Institutional Development, who gave an overview of the Center's programs and activities.
Dr. Cuaresma and the Taiwanese delegation also discussed areas for collaboration, particularly in organizing a regional forum on agritourism. Director General Lee also opened the possibility of SEARCA collaborating with MOFA and the Ministry of Education in offering scholarship programs, internship opportunities, and student exchanges for Southeast Asians.
The delegates were also apprised of SEARCA's past collaborations with the National Taiwan University (NTU) and the Taiwan Agricultural Research Institute. Having had joint scholarship and training activities, SEARCA and NTU are set to renew their formal agreement later this year. Their past collaborations included a study tour for ASEAN countries and a four-part training series, both on agricultural biotechnology, as well as an academic sandwich program of a Filipino SEARCA scholar that enabled her to do her research at NTU.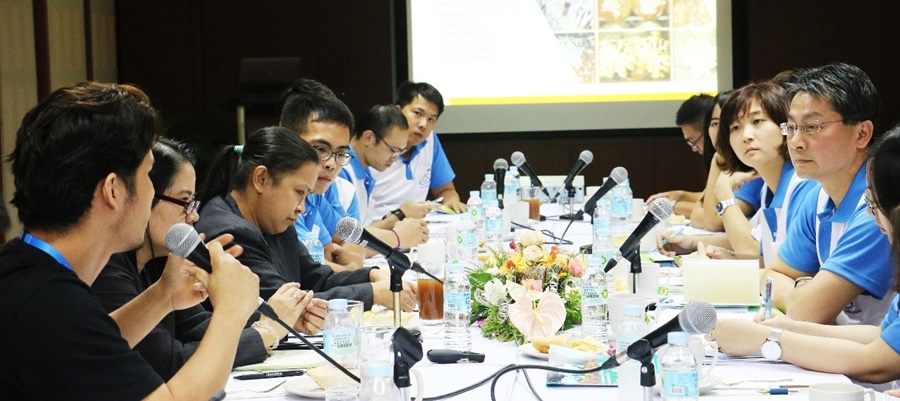 Mr. Henry M. Custodio (leftmost), SEARCA Program Specialist for Research and Development, explained to the Taiwanese delegation led by MOFA Director-General Andrew Hsein Chang Lee (second from right) the climate-smart agriculture showcased at the project sites of SEARCA's action research on piloting effective models of inclusive and sustainable agricultural and rural development (ISARD).