Did you know that 1 out of 3 Filipino kids suffers from stunted growth or is underweight? Moms, don't be alarmed. Here's a handy guide to giving your children the nourishment they deserve.
MANILA, Philippines — Health is wealth, and it should be the top priority in ensuring the well-being of your child. Sadly, the reality that improper nutrition is still a widespread problem among many Filipino children is alarming.
One out of three children (31.1 percent) aged five to 10 years old in the Philippines is experiencing stunted growth, according to the 2015 Updating of the Nutritional Status of Filipinos developed by the Food and Nutrition Research Institute (FNRI) of the Department of Science and Technology. The survey further states that 31.2 percent of Filipino children aged five to 10 years old are underweight, a condition of weighing in beneath the ideal weight for their age.
Crucially, while the condition of underweight children can be addressed at any time, stunted growth can only be addressed in the first 1,000 days of a child's life, when getting proper nutrition is most crucial for development. If not given proper nutrition, then children may fail to meet their maximum potential development.
Thus, good nutrition must be provided all throughout the growing years of a child to aid in proper physical development.
Thankfully, both government and non-government organizations are working together to fight improper nutrition. Beyond feeding programs, health interventions and nutrition-supportive programs are being implemented to address this critical problem.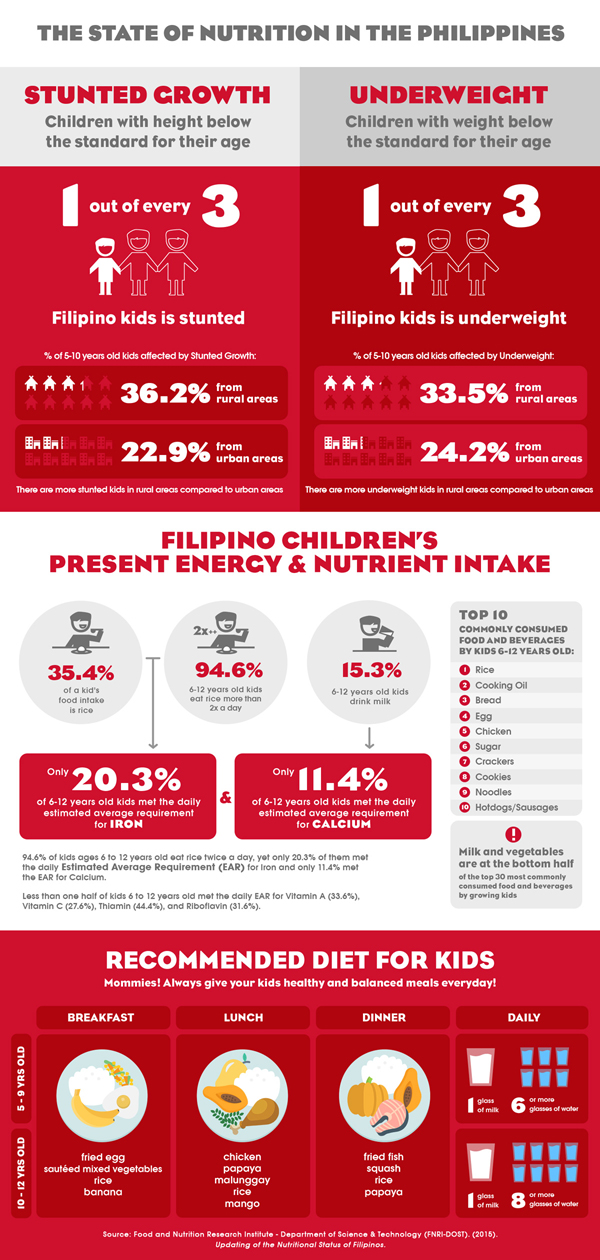 Taking matters into your own hands
The responsibility to address this health crisis isn't solely the government's. We, too, can take part in helping solve this growing problem.
Here are ways to contribute to the fight against stunted growth and underweight.
Check if your children have reached the right height and right weight for their age.
Monitor your kids' height and weight. It helps to know where they are lacking, making it one step closer to reaching their ideal physique. You may check FNRI's assessment tools available online but it still best to seek advice from physicist or medical professionals.


Research and consult a medical professional.
Now you know whether or not your child is affected by stunted growth or is underweight, the next step is to research. Learn the factors, causes and solutions to address stunted growth and underweight.
While the easiest way to know more about stunted growth and underweight is to Google it, we have to be wary if the research article is credible. A trustworthy and more credible source is your pediatrician or nutritionist. It would be best to schedule an appointment with them to assess your child's height and/or weight.


Give them the proper nutrition they deserve.
Proper nutrition is vital throughout a child's development years in order to reach their ideal height and weight. Stunted growth can be addressed with proper nutrition and care in the first 1,000 days of a child. Meanwhile, being underweight can be addressed with consistent intake of proper nutrition.
To get the nutrition that they need, a healthy diet is a must. Their food and drink should contain Vitamin D for normal Calcium absorption; Calcium for healthy bones and teeth; Protein for muscle growth and development; and Iron for efficient production of red blood cells. These are beneficial to a child's overall growth and development.

One effective way to meet your kids' right height and the right weight for their age is to serve them a balanced meal. Make sure that the meal you're serving has go, grow, and glow foods. Lastly, to make it a wholly nutritious meal, you can pair it with milk. Milk contains essential nutrients for the child's growth.