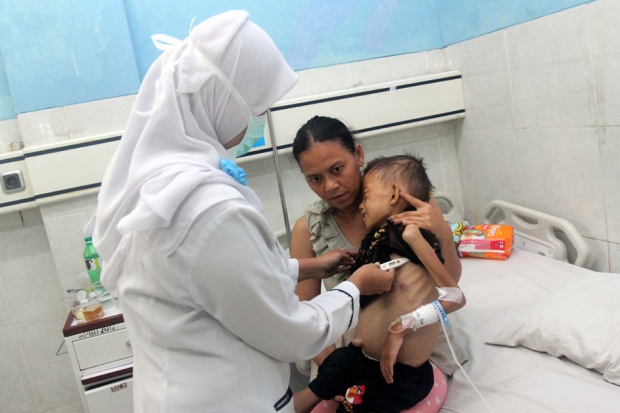 Jakarta - Indonesia and other countries of the South East Asia Region have achieved significant progress in economic development over the past two decades. Nevertheless, Indonesia's challenges related to undernutrition remain huge. The fact that one of three children under 5 years of age in Indonesia and some countries in South East Asia suffer from stunting, implies that there is inadequate access to diverse and nutritious food in several parts of the region.
Stunting, as the result of long term deprivation and undernutrition, may lead to one or more of several negative outcomes, including: cognitive impairment; low grades at school; and poor work performance as an adult. It is also a risk factor for obesity and non-communicable diseases in adulthood, the major disease burden in Indonesia.
A multi-disciplinary approach is needed to address the problem. In Indonesia, 12 Ministries are mentioned in the Presidential Decree no. 42/2013 for supporting the Scaling Up Nutrition [SUN] Movement. However, the remaining high rate of stunting shows that the policy, and tools provided for the implementation of the policy, need to be reinforced to achieve significant results.
Leadership in food and nutrition has been identified as a key factor to help reinforce action on nutrition in countries experiencing a high burden of childhood malnutrition. Individuals from various sectors with goodknowledge on nutrition and capacity to influence food and nutrition policies and their implementation, are urgently needed.
Southeast Asian Ministers of Education Organization, Regional Centre for Food and Nutrition [SEAMEO REFCON] with the support from Ministry of Education Republic of Indonesia, the United Nations Food and Agricultural Organization [FAO], International Life Sciences Institute [ILSI] Southeast Asia and other institutions from the region conducted the 12th South East Asian Nutrition Leadership Program [SEANLP] to empower nutritionists and other professionals to gain competencies in effective leadership skills, communication, and decision making processes.
"We need to have Nutrition Movers, a new critical mass of leaders in the field of nutrition who have vision, integrity, confidence and capacity to ignite action for change, and who are well-informed with the current situation and can stimulate partnerships with other leaders to achieve the goals of nutrition improvement in the region", stated Deputy Director Agus Haryanto of SEAMEO REFCON at the opening ceremony of the 12th SEANLP.
Since 2002, the program has successfully carried out 11 Leadership Programmes and with a total of 254 alumni from various countries and institutions in the SEA region and beyond. Some SEANLP alumni hold strategic positions in their country, and lead nutrition development programmes. This year, the SEANLP has brought 28 participants from 10 ASEAN countries. The programme runs from 4-8 August in Jakarta with this year's theme of SEANLP "towards achieving SDG 2 through nutrition-sensitive agriculture and food system approaches".
A call for Action on Sensitive Programmes to Tackle Undernutrition
Malnutrition in Southeast Asia is influenced not only by people's health status, but also by insufficient access to safe and nutritious food, especially during severe weather-related events, such as floods and other natural disasters. Therefore, to end hunger, food insecurity and malnutrition, our efforts should not only be nutrition-specific, but also nutrition-sensitive.
In the past, there has been limited capacity to design nutrition-sensitive food and agriculture policies and action programmes. To address this need, FAO has developed a tool kit with 6 packages of nutrition-sensitive learning materials complemented by interactive e-learning modules. These can be used as guidelines for development partners and policy makers.
The tool kit provides a list of food system-based intervention options that have great potential to improve nutrition and a set of very concrete entry points for maximizing the impact of each of these interventions. It provides recommendations on how to select the most appropriate action, according to various economic and social contexts. It also provides methodological information on currently available indicators that may be relevant for the monitoring and evaluation of nutrition-sensitive investments.
"Political leadership and commitment to ensure that a food system is nutrition-sensitive is a must to overcome nutrition problems in any country, not only by the government, but also by representatives from private sector, the media and others. Government programmes in health, agriculture, education, infrastructure and industry must be developed on a platform that is able to answer to nutrition problems," stated FAO Representative to Indonesia and Timor-Leste, Mr. Mark Smulders.
SDG2 addresses the need to end hunger, to achieve food security and improve nutrition, with tough targets set for Member States to make important progress by 2030. "Stronger local, national and regional leadership is needed to end hunger and all forms of malnutrition," added Mark.