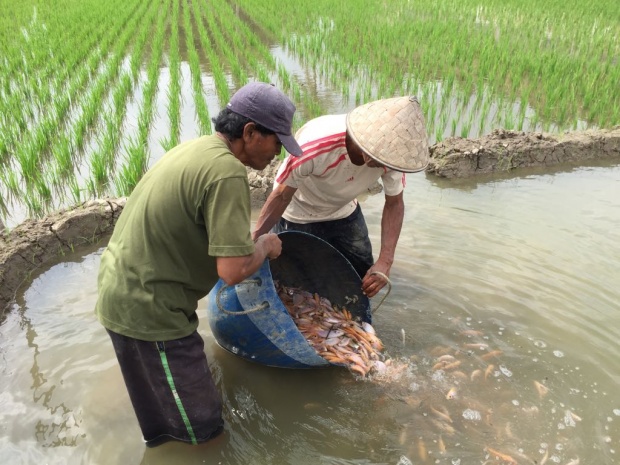 Ricefish farmers share the seed in ricefish site, Yogyakarta. FAO Indonesia
Food and agriculture organization of United Nations (FAO) Indonesia, August 30, stepped on Yogyakarta to continue its Road to Zero Hunger campaign. Yogyakarta is the second city in the 2018 World Food Day campaign series under the global theme Our Actions are Our Future, Zero Hunger 2030 is possible.
This campaign is part of the awareness-raising program for Indonesians, especially for youth and millennials, about food and nutrition issues challenges in reaching "Zero Hunger" by 2030 as mandated under the Sustainable Development Goals.
FAO Representative in Indonesia and Timor Leste Stephen Rudgard viewed that the Zero Hunger movement in Indonesia must focus on the village, "Since that's where our food producers, farmers, fishermen, and breeders live," he said.
According to the United Nations, 20 million Indonesian people are still experiencing food insecurity and one among three children in Indonesia, experience chronic malnutrition or stunting. Food insecurity and stunting in Indonesia mostly take place in rural areas and most of them depend on agriculture.
Rudgard added that the role of millennials living in rural areas has become more important because they are the future of food and agriculture.
In the Zero Hunger campaign in Yogyakarta, FAO Indonesia collaborated with Agrayadaya, a social enterprise that works with smallholder farmers to develop village resources through food and agriculture.
The social agribusiness startup aims to build agricultural resources in the Menoreh Hills, Sleman, Yogyakarta, to produce spices grown in the forest and home-yard areas (ginger, turmeric, temulawak) with a more market-oriented product.
FAO Indonesia and Agradaya discussed Zero Hunger with the youth in the village, conducted community drawings with the children and held workshops to the university students who visit Agradaya to make turmeric latte using turmeric powder produced from the Menoreh Hills.
Besides, FAO together with the media, government officials, Yogyakarta's millennials and ricefish farmers were cooking Yogyakarta traditional food at the ricefish sites which once were developed by government and the farmers with FAO support.
In Yogyakarta, FAO Indonesia campaign team also met with Gadjah Mada University (UGM), Senior High Schools and elementary schools students near the Minapadi Sites to discuss about Zero Hunger and other related activities.
FAO will continue the campaign in two cities in Indonesia, including Kendari, the capital of south-east Sulawesi, where FAO supports Sago farmers to improve their farm and livelihood, and also Jakarta, where FAO involves to support Jakarta government to improve biosecurity in the markets and slaughterhouses for animal and poultry.