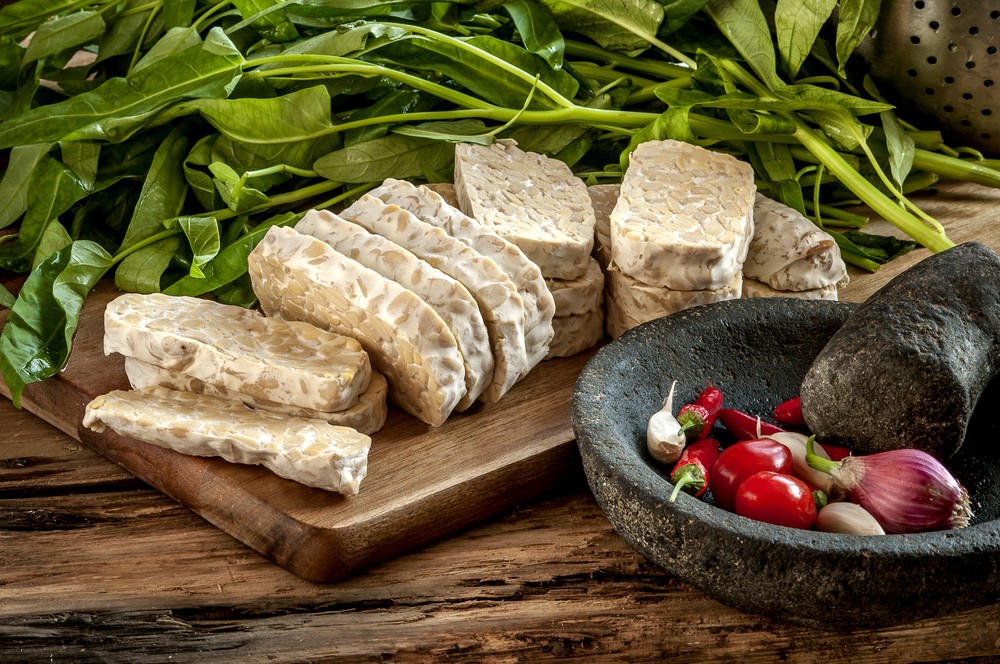 The popular Indonesian food tempeh. (Shutterstock/Arif Relano Oba)
A series of events in Jakarta in recent days have placed a welcome focus on Indonesia's food and land use system. On Friday, Jan. 25, in commemoration of the National Nutrition Day, the Health Ministry hosted the launch of the EAT-Lancet Commission on Healthy Diets from Sustainable Food Systems, a global report on how to achieve a healthy global diet and save the planet by 2030.

The launch also saw the publication of a study by the Hoffmann Center on "Healthy diets from sustainable production in Indonesia", co-authored by experts from the Faculty of Medicine at University of Indonesia (UI) and the Health Ministry. It is full of insights on Indonesia's food system and the challenges and opportunities it faces.

On Monday, January 28, the National Development Planning Board (Bappenas) hosted the first "Food System Dialogue" to take place in Indonesia, chaired by 2018 World Food Prize winner, David Nabarro. The dialogue brought together many of the country's most eminent thinkers on food, nutrition, non-communicable diseases, climate, rural pov, rty and health, to discuss the linkages between these themes.

The purpose of the dialogue is to forge common ground among farmers, practitioners, politicians and business people with the aim of bringing about a fairer and more sustainable food and land use system in Indonesia.

In both meetings, discussion centered on a number of pressing issues, first and foremost stunting. According to latest figures, one in three Indonesian children under the age of 5 are stunted, while rates of anemia are high, and problems of obesity and diabetes also growing. Put starkly, it appears clear that the Indonesian food system is not currently meeting the nutritional needs of its people, whether through our excessive reliance on rice as a staple food or the increasing national consumption of processed foods (such as highly popular instant pot noodles). For a country, so naturally rich in a diversity of fruit and vegetables, rates of their consumption are strikingly low.

Indonesia's people increasingly clamor for a healthier, fairer and more nutritious food system, with issues of food and nutrition security appearing in debates prior to the country's imminent presidential election.

The meetings referenced how Indonesia's traditional diets contain a variety of healthy foods from diverse cultural groups, and showed that a focus on increasing dietary quality and diversity throughout the supply chain from production to consumption is crucial.

Both meetings also tackled climate change and environmental depletion. In the past 18 months, Indonesia has made significant progress in reducing rates of deforestation, peatland and other ecosystem loss. About 55 percent of Indonesia's greenhouse gas emissions are caused by the food, forests and land use sector, while the country continues to be an astonishing treasure trove of vital cultural and biological diversity. This ecological diversity is also critical to human well-being: we noted that a one kilometer strip of mangroves in Sulawesi saved a 1,000 lives during the recent tragic series of natural disasters.

The meetings also addressed issues of sugar and agricultural and fertilizer subsidies. We discussed whether subsidy and incentive schemes, at a time of fiscal constraints, could be reformed to deliver better outcomes for smallholder farmers and other vulnerable communities, as well as for the natural environment.

As in other parts of the world, and indeed following Indonesia's own pioneering example in the case of fossil fuel subsidy reform, there is ample evidence to suggest that it is possible to link agricultural and fertilizer subsidies to better environmental performance, stronger investment in more nutritious, diversified crops and a concerted strategy to help poorer farmers. While the political economy of such a change is not straightforward, the benefits would be significant to Indonesia's farmers and population at large.

The meetings also explored how to improve Indonesia's agricultural value chains, characterized by high amounts of food loss and waste, to deliver better outcomes for rural people as well as urban populations. Here, the country has established a pioneering coalition to address this waste, involving the public and private sector alike — one of the first public-private partnerships of its kind in the world.

Finally, we discussed the critical role of blended finance in delivering a better food and land use system. By combining public-special purpose capital, serving as a catalyst, with private capital, the aim is to find new, sustainable models in which returns to the environment and social inclusion are an integral part of a sustainable business.

To achieve a sustainable food system will require the full participation of industry leaders, in order for these approaches to find their way to the mainstream of markets. The additional measures sought after include food systems for healthy diets.

In both events, silos were broken and actors across the food system came together to act in concert. We hope to repeat such collaboration in Indonesia over the months and years ahead, not only at the national level but all the way to provincial, district and city levels. The Declaration from the Dialogue is available on the Food Systems Dialogue website.

Together, we are committed to working with all stakeholders to take forward these ideas, including in the new government, and ensuring the full participation of government agencies, the business world, academia and civil society.

We also noted that the Food and Land Use Coalition, of which Indonesia is a pioneer country, is preparing a draft on an action agenda for a new food and land use economy, to be shared with presidential candidates and the new administration, which brings together many of these ideas.

Above all, we left full of hope that there is tremendous scope for Indonesia to lead by example and for the country to trace a new path to a bright and healthy future for its people, its environment and its climate.