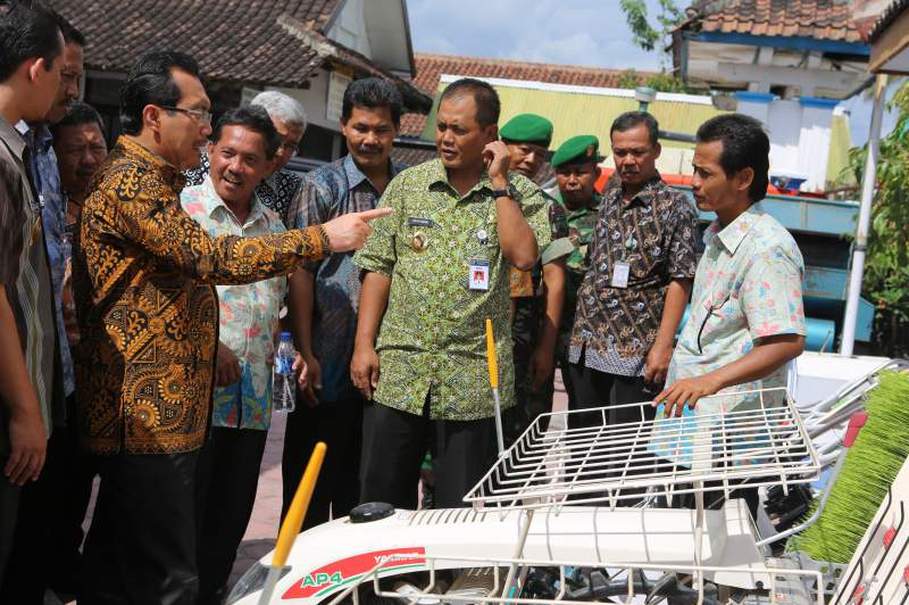 Indonesia has become more resilient when it comes to food security in the last five years, although there is still room for improvements, a top official has said.
The United Nations states that food security stands on four pillars, namely availability, access, utilization, and stability of the three previous aspects over time.
"I can say that the country's food security is more resilient now," Agriculture Minister Suswono said in a special interview on Tuesday. "Food availability keeps increasing, particularly in term of domestic production."
Data from the Central Statistics Agency, or BPS, showed that Indonesia produced 71.3 million metric tons of unhusked rice last year, up 3.2 percent from a year earlier. Production is expected to increase 2.6 percent 73.2 million tons this year, according to a BPS estimation.
Rice production, Suswono said, is enough to meet the population's needs, which exceed 100 kilograms per capita.
Other strategic commodities, including corn and sugar for household consumption, are sufficiently sourced from domestic production, which has risen significantly in the past few years, he said.
"But domestic production has yet to meet demand for several commodities such as soybeans and beef," Suswono said.
The minister said one of the reasons for Indonesia's low agricultural productivity is that most of farmers still use traditional farming methods.
"Land is still cultivated by hand, and using unbalanced fertilization, manual harvesting, and inferior seeds, are among the reasons for low crop yields," Suswono said.
The agriculture ministry has provided farmers with hand tractors, power threshers, rice mills and other agricultural machinery in efforts to increase production, he said. In addition, the ministry also distributes superior seeds with higher yields, improves irrigation systems, provides fertilizers an counsels farmers on modern farming methods, Suswono said.
Still, crop production is not a requirement for food security, as can be seen in Japan and Singapore.
Both countries barely have the natural resources required to produce sufficient crops for themselves, yet they rank among the most food secure countries in the world.
Besides production, food availability also depends on top-notch logistics and efficient trade systems, both allowing food to come from every corner of the world without a hitch.
For example, Indonesia is able to produce enough chili peppers and onions annually for domestic consumption, but as the harvests occur only in some months of the year, there are periods when the country has to depend on imports from Thailand or India, Suswono said.
Realizing the challenges, the government has pledged efforts to expedite food distribution from farmers to consumers. The government is extending road networks and improving the existing roads in Java, Sumatra, Kalimantan and Sulawesi, the minister said.
"There are now trains and aircraft that are dedicated to food transportation," he said, "in addition, there are special ships for transporting cows, which eventually will increase food distribution in Indonesia."

Access to food
To secure access to food, a household can either produce it using available resources, or buy it from elsewhere. But that does not mean Indonesian farmers are generally more food-secure than non-farmers.
"The food price is an indicator of people's access to food," Suswono said. "Increasing food prices would reduce people's ability to acquire food, which in turn affects food security on both an individual and regional level."
While consumers would be directly affected by rising foods prices, farmers could also be hit by the resulting inflation, which reduces purchasing power, the minister said.
In addition, farmers on average only own around 0.3 hectares of land each, which are too small to make them self-sufficient.
Data from the BPS shows that food prices still account for up to a third of the country's inflation, and fluctuations in food prices greatly affect headline inflation. The government also has to keep food prices relatively low, keeping in mind that 28 million or 11 percent of Indonesia's population is still classified as poor.
"So in order to maintain food security, the government has developed several policies related to food prices," Suswono said.
Among these are the establishment of a government purchase price for rice; reference price fixing for chillies, onions and beef; and a government benchmark price for sugar and other commodities.
Some economists say Indonesian farmers need to switch to cash crops such as coffee, palm oil or rubber. The argument goes that farmers would generate more wealth from cash crops instead of low-margin staple crops such as soybeans. In turn they would be able to buy cheaper staples from abroad and afford more diverse kinds of foods.
"That is true that rubber, palm oil, or coffee farmers enjoy better welfare than their counterparts who grow rice, corn, soybeans or fruits and vegetables," Suswono said.
But should those farmers switch to cash crops, it would result in lower domestic production of staple foods, which would lead to massive imports.
"The world food situation is constantly evolving. The latest trend involves food shortages and rising food prices due to climate change, biofuel conversion, population increase, and protectionism,"
Suswono said. "This is why countries keep increasing domestic food production."
Indonesia is aiming to be self-sufficient in five commodities by the end of this year, namely rice, corn,, soybeans and beef. Suswono said the self-sufficiency target was "part of the country's larger efforts" to achieve food security.
The third pillar of food security is food utilization, referring to the most individual aspect of food security in terms of an individual's intake of food to meet minimum nutritional standards.
In this regard, Indonesians include too much rice in their diets. The latest BPS data show that about half of Indonesians' caloric intake and 40 percent of protein intake depend on the cereal. Such high proportion in rice consumption could lead to diabetes, cardiovascular disease, and other disorders that stem from malnutrition.
Suswono said the government has been campaigning to encourage Indonesians to diversify their food intake. There are some improvements, with the desirable dietary pattern scores improving to 77.5 in 2012. The maximum DDP score of 100 indicates the best diet, according to the UN Food and Agriculture Organization.
The agriculture ministry targets a DDP score of more than 80 for Indonesia this year.
Prone to natural disasters Suswono said efforts must also be made to maintain food security in light of the wide range of natural disasters Indonesia constantly faces, including tsunamis, earthquakes, volcanic eruptions, floods and drought, in addition to climate change.
"Climate change, particularly extreme weather and seasonal shifts, negatively affected Indonesia's agriculture sector," the minister said.
Many of the country's rice fields submerged in floods early this year, and it is expected that Indonesia will see a longer dry season due to the El Nino phenomenon.
Suswono made assurances that in general, Indonesia's food security would not threatened to any great extent by the floods and longer dry seasons, except for slight distribution delays in the affected areas.
"The agriculture ministry has implemented and will do more efforts to tackle the impact of climate change, including providing more resilient seeds and fertilizers and creating water catchment areas to better manage water," Suwsono said.
The minister said the government also invited foreign investment, particularly for improving Indonesia's agricultural systems and its competitiveness in terms of farming technology.