President Joko "Jokowi" Widodo has urged businesses to partner with 2 million independent farmers by 2023 to improve their productivity, as Indonesia seeks to improve its farmers' welfare and food security.
The President's request came after the Indonesian Chamber of Commerce and Industry (Kadin) reported that it had helped 1 million independent farmers through partnerships with business entities.
These partnerships reportedly helped increase farmers' productivity by 40 percent to 76 percent and revenue by 50 percent to 200 percent.
"I believe Kadin can achieve this target," Jokowi said in a virtual event on Wednesday. "I really hope a collaborative, inclusive business model can prop up the food sector as a new economic driver that will create more jobs and become a source of welfare for Indonesians."
Developing the food sector will require a new approach that can make the production process more efficient, improve food quality at an affordable price, preserve the environment and improve the farmer welfare, the President added.
The economic downturn induced by the COVID-19 pandemic caused farmers' terms of trade (NTP) to fall to 99.47 in May, with a figure under 100 suggesting farmers are suffering a deficit. It bounced back to 102.25 in October.
The government has also been working to secure food supplies amid pandemic-induced disruption on supply chains. At least 31 provinces reported garlic shortages in April, just a month after the first COVID-19 cases were discovered in the country. Many provinces also reported shortages of other staple foods like sugar, chili and chicken eggs, according to Jokowi at the time.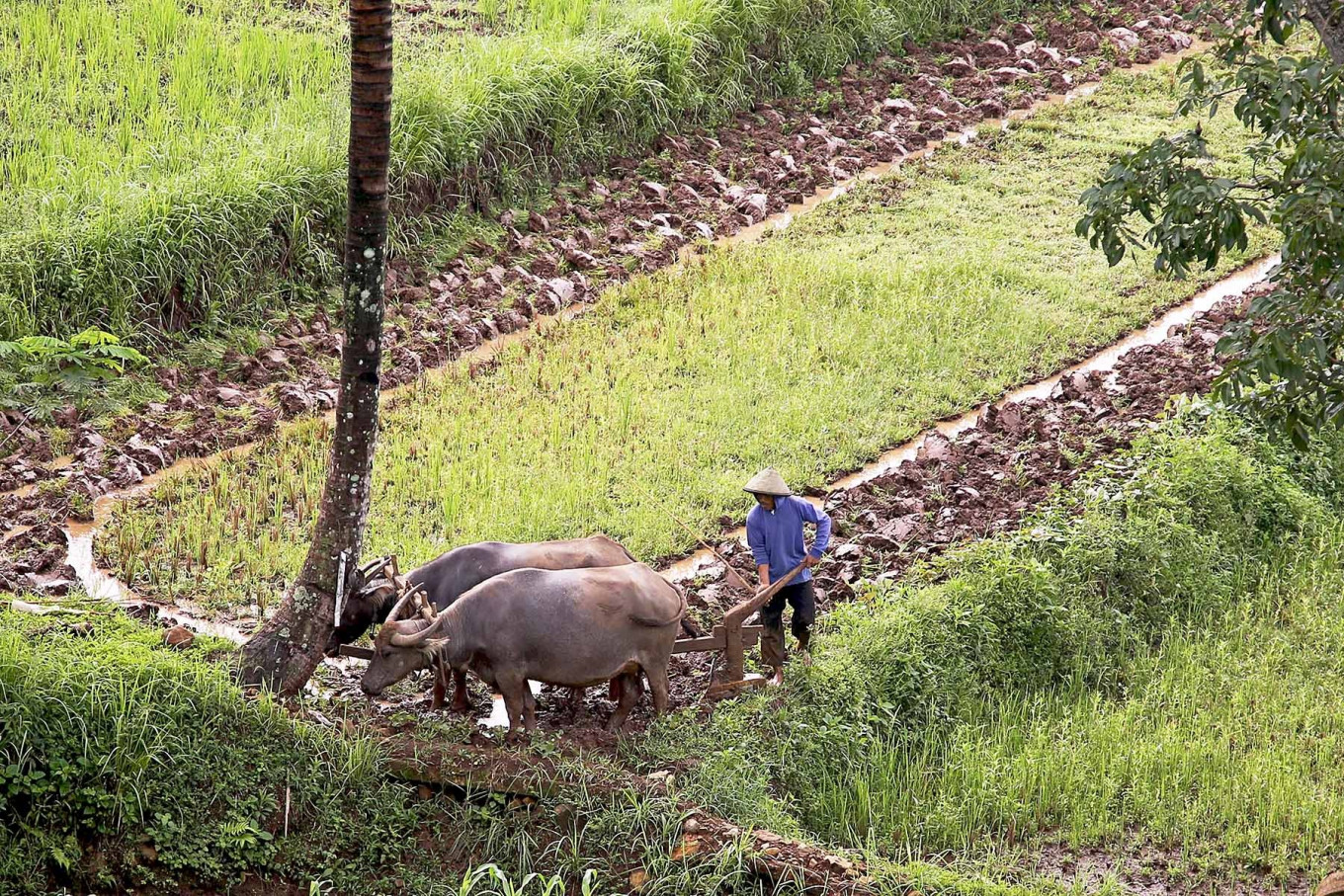 A farmer plows rice fields using two buffaloes near a rest area of the Bawean-Salatiga toll road in Central Java on Nov. 2. Ahead of the rainy season, farmers have begun preparing for the next crop of rice. (Photo Credit: JP/PJ Leo)
Kadin reported that it was partnering with public-private cooperation platform the Partnership for Indonesia's Sustainable Agriculture (PISAgro) to work with the 1 million farmers.
Most of are cocoa farmers, followed by corn, rice, palm oil, cattle and coffee farmers, according to Franky Oesman Widjaja, the deputy chairman of agribusiness, food and forestry at Kadin.
"The mentoring was successful because we used the inclusive closed-loop module, which covers training, access to good seeds, good agricultural practices, access to financing, purchase guarantee by the mentor companies and literacy on finance and technology," said Franky.
The inclusive closed loop is a partnership scheme that encompasses both the upstream and downstream parts of the agriculture business.
Kadin has run a pilot project based on the inclusive closed-loop system with chili farmers in Garut regency in West Java.
The project involved 16 partners, including the government, Bogor Agricultural University (IPB), state-owned railway operator PT Kereta Api Indonesia, fertilizer company PT Pupuk Kujang, pharmaceutical company PT Bayer Indonesia and state-owned Bank Rakyat Indonesia.
To bolster the country's agriculture sector, the government is also planning to finish developing 45 reservoirs by 2023 to support the agriculture sector and thus improve food security through irrigation systems, said Public Works and Housing Minister Basuki Hadimuljono.
"We have developed 16. We will keep working on the other 45 because developing a reservoir can take between three and four years or even five years if there is a land issue," Basuki said.
The Public Works and Housing Ministry is also working on developing roads and irrigation for the government's food estate projects.
The government is currently developing 30,000 hectares of land into farmland in Humbang Hasundutan regency, North Sumatra, as well as some 164,600 hectares in Central Kalimantan.
For the first development slated to start this year, the one in Central Kalimantan will cover about 30,000 ha of land, two-thirds of which will be located in Kapuas regency and the rest in Pulang Pisau regency.
However, the Agriculture Ministry expects to see a 6 million to 7 million tons of rice stock surplus by January next year. Meanwhile, with the harvest season occurring between October and March, the country will also produce a total of 18.5 million tons of rice.
As rice consumption is forecast to reach around 15 million tons during the first half of 2021, the Agriculture Ministry estimates rice stocks to stand between 9.5 million and 10.5 million tons by June next year, according to Agriculture Minister Syahrul Yasin Limpo.
"So, in October through March, we will cultivate 8 million ha and push forward the harvest season," Syahrul said.