Urban farming is currently on the rise in Indonesia as people across the country are forced to spend more time at home in an attempt to slow the spread of COVID-19.
With little land in their backyards – or without any backyard at all – aspiring urban farmers should fret not, as they can grow various vegetables with limited space at home.
Endang Tri Margawati, an animal biotechnology researcher at the Indonesian Institute of Sciences (LIPI), said on Monday that the trend could actually become a solution to food security issues during the pandemic.
According to Endang, urban farming has been around for years; however, the number of urban farms could increase to support food supplies.
Endang explained that there were various methods of urban farming that could be carried out, such as planting rice or hydroponic rice in a backyard or, alternatively, developing an integrated rice-fish farming system. For sources of protein, Endang suggested that urbanites raise livestock such as chickens, ducks, goats, sheep and cows at home – a common practice in rural areas.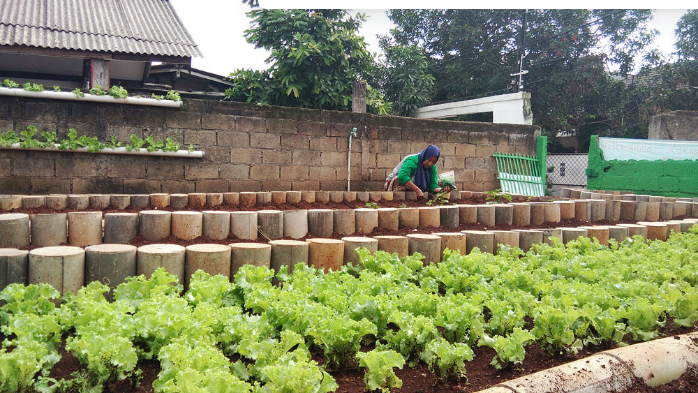 Green thumb: Head of the Seruni urban farming group in RW 10, South Kebayoran Lama subdistrict, South Jakarta, Eka Yulianti plants water spinach seeds. The 290-square-meter garden, located in a densely populated area, can produce up to 80 kilograms of crops including spinach, mustard greens and lettuce. (The Jakarta Post/Vela Andapita)
Tahlim Sudaryanto, the Agriculture Ministry's research and development chairman, said as quoted by tempo.co that the COVID-19 pandemic had made people realize the importance of food security for both now and in the future.
He appreciated the initiatives of neighborhood units (RTs) and community units (RWs), which were using the pandemic as an opportunity to turn small areas of land into urban farming operations.
He also mentioned that urban farming did not need land, as people could grow vegetables using a hydroponics system.
More than two-thirds of the world's population is forecast to live in cities by 2050, according to the United Nations. Urban agriculture could be crucial to feeding them, potentially producing as much as 180 million tons of food a year – about 10 percent of the global output of pulses and vegetables, according to a 2018 study published in the journal Earth's Future.
Singapore has been tapping into the potential of urban farming amid concerns that the pandemic will disrupt global supply chains.
According to Reuters, the city-state announced in April several new measures to support local food production, including a plan to turn car park rooftops into urban farms. The government will provide a S$30 million (US$21 million) grant to assist the production of eggs, leafy vegetables and fish, as well as to identify alternative farming spaces.
Similar initiatives of support for urban farming from authorities, however, have yet been observed in Indonesia, even though the trend has been blooming in the country since the early 2010s.