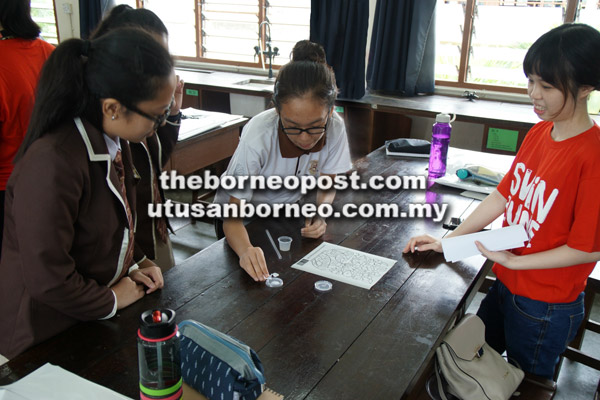 Participants being shown practical aspects of plant tissue culture in the lab.
KUCHING - A team of students and lecturers under Swinburne University of Technology Sarawak Campus' Biotechnology Club went to SMK St Teresa here recently to share knowledge on future farming techniques.
"Future farming is a revolution in the agriculture sector that can provide food security for the ever-growing human population," said Swinburne Sarawak Research, Consultancy and Future Projects associate director Dr Ng Sing Muk.
"It shifts from conventional farming with the use of precise technologies such as biotechnology and information and communication technology to produce high yielding and quality crops," he added.
"Malaysia is one of the few countries heavily involved in the agriculture sector, and the future farming agenda is foreseen to be relevant in helping the country generate more income, while using less labour in the fields," said Dr Ng who is also the advisor for the club.
Swinburne Sarawak was invited to participate in the school's Science and Mathematics Week during which they shared knowledge on plant tissue culture to duplicate parts of a plant for more efficient farming. This method is a change from the conventional method of growing plants from seeds or cuttings of stems.
Plant tissue culture is a biotechnological concept that utilises living organisms or bioprocesses to produce products from various areas of industry such as agriculture and the medical sector.
"The students have this topic as part of their biology syllabus, but don't have the opportunity to do the practical work of culturing plants," explained Susieana Joseph, the teacher-in-charge.
"We are happy Swinburne's biotechnology students are willing to share this experience with us, and make it possible for some of our students to do the practical work on plant tissue culture," she added.
The students listened to a talk on biotechnology and plant tissue culture. They were taught the practical aspects of tissue culture which Swinburne's biotechnology students learned when studying for their biotechnology degree.
They were then led through some hands-on activities related to plant tissue culture in the labs. Five groups of students chosen for being best in hands-on activities were invited to visit Swinburne Sarawak during its Open Day in August. They will have the opportunity to perform a plant tissue culture activity during the visit.
"We look forward to their visit and to expose them to a working laboratory. Hopefully this can trigger their interest in the area of biotechnology, and spearhead this agricultural agenda in the near future," said biotechnology lecturer Ting Lik Fong from the Faculty of Engineering, Computing and Science.