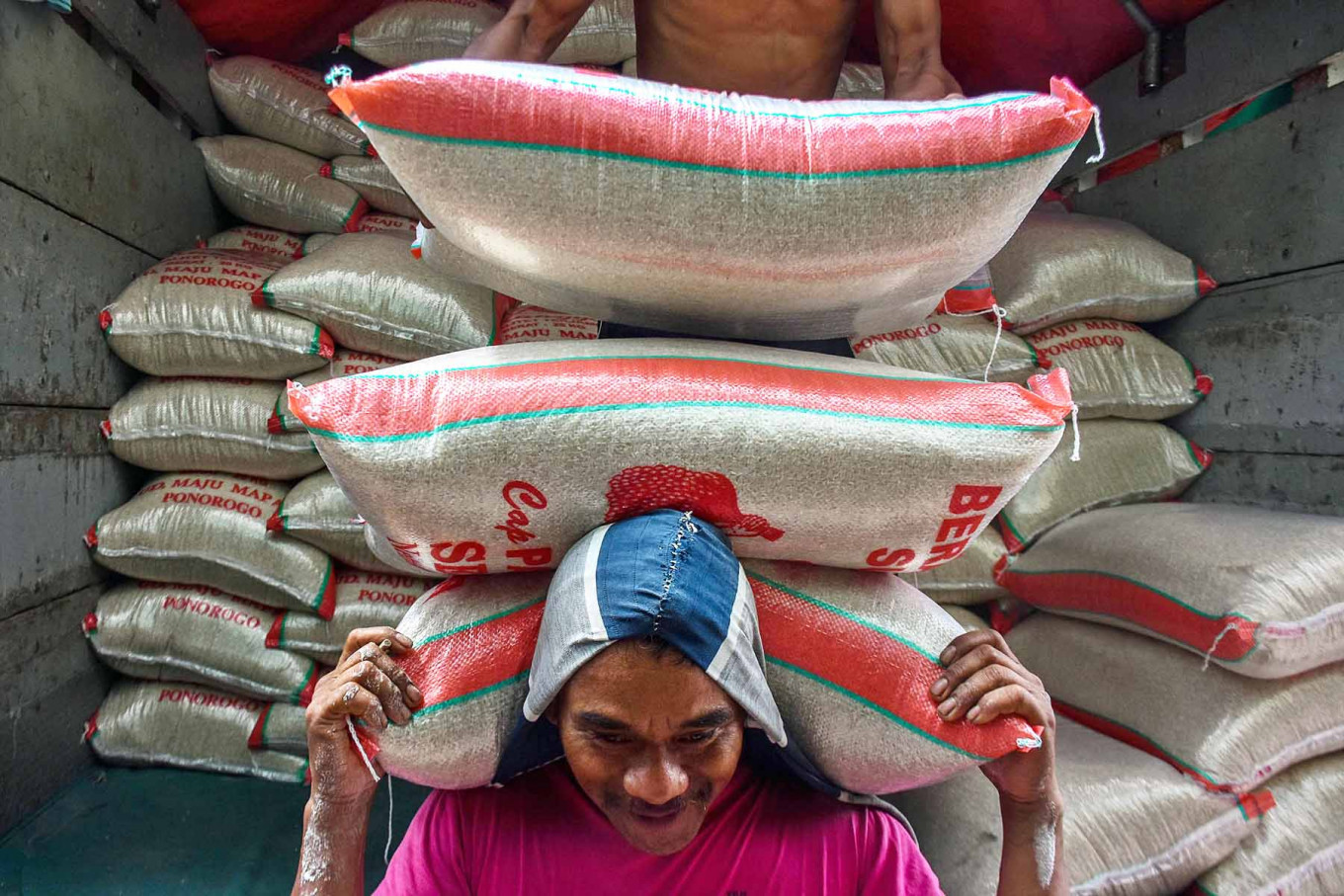 A coolie shoulders rice at Besar market, Malang, East Java on May 13. East Java recorded a surplus of 1.48 tons of rice in January to April 2020. (JP/Aman Rochman)
Some 200 million people in Indonesia regularly begin their day by eating food made with fortified wheat flour, getting their daily dose of vitamins and minerals through bread, noodles, or other standard fare. These nutrients are vital to building a strong immune system, which is critical in the face of the current COVID-19 pandemic.
Despite stringent preventive measures, the virus has rampantly spread across the country, resulting in more than 23,000 cases and more than 1,400 deaths. At the same time, Indonesia is also faced with the triple burden of malnutrition, with 30.8 percent of toddlers stunted, 10.2 percent wasted and 48.9 percent of pregnant women anemic, according to the 2018 Basic Health Research data.
While accelerated efforts for stunting reduction are in place, COVID-19 has the potential to create a perfect storm for malnutrition and put an even greater number of people at risk.
Now more than ever it is crucial to ensure that not just food — but good nutrition — reaches vulnerable communities. Though food security programs are important, they prioritize availability, access and affordability of a limited range of staple foods.
Nutrition programs focus on getting the right nutrients into the body at the right time. Food security is an important component of achieving nutrition security, which must be the overarching goal. After all, good nutrition is what it takes to boost the immune system, lower the risk of becoming critically ill with infectious diseases, and support faster recovery when infected.
Food fortification — adding vitamins and minerals to food staples − is a proven and cost-effective intervention for addressing micronutrient deficiencies in populations at large. Fortification programs implemented population-wide have been associated with a 24 percent reduction in anemia in women and a 46 percent reduced risk of neural tube defects (Hannah Biencowe et al. in the International Journal of Epidemiology, 2010).
Recognizing the potential of fortifying staple foods, the Indonesian government made fortification of wheat flour with iron, zinc, folic acid and vitamins B1 and B2 mandatory in 2002.
However, the current crisis has led to trade restrictions, resulting in a growing shortage of fortifying premixes, as countries that export premixes to Indonesia, like India and Malaysia, are under lockdown.
Considering this scarcity, the government has eased fortification guidelines, allowing millers to fortify wheat flour and edible oil at their will.
Although COVID-19 has created added challenges for the implementation of fortification, it is more important that the lowcost, high-impact intervention be delivered.
Fortifying wheat flour with critical micronutrients provides an opportunity to improve the health and immunity of large segments of the population without direct contact — an ideal scenario given the urgent need for social distancing.
Responding to these challenges requires a multi-stakeholder effort among the government, producers, suppliers, and industry. Organizations supporting fortification in Indonesia, including Nutrition International, Global Alliance for Improved Nutrition, UNICEF, Iodine Global Network, Food Fortification Initiative, and the Indonesia Nutrition Foundation for Food Fortification, have come together to ensure a steady production of fortified wheat flour.
Nutrition partners are in constant touch with premix manufacturers who have committed to deliver and fulfill orders from wheat flour millers. They are also advocating with the government to explore other countries from where premix can be imported and to consider relaxing or subsidizing the import taxes. Partners have also appealed to the government to reinstate mandatory wheat flour fortification while extending constant support to millers to put them in contact with premix suppliers.
Wheat flour processors have also demonstrated leadership during this period, with their willingness to continue fortification despite the government's relaxing of the requirements.
Nutrition must remain a high priority for the government and be integrated into every phase of the pandemic response — the immediate, the resilience building, and the recovery. Investing in nutrition has multiple long-term economic gains.
Stronger immune systems in the population reduce the burden on healthcare systems, allowing those who need it to be treated. A well-nourished, healthy and educated population can build a country's capacity to contribute its own resources toward essential services such as quality education and improved health care, increasing overall resilience to economic, environmental, and health shocks.
As we look to the future, food fortification is an essential tool for getting the right nutrition to those who need it.
Good nutrition is the foundation for Indonesia, and all countries, to building back stronger and more resilient, so that their populations are able to thrive.