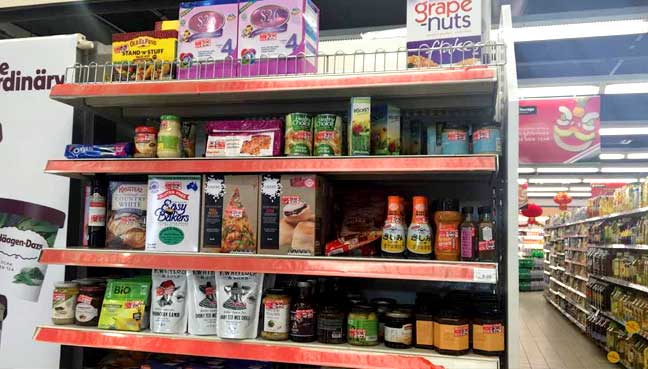 The section for after-shelf life products at Cold Storage in Jaya One, Petaling Jaya.
PETALING JAYA: Is it possible for families to "shop smart", even at upmarket supermarkets like Cold Storage, by purchasing discounted products that are near expiry or "after-shelf life"?
That was what FMT wanted to find out, based on comments by Suriana Welfare Society executive director Scott Wong in a report about the struggles of the urban poor.
Wong had been speaking about his society's plans to teach the urban poor how to be smart shoppers.
He told FMT that he does his shopping at Cold Storage, getting some of his groceries at the "section for after-shelf life products".
"If I tell you that I do my grocery shopping at Cold Storage, what's the first thing that comes to your mind? You'll probably think I'm a rich guy who doesn't know the troubles affecting the poor. But you'd be wrong," he had said.
"In Cold Storage, they have this section for after-shelf life products where a bag of flour can go even lower than RM2.
"Most people think that once food goes beyond the shelf-life then you can no longer consume it. That's not true. Food can stay good for longer periods especially if you're talking about food that's canned."
FMT did not find any flour at the after-shelf life products section in the Cold Storage at Jaya One here, but there were still plenty of other goods, including baby formula, cereal, powdered milk and even biscuits.
The discounted prices were substantially lower and would certainly be lighter on the wallet than buying the food items at normal prices.
The list of products along with the original and discounted prices FMT found at the after-shelf life products section are as follows:
Honey-flavored Fernleaf powdered milk, 300g – from RM24.99 to RM12.49.
AA & DHA S-26 infant formula, 1.2kg – from RM63.29 to RM40.
Essential Waitrose Garibaldi biscuits – from RM9.99 to RM2.
Essential Waitrose Wholegrain bran flakes – from RM28.99 to RM8.
Grape-nuts power-packed nutrition flakes cereal, 510g – from RM24.75 to RM7.
Instant paste & mix for cooking Kam Heong Cereal Prawn – from RM5.29 to RM2.
Healthy Choice: Chicken with Rice – from RM18.22 to RM10.
A packet of Double Stuf Oreo – from RM26.69 to RM3.
Recently, Unicef released the results of a study on urban poor children living in the Klang Valley.
The study was conducted between Aug 20 and Sept 30 last year, involving 966 heads of households and 2,142 children from 17 different locations in Kuala Lumpur and Petaling Jaya.
The study found that Malaysian children are worse off than some of its nine ASEAN neighbors and noted that malnutrition for children in low-cost flats was worse than the national and KL average, with the prevalence of malnutrition higher among older children.