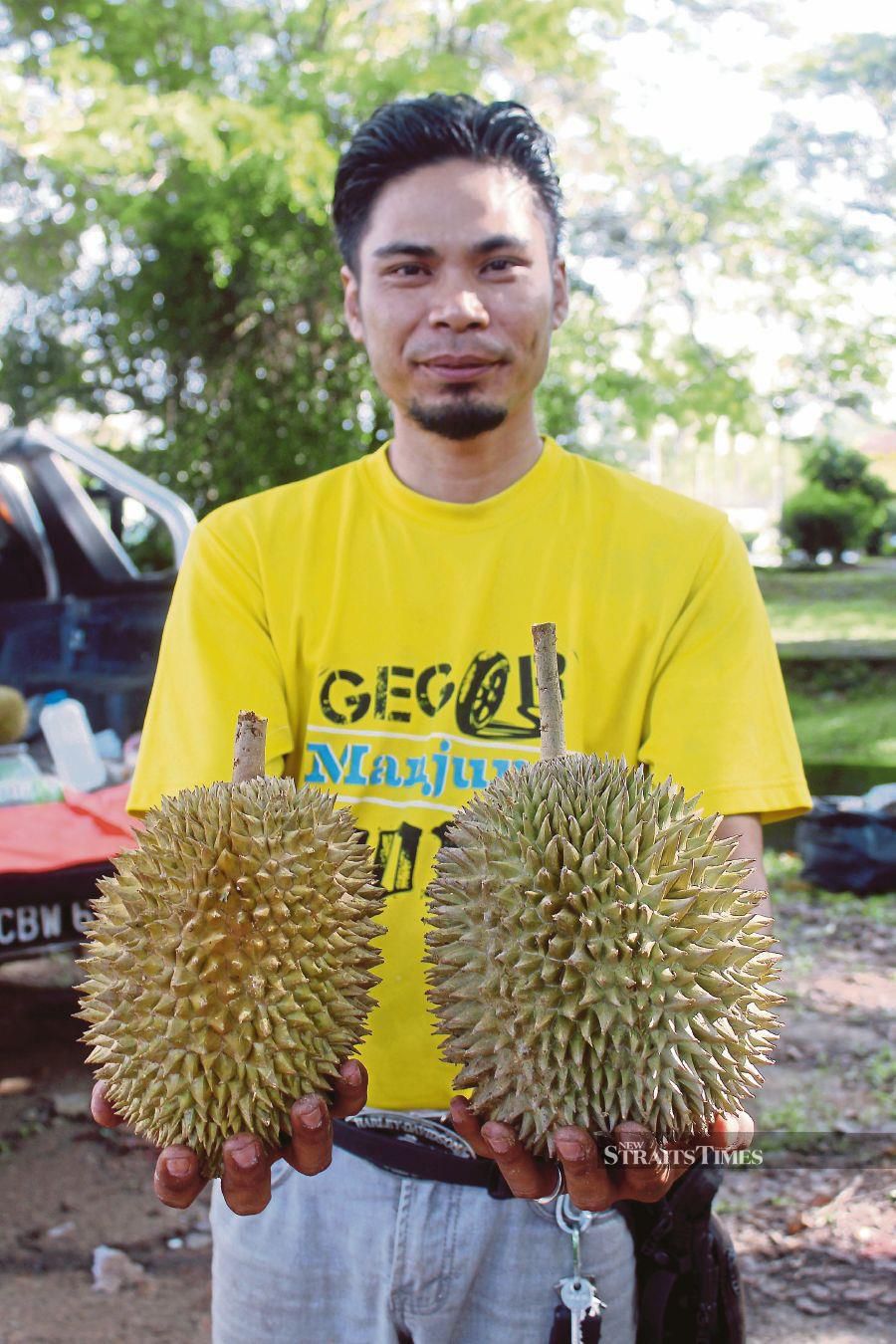 A durian seller showing off durian kampung. FILE PIC
As the Musang King continues to enjoy popularity in China, the Agriculture and Agro-based Ministry has taken another step to further boost durian exports by looking at the possibility of including durian kampung in the mix.
If the growing durian exports to China — as well as its production — are anything to go by, there is room for more, as the ministry mulls introducing a different variant and durian-based products to satiate the growing appetite of consumers there.
Malaysia is eyeing a bigger share of the China market, which imports some 300,000 tonnes of durian annually, mainly from Thailand.
A source told the New Straits Times the ministry was looking into imposing a quota for durian kampung, identified as "888" by the Malaysian agriculture authorities, as a requirement for exporters.
"That means exporters must allocate a certain amount, maybe five or 10 percent for durian kampung, along with the Musang King, that will be marketed overseas."
Agriculture and Agro-based Industry Minister Datuk Salahuddin Ayub said the matter had yet to be finalized and that it was still in the planning stages.
He said based on his observations, prices of durian kampung were stable and had not dipped below RM5 per kg.
"Right from Johor to up north in Perlis, we haven't seen prices dropping. I went back to my hometown recently and had good durian, which I bought for RM10 per kg.
"When the government is seriously involved (in decision-making and implementation), businesses will get a boost,
not only Musang King suppliers but durian kampung sellers as well.
"I have informed durian exporters about the need to maintain integrity and food safety, as well as to follow procedures. Don't kill the golden goose (Musang King). Don't make any mistake at this stage."
He said the ministry and its agencies were looking at outlining policies to ensure growth of the downstream sector as well.
"Malaysia started exporting frozen durian in the form of pulp and paste in 2011.
"With texture similar to tempoyak (fermented durian), durian paste is used in food products like ice-cream.
"Soon, we will have policies on how we can help the durian downstream sector grow. The Federal Agriculture Marketing Board (Fama) will provide advice on the technical part to our entrepreneurs."
It was reported that the country's total durian exports to China stood at RM9.44 million, or 235.62 tonnes, last year.
Apart from China, Malaysia exports durian to Singapore, Thailand, Hong Kong, Australia and the United States, which makes up 17,000 tonnes of durian each year, or 5.8 percent of annual production.
Durian production rose to 341,000 tonnes last year from 211,000 tonnes in 2017 and is expected to keep rising, especially the premium varieties, such as Musang King or Raja Kunyit (D197) and Black Thorn (D200).
Malaysia started exporting frozen whole Musang King to China, in addition to the fruit in pulp and paste forms, following an announcement by the Chinese authorities in May.
The ministry in August last year signed an export protocol with China's General Administration of Customs for it.
Some 1,000 tonnes of frozen whole durian are expected to be exported to the republic every month, generating about RM500 million in income annually.