Terengganu offers great potential for group agriculture and livestock breeding for the B40 group.
This is the take from Universiti Malaysia Terengganu's (UMT) Institute of Biodiversity and Sustainable Development sociocultural and heritage programme head Dr Isma Rosila Ismail.
Isma Rosila, who is also UMT's Centre for Basic and Continuing Education senior lecturer, said the Terengganu annual budget was a sustenance for farmers, ranchers and fishermen.
She said the main goal was to develop agriculture as most of its citizens, especially the B40 group, involved in the industries were from the low-income groups.
"Agriculture is also one of the core sectors in the 'Terengganu Sejahtera Master Plan 2030'. Group agriculture and livestock projects in the state have a bright future to be strengthened with the vast availability of land to be explored.
"These projects, especially in rural areas, need to be implemented in groups so that infrastructure development and farm management can be implemented more systematically and effectively," she said in a statement.
Isma Rosila added that Terengganu was able to intensify agricultural and livestock efforts because there were still many unexplored or idle land.
The Year 2021 was declared as Terengganu's year of agriculture. Under its Budget 2022 theme, "Resilience of Households and Affected Individuals", the state was identifying those who were ready and willing to work for a meaningful and necessary cause.
"Efforts to encourage agricultural and livestock activities should be welcomed by the people in line with the aspirations of the state government.
"UMT is supporting the Terengganu government by undertaking a knowledge transfer project to help the B40 community in the districts of Marang and Kuala Nerus.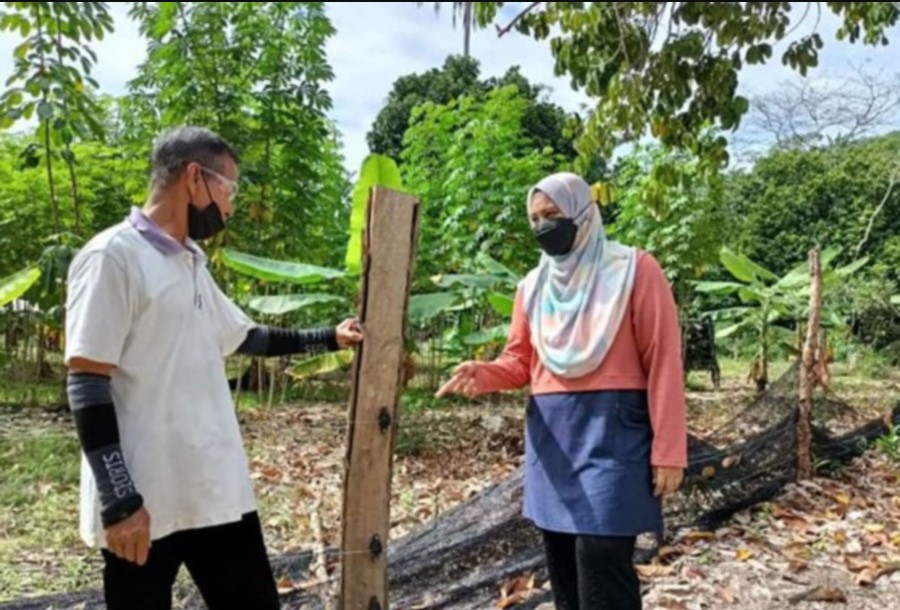 "The projects include vegetable and fruit farms as well as tilapia fish breeding, which create employment opportunities and generate income for the B40 group in rural areas," Isma Rosila said.
The knowledge transfer programme involved UMT's Institute of Tropical Biodiversity and Sustainable Development, Faculty of Fisheries and Food Science and also the Knowledge Transfer Centre and Industry Network (PIJI).
Farmers are provided courses, training and skills, knowledge transfer activities, demonstrations and visits to project sites.
"The knowledge transfer project will strengthen the participants' knowledge and skills in the field of agriculture and animal husbandry in groups.
"Among the benefits they get are methods and techniques of conducting group farming more effectively to the local community, courses and training in agricultural activities, training and skills in entrepreneurship and marketing of agricultural products.
"It is also done to create a network of cooperation between UMT, the Agriculture Department, Fisheries Department and the local community," said Isma Rosila.
This project, she added, was carried out in several selected communities at Kampung Sentul Patah, Marang; Kampung Tertak Batu Community, Marang; and Kampung Din Community, Maras, Kuala Nerus.
Several partners such as Damia Timur Enterprise are also involved in providing technical advisory services, equipment, infrastructure assistance, seeds, fertiliser, Tilapia fish fries and pellet assistance.
Isma Rosila said the projects not only allowed the local community to gain skills but created a new workforce to meet the demand in the market.
She said the "Entrepreneurship and Community Income Empowerment" programme was aimed at opening the eyes of many on the university's efforts in reaching out to the community.
"This effort is seen as an initial step that will provide space for subsequent entrepreneurial activities.
"Readiness and skills are the most important aspects that can ensure consistent production activities and the continuity of community income generation," she said.
Isma Rosila added that the knowledge transfer programme had succeeded in creating knowledge innovation, technological innovation and social innovation from various levels.
"The empowerment of community income in creating skilled manpower and new recruits should be highlighted to ensure that this field of agriculture can be worked on continuously and more competitively.
"It is hoped that such a programme gets the support of various parties so that the goal towards 'creating a family economy' can be continued sustainably in the future," she said.
On another note, Isma Rosila said that more sea bass fries, vegetable and melon fertigation were planned to be cultivated in the Marang, while mushroom farming was planned for Kuala Nerus.
Among those involved in the programme are Dr Norhayati Abdul Manaf, Associate Prof Dr Khatijah Omar, Associate Prof Dr Muhammad Abi Sofian Abdul Halim, Dr Hazman Samsudin, Dr Aqilah Mohammad, Dr Wan Zaliha Wan Sembok and Dr Muhammad Abduh Yazed.