With rainy days starting even before the start of 2018, consumers are told to expect fewer fruits during harvest in six months' time.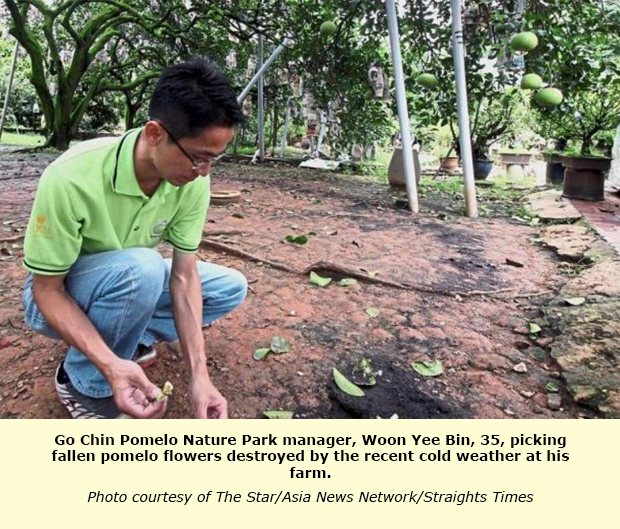 At the Go Chin Pomelo Nature Park, manager Woon Yee Bin, 35, predicted that the current climate would bring about a profound impact on the sales and harvest of the fruits.
"Judging by the number of pomelo flowers that have been destroyed by the rain and cold weather recently, the situation looks serious.
"There may be a severe shortage of pomelos in the middle of this year," he said.
However, Woon said consumers should have enough supply for Chinese New Year, which falls on Feb 16 and Feb 17 this year.
"I just hope that it would stop raining and for the sun to come out. That's the best weather for the fruits to grow," he said.
Tambun Wah Wah Pomelo owner James Cheang, 27, concurs.
"Business is already quite bad. But when the recent rain destroyed many of our pomelo flowers, we will feel the pinch in six months," he said.
"I hope the sun will come out soon because I'm worried about our pomelos."
Crops such as vegetables are not much affected by the cold.
Perak State Agricultural Development Corporation CEO Datuk Ahmad Rizal Abdul Rahman said vegetables at the Kinta Highland Farming in Gopeng were planted indoors.
"The plants are still getting the right amount of water and light conducive for their growth," he said, admitting however that the drop in temperature from 23 deg C to around 15deg C to 16 deg C had put a kink in their future plans.
"We will have to plant more crops suitable for this weather," he said, adding that they might look into cultivating capsicum, celery and iceberg lettuce, which will fare better.