Agriculture and farming are two of the oldest and most essential professions the world over. Humans have relied on agriculture as a primary food source for thousands of years. Today, food security is becoming a concern for the entire world. By 2050, the world population is expected to have grown to an estimated 10 billion. In this regard, our ability to feed the world population could be jeopardised if the agricultural system does not change. Experts also estimated that global food production will have to rise by 70 per cent from current levels to feed the expanding population by 2050. The agriculture sector is crucial, indeed. According to the World Bank, farming accounts for four per cent of the world's gross domestic product in 2018, with certain emerging countries accounting for more than 25 per cent of GDP.
For Malaysia, the agriculture sector's contribution to the GDP is smaller than when the country gained independence due to the growth of other sectors such as manufacturing and services. However, the agricultural sector's contribution cannot be overlooked because it may be the answer to several challenges the country faces, particularly unemployment, food security, and income discrepancies between rural and urban areas. Modern farming is becoming more popular with the younger generation.
Although young people's involvement in agriculture is still limited, positive trends pointing towards their increased participation will surely be noticed, especially when more and more of them begin to express interest in becoming modern farmers. Some people are willing to leave their steady careers in favour of the substantial monthly income as a farmer. Farming is no longer a "third-class" career because it has the potential to yield a sizeable profit today. There are young entrepreneurs who are doing well, for instance, Shaiful Hizam, a honey bee entrepreneur, Mohd Shah Dasin, a pineapple farmer and Mohd Zalalnudin, a fish breeder.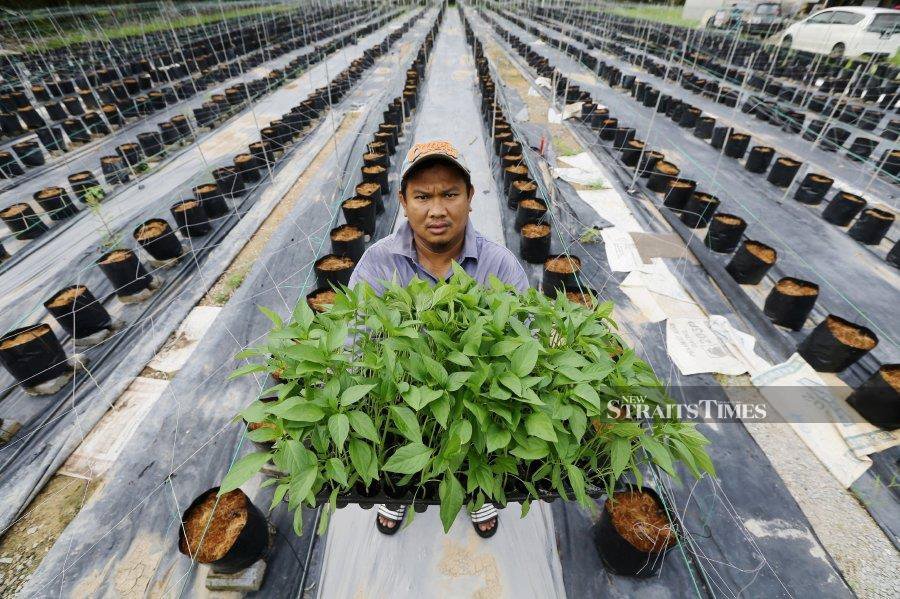 Modern agricultural technologies that help automate the crop or livestock production cycle range from robotics and drones to computer vision software. - NSTP file pic
Aside from the financial benefits, some of them provide jobs to villagers, who collaborate with them on their agricultural products. The idea that farming is only for the poor and needy has been disproved because farmers do gain big profits too. Besides, agricultural activities can mitigate urbanisation, keeping young people in rural areas, where they can contribute to the area's development together. The new generation of farmers finds modern farming appealing due to its ease of work, from running the farm, prepping the field for planting to harvesting using only smartphones. Modern agricultural technologies that help automate the crop or livestock production cycle range from robotics and drones to computer vision software.
Besides, rooftop gardens are becoming increasingly popular, particularly in cities with sparse farmland resources. Apart from beautifying cityscapes, they can reduce pollution in cities and improve air quality. Data analytics, machine automation, management software, mobile phone apps and digital marketplaces are just a few technical developments that have aided the agriculture industry's growth. Artificial intelligence also significantly enhances output by performing several tasks, including in decision-making.
A farmer's job also necessitates meticulous preparation and needs a great deal of effort and patience, especially in the early stages when total devotion is required. The farmer must understand material preparation, cultivation methods, fertilisation techniques, irrigation systems, market requirements and marketing networks.
The government also actively encourages youths to venture into agriculture by introducing the Young Agropreneur Programme, assisting young Agri-entrepreneurs in financing and capital to start a business by providing technical advice, consulting, training and other related skills. Young farmers' dilemma is about natural disasters such as floods. The catastrophic floods in March this year, for instance, caused many farmers to suffer huge losses. The effects of climate change have undoubtedly hampered their efforts to sustain themselves in the agricultural sector. They, therefore, should study disaster risk reduction practices and agricultural knowledge to lessen the possibility of agricultural products being seriously damaged by floods. Their crops can be protected from harm by a reliable drainage system and methodical planting procedures. Apart from flooding, the country also faces drought, which has severely destroyed crops and cattle to the point where some farmers have given up. Cooperation between university researchers and farmers should be strengthened so that new agricultural lands and techniques can be explored with a view to increase the agricultural sector's productivity.