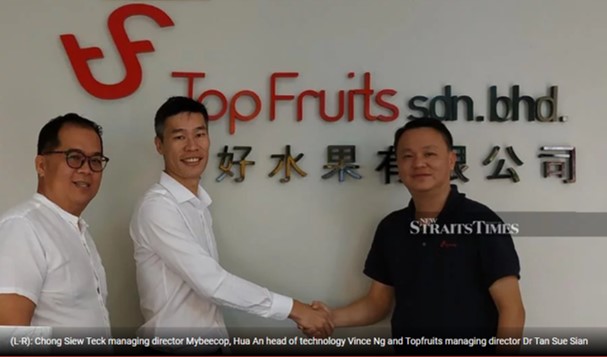 KUALA LUMPUR: Sino Hua An International Bhd's subsidiary, Wavetree Technologies Sdn Bhd has collaborated with Top Fruits Sdn Bhd and Mybeecop Sdn Bhd to develop the smart modeling farming project.
In an exchange filing today, Sino Hua said the tri-party collaboration has created a digitalized model for the agriculture markets, riding on artificial intelligence-enabled operating models, data analytics and the Internet of Things (IoT) to drive efficiency.
"This is Malaysia's first fully digitalized, large-scale smart plantation for durian farming with end-to-end traceability," it added.
The company said there were over 300,000 acres of planted durian farms in Malaysia and the number would grow.
This, in turn, would provide a potential market value of about RM750 million per year for the smart modeling farming project.
"The agriculture industry is one of the fastest-growing segments for IoT and together with Top Fruits and Mybeecop will open up opportunities for Hua An to tap into the robust agriculture export industry," said Sino head of technology Vince Ng.
He said the project involves the new models and systems that will first be deployed at Top Fruits's over 500 acres of durian farms in Johor, Pahang, and Kuching, as well as other plantations under its management.