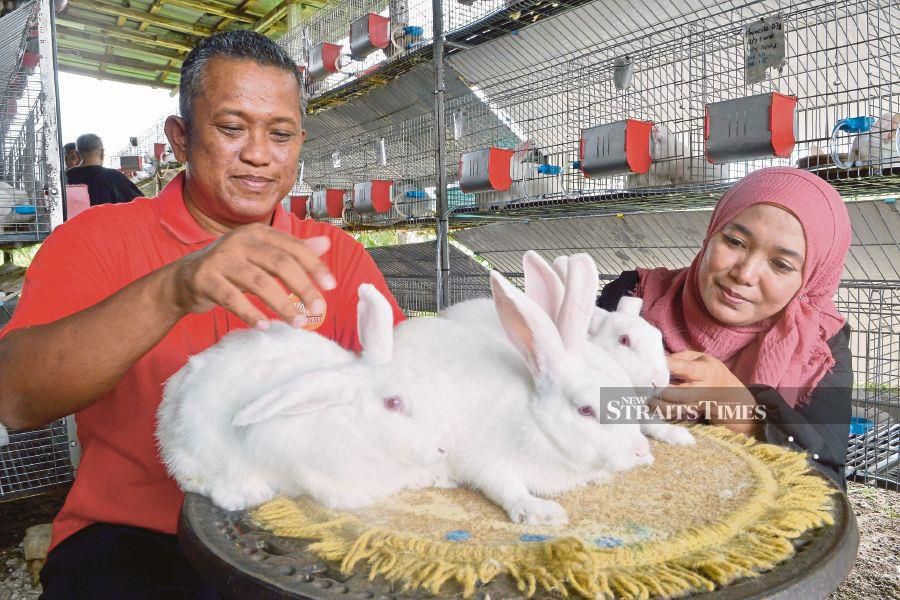 Fakhrurrazi Mohd Habib (left) with Norzaimila Zainudin with New Zealand White rabbits reared by the former in Klang. NSTP/Faiz Anuar
When Mila told me that rabbit breeding is a highly lucrative business, I was a bit skeptical. Mila, full name Norzaimila Zainudin, insisted that I visit a broiler rabbit breeder in Klang and she would prove that this is the way forward for big and quick profits in the agriculture industry.
It took Mila less than two hours to convince me that broiler rabbit breeding and retailing is indeed a very profitable business.
She was accompanied by Fakhrurazzi Mohd Habib, who is also the president of Kami Anak Felda. Mila is the assistant secretary.
KAF is a non-governmental association formed by second- and third-generation children of Felda settlers. Razzi and Mila are committed to getting children of Felda settlers to venture into businesses related to agriculture through KAF.
And KAF has identified breeding broiler rabbits as one quick money-making venture. Both of them related an interesting story behind the formation of KAF and why broiler rabbit is their chosen line of agriculture for Felda folks.
A big majority of second-generation Felda settlers are not continuing the work of their parents.
Many have acquired proper education and found employment as professionals or got good-paying jobs in the private sector or government.
Razzi said: "As children of Felda settlers, we must pay back Felda's good deeds to us. Our parents have aged. Some of us children have left the settlement and lived elsewhere. But there are so many resources within the settlement that we feel cannot be left unutilized.
"Land is definitely one of them. KAF was formed in 2015 to repay the kindness of our parents and to give back to the Felda community what we have gained over the 60 years it has been in existence," he said in between showing me the broiler rabbits kept in special cages behind his house.
Why rabbits, I asked. Mila said: "The startup capital is small, the return on investment is fast, the profits are huge and the risks are low. For as little as RM3,500, one can start a small broiler rabbit farm, just within your house compound."
This means that if rabbits are bred in Felda settlements, where land is not an issue, more Felda families can earn good money and turn rabbit farming into an industry with global appeal. Razzi took me on a short tour of his rabbits, just 50 meters from his house.
The rabbits are kept in cages and given special attention. For a kg of rabbit meat, the protein content is 20.8 percent compared with 16.3 percent for beef and 20 percent for chicken. Razzi and Mila are busy meetings Felda settlers especially the second- and third-generation children to try and get them to join the industry. KAF leaders are excited about the prospect of rabbit farming for a combination of reasons.
The operational costs of this venture are low; the returns on investment are fast; rabbits breed fast and in big numbers; a mature broiler rabbit can be sold in 60 days and the retail price is very competitive.
The domestic and foreign market is largely untapped, Razzi said, with West Asia targeted as one with huge potential. Brunei, too, has a big potential for rabbit meat.
For a starter pack of RM3,500, a farmer can get KAF's training and guidance for two days and one night; a complete set of cage and nutritional system; food; six rabbits (one stud and 5 females); tips on online marketing and real-time selling; delivery and continued support to ensure the project starts well.
A female rabbit can give birth to between five and 12 bucks, with an average of 7 (beaten only by a mouse). The start-up kit enables anyone to start breeding broiler rabbit within his or her house compound!
One look at the numbers and one can see why rabbit farming has such a wide appeal. There are many individuals in the industry but it has the capacity to have more and bigger players. KAF is willing to buy broilers from small farmers via contract farming.
How much can these rabbits be sold for? Rabbit meat is retailed at an average of RM50 ex-farm per kg but the price can be lower for bulk purchase. I saw a satay seller buying two kg of the meat at Razzi's house over the weekend. If the farmer is to sell an adult stud, he can get RM200 per rabbit, the same price for a female rabbit.
But demand for slaughtered meat is increasing rapidly because consumers have begun to appreciate rabbit satay or burgers.
For an initial capital outlay of RM3,500, a farmer can get an average income of RM700 per month starting in the third month. Work out the numbers and one can see why rabbit farming can be very profitable.
KAF founder Datuk Anuar Malek, who is also responsible for Felda community projects, said: "We want Felda children to help Felda and their parents. They have benefited a lot over the years. It will be good if they can return the favor and make Felda and their parents grow with new initiatives.
"We want Felda settlers to be independent. I believe that KAF, as a fully registered NGO, can encourage its members to rally behind strategic alliances and develop new businesses. KAF came into being at a very important point in Felda's history.
"Felda is one big family. The settlers can benefit from new businesses initiated by the second- and third-generation offspring. Let's move on."