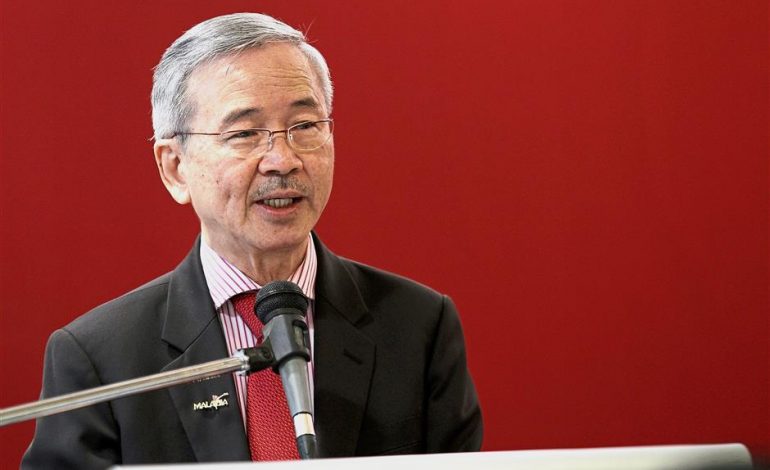 Nutrition Society of Malaysia (NSM) president Dr Tee E Siong said that one can eat any food, as long as it is in the correct amount and frequency.
Rapid urbanization and dramatic socio-economic advances in Malaysia since Independence has brought about marked changes to the lifestyle of the population.
This has resulted in significant changes in the nutrition scene, with the existence of the paradoxical double burden of malnutrition.
Various strategies and action plans have been put in place to promote healthy nutrition and active lifestyles for the prevention of these diet-related nutrition problems.
Dr Tee E Siong, president of the Nutrition Society of Malaysia (NSM), shares his views on effective and practical ways of curbing these nutritional problems in the country and how the community itself can play a role in preventing these diseases.
NSM was officially registered in 1985. It is a not-for-profit professional nutrition organization in the country, with its vision guided by a simple belief: the more people understand food and nutrition, the better they can care for their health and well-being.
Could you elaborate on the double burden of malnutrition situation in our country?
The double burden of malnutrition alludes to the simultaneous existence of over-nutrition among some segments of the population and under-nutrition problems among others.
Over-nutrition has become more significant in Malaysia, as evidenced by the high prevalence of overweight and obesity combined, affecting almost 50% of adults and 30% of school-going children.
As overweight or obesity is a major risk factor for non-communicable diseases (NCDs), this has contributed to the high prevalence of these diseases, especially heart disease, cancer and diabetes in Malaysia.
On the other hand, under-nutrition problems have declined markedly over the last 30 years.
Nevertheless, there still exist pockets of mild-to-moderate under-nutrition amongst underprivileged groups, as manifested by underweight and stunting (especially among children), and micronutrient deficiencies.
What are the current strategies or plans in place by the Government to address these malnutrition problems?
Various Government strategies and action plans have been formulated and implemented, especially to combat the rising statistics of NCDs and its risk factors.
The 11th Malaysia Plan 2016-2020 and National Strategic Plan for Non-Communicable Disease 2016-2025 are key Government strategies that have been drawn up.
The third National Plan of Action for Nutrition Malaysia (NPANM III, 2016-2025) has identified various programmes and activities to tackle the existing double burden of malnutrition.
The Health Ministry's (MOH) Anti-Obesity Taskforce has also proposed several policy options to be implemented.
NSM wholeheartedly supports these identified strategies and action plans.
It is imperative that adequate resources are provided for these identified programmes to be systematically implemented.
Who are the stakeholders that have been identified for the implementation of the proposed programmes and activities?
All the Government strategies and national action plans have called for a strategic, multi-stakeholder, multi-sectoral collaboration, and cooperation approach to effectively tackle the double burden of malnutrition.
This would entail a whole-government approach, involving several key ministries, as well as engaging other key stakeholders, including civil society and private sector entities.
NSM fully supports MOH's Nutrition Division, along with the Food Safety & Quality Division, NCD Division and the Health Education Division, in playing a lead role to implement the NPANM III activities.
All efforts must be made to have the support of other ministries and agencies, including, but not limited to, agriculture, education, and housing and local government, all of which should also develop their own nutrition and lifestyle-related activities.
Relevant professional bodies, as well as corporate companies, must also be invited to participate in well-coordinated collaborative programmes.
How does NSM contribute to the data required for the development and implementation of the strategies and plans mentioned above?
NSM contributes to the development and implementation of these strategies and plans through conducting various scientific activities.
We conduct research studies to provide evidence-based data to support the formulation of sound public health policies.
For example, a large nationwide MyBreakfast Study of primary and secondary school children provided useful data such as body mass index (BMI), physical activity and food consumption pattern.
In the Healthy Kids Programme, we developed and evaluated a nutrition education module for promoting healthy eating among primary school children.
In MyNutriStudy, we studied the nutritional status, food habits and cognitive performance of preschool children.
NSM has been organizing national and international scientific conferences and seminars for the last three decades, thereby contributing to the professional development of nutrition scientists.
As a further scientific contribution, NSM has been publishing an official peer-reviewed scientific journal called Malaysian Journal of Nutrition since 1985.
How does NSM contribute to the strategies identified in NPANM III aimed at preventing NCDs in the country?
In supporting government efforts to prevent NCDs in the country, NSM has relentlessly conducted various nutrition promotion activities for the past three decades.
To promote nutrition to the community at large, NSM contributes to an annual Nutrition Month Malaysia, which began in 2002 and continues to this day.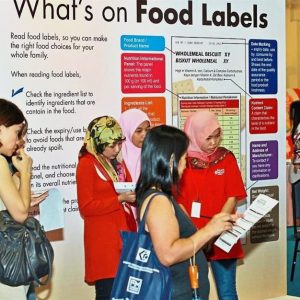 It is a strategic partnership of three professional founding bodies (NSM, the Malaysian Dietitians' Association and the Malaysian Association for the Study of Obesity) and supported by MOH.
NSM also conducts nutrition promotion programmes for specific target groups, especially infants, children and pregnant and lactating women.
In addition, NSM has published a variety of educational materials for the public, for example, recipe books, leaflets and booklets.
NSM also initiated the Malaysia Nutrition Leadership Programme last year to enhance leadership competency, thus contributing towards establishing a critical mass of able leaders in nutrition in the country.
How does NSM implement these programmes you summarised? Where does NSM obtain its resources?
In the implementation of the various activities mentioned above, NSM adopts a multi-stakeholder approach, including working with government agencies, relevant professional organizations, as well as corporate companies.
One good example is the Nutrition Month Malaysia mentioned above, which has enabled a variety of activities and educational materials to be made available to the public.
It is a successful collaboration lasting more than 10 years among three professional organizations, sponsorship by several corporate companies and supported by MOH.
Why does NSM work with private/corporate companies?
Public-private partnerships with corporate companies have provided opportunities to enable NSM to embark on projects and activities that eventually benefit the scientific community and the public at large.
We are able to utilize the resources and expertise available in the private sector.
I must emphasize such collaboration is not merely for securing funding.
It enables us to have access to technical expertise in research and communications, which are also available in the private sector.
Such collaborations have enabled our activities and educational messages to be disseminated to a much wider segment of the population.
By working with corporate companies to publish educational materials, NSM can ensure that the information is unbiased and based primarily on the Malaysian Dietary Guidelines.
How does NSM manage this partnership with the private sectors, as some groups may see this as a potential conflict of interest, especially in research projects?
We are always mindful that the professional standards of the society must be maintained at all times.
Thus, NSM applies strict ethical standards and has in place necessary checks and balances to remain independent and to ensure that the research is not being manipulated by the corporate partners.
Each research project is carefully scrutinized and monitored by the nine NSM council members who are professors or senior lecturers in the major universities in the country.
Any funding received for research projects are received on an "unconditional" basis, which means that the collaborating corporate companies cannot influence the findings or publications.
The NSM Council establishes a research committee with members from appropriate backgrounds to ensure proper conduct of data collection, analysis, and publication in a transparent manner, in line with established international practice.
With regard to the community projects, how does NSM manage to maintain its professionalism and not be seen as promoting the company's products?
For community nutrition promotion projects, the NSM Council establishes an expert committee to oversee the implementation of the project activities and the publication of all the educational materials in a professional manner.
The corporate partner does not participate in the development of the materials and there is no mention of specific brands.
To give due acknowledgment and in order to be transparent, the respective corporation is allocated an advertisement/advertorial page.
All funds received are for the sole purpose of implementing the planned activities.
Financial statements are properly documented and available for scrutiny.
Besides promoting healthy nutrition locally, what are NSM's activities in the regional or international arena?
NSM mooted the formation of the Southeast Asia Public Health Nutrition (SEA-PHN) Network in 2014, aimed at bringing together five professional nutrition organizations from Indonesia, Malaysia, Vietnam, the Philippines, and Thailand.
It represents a regional multi-stakeholder partnership of nutrition societies and corporate companies to promote public health nutrition in South-East Asia.
NSM also conducts joint seminars with the International Life Sciences Institute and participates in international meetings with the International Union of Nutritional Sciences and the Federation of Asian Nutrition Societies.
As the president of NSM who has led the society for two decades, how do you envision it's direction in moving forward with the challenges of tackling nutrition problems in the country?
First of all, the NSM Council reaffirms that the society will continue to champion nutrition in the country.
We will continue to remain resilient and visionary, as well as a key partner to the Government in promoting the nutritional well-being of the population.
As NCDs are multi-factorial, we do not believe that tackling any single factor or food item will bring about meaningful impact.
NSM calls for urgent, systematic and holistic measures to be taken.
Educating and empowering the people is the long-term solution to preventing nutritional disorders.
To ensure a healthier generation of Malaysians, preventive measures among children must be taken now.
In closing, what advice would you give to the public to prevent NCDs?
I urge all readers to take your health seriously!
Remember that the only way to enjoy good health for many years to come is to practice healthy eating and living an active life now.
You do not need to buy expensive foods or adopt special dietary programmes, only willpower, and discipline.
Start your children off on the right foot by teaching them to eat right and stay active from young.
These are the keys to maintain a healthy weight, reduce the risk of diseases and promote overall health.